Green Chile Chicken Enchilada Casserole
Green Chile Chicken Enchilada Casserole
This quick and easy Green Chile Chicken Enchilada Casserole is by far one of my favorite meals that my husband makes for us! It's such a treat when he decides to cook and he just keeps getting better and better at it. I am not a big fan of peppers, onions or chiles but this is SO DELICIOUS and I really enjoy it. The green chile sauce has just enough spice and this casserole only uses 4  ingredients!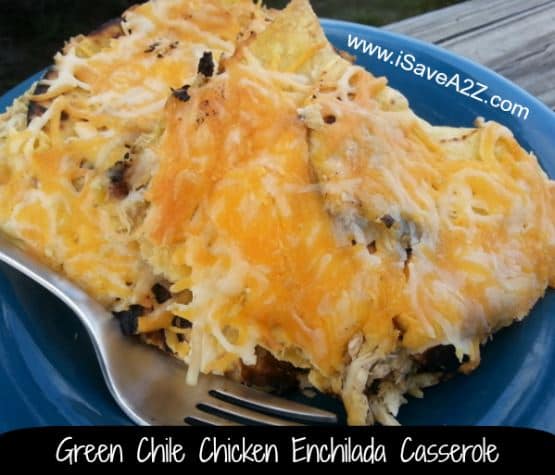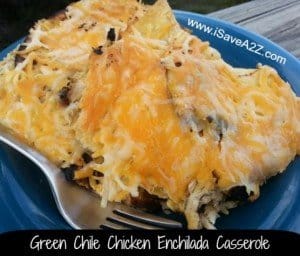 Green Chile Chicken Enchilada Casserole
Ingredients
1

rotisserie chicken or 4 boneless

skinless chicken breast halves cooked and shredded

2

16 ounce packages of shredded Monterey Jack cheese
Instructions
Preheat oven to 350 and spray a 9x13 baking dish with cooking spray.

**To save a lot of time** we buy a pre-cooked rotisserie chicken, pull off and shred the meat and place it in a large bowl. Or you can cook 4 boneless, skinless chicken breast halves, cool and shred.

Using metal tongs, lightly char each tortilla, on both sides, over the low open flame of a gas stove burner. Cut tortillas in half. This really makes the dish yummy but is optional.

Pour the green chile enchilada sauce into the bowl of shredded chicken and mix well.

In your 9x13 baking dish, lay 6 tortillas (12 halves) in a single layer, top with 1/2 of the chicken then 1/3 of the cheese and repeat.

Use the last 6 tortillas to make one more layer and sprinkle with the remaining cheese.

Bake for 40 to 45 minutes and serve warm.
Notes
You can also mix in 1 (8 ounce) container of sour cream with your chicken, but this is optional.
Nutrition facts are provided as a courtesy.
For someone who doesn't really like chiles or that kind of thing, I absolutely LOVE this Green Chile Chicken Enchilada Casserole! It has become one of our favorite dinners and is made so easily by using a rotisserie chicken that is already cooked! You can enjoy the leftovers by popping it in the microwave for a minute or two…and trust me, you'll want the leftovers!