Halloween Game Ideas #CottenelleTarget #PMedia #ad
"This post is part of a social shopper marketing insight campaign with Pollinate Media Group™ and Cottonelle, but all my opinions are my own. #pmedia #CottonelleTarget  http://cmp.ly/3/8vNxcO."
Halloween Game Ideas
If you are looking for a few different Halloween Game Ideas I've got a few just for you!   We created a super fun Halloween Bowling Game and a Fast Mummy wrap costume game!  Both games are created using Cottonelle Triple Roll Toilet Paper!  Easy and Super FUN!
Halloween Bowling Game
We had the best time playing Halloween Bowling!  We create 12 bowling pins by using the 12 pack of Cottonelle Triple Roll Toilet Paper.  It was perfect because we needed big and thick pins and because we also scored a free box of Kleenex at Target when I purchased it using a coupon!  SCORE!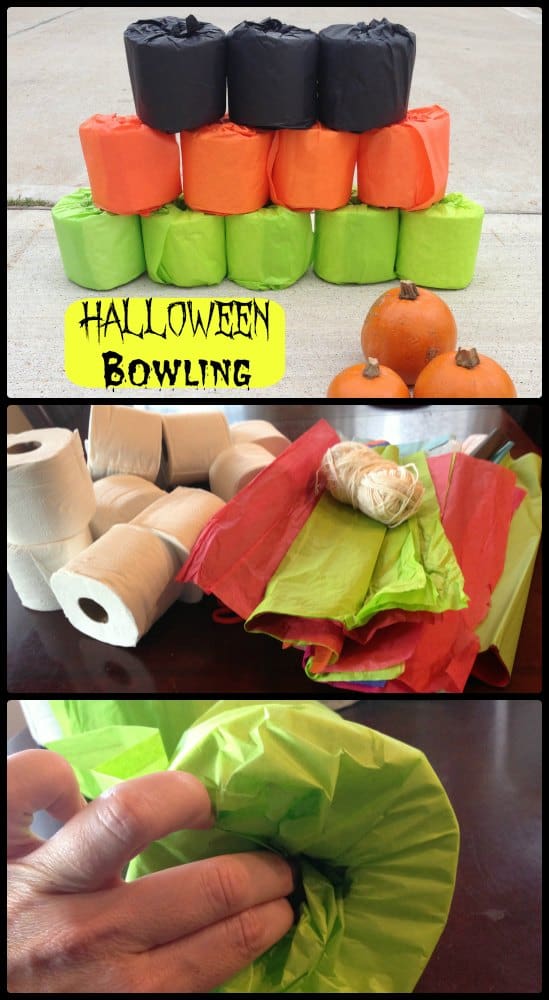 Here's how we created the Halloween Bowling Game:
Supplies Needed:
12 Pack Cottonelle Triple Roll
Halloween Colors Tissue Paper
Small round pumpkins
Directions for Halloween Bowling:
I covered each Cottonelle Triple Roll with a sheet of tissue paper.  I used Halloween colors.  All I did was roll the toilet paper in the tissue paper and stuff the ends inside the roll.  No cutting, no scissors and no glue or tape.
Optional:  You can decorate the rolls or leave them as is.
Game Rules:  Each color represented a different point value.  If you knocked over all the pins you win.  We used four small pumpkins to give four chances.  The person with the highest points at the end of the game wins!
Our family had a blast!  Dad won the first round but we made it two outta 3 so we could beat him!
Fast Halloween Mummy Game
Oh this one was so much fun!  We each took a roll of Cottonelle Triple roll toilet paper and wrapped each other as a mummy!  Even the dog was included in this game!  haha!
Game instructions:  First one to complete the mummy wins!
This game is super easy and fun with a big group of people!  Perfect for Halloween Parties!
Tip:  Definitely use the Cottonelle Triple Roll Toilet paper for this one.  It's thick and it will stay together.  We had someone try to use another brand and never finished wrapping her mummy.  The thicker the better for this game!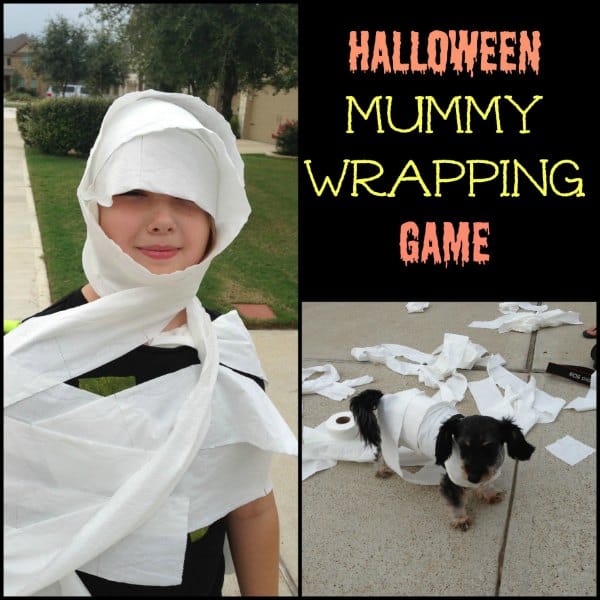 Be sure to head to Target and buy Cottonelle Triple Roll 12 pack or larger and get a FREE box of Kleenex!  (While Supplies Last)  Grab the coupon here!  Save some cash!
Enjoy!
"This post is part of a social shopper marketing insight campaign with Pollinate Media Group™ and Cottonelle, but all my opinions are my own. #pmedia #CottonelleTarget  http://cmp.ly/3/8vNxcO."