Join Markerly's Blogging Network & Get Paid to Write for Top Brands #Markerly!
This post is sponsored by Markerly but all opinions are 100% my own.
Join Markerly's Blogging Network
Hey Bloggers! Check this out! There's a new sheriff in town when it comes to sponsored content! I myself just learned about Markerly's Blogging Network and I am already impressed with offers I've received.  I love being able to blog but I also like offers that help pay the bills too.  I get super excited when there's a new opportunity and I can't wait to tell you all about it!
Meet The Markerly Team!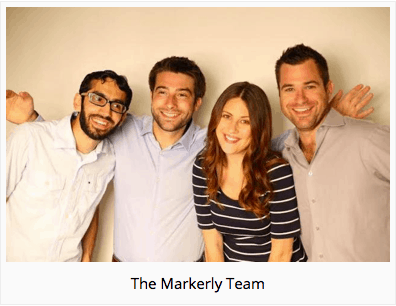 I signed up and within my first 24 hours I had two campaigns! How's that for response! There are some networks that I've signed up with and I never hear back from them. Normally I would think it's because of my stats but I know that's not the case at all.
Who can apply?
The Markerly Network is open to anyone that gets at least 10,000 pageviews or an average of 3 comments per post. Markerly is very focused on quality blog posts and bloggers that have engaged audiences.
What is the payment process for Markerly?
Markerly has a prompt payment system. Currently, you can expect to receive payment within 48 hours of the post going live! If you've done sponsored posts for anyone else you know this is not a normal industry standard. I would expect something more like a 30 or even 60 day payment time frame from the moment you send the invoice. Getting paid is as simple as submitting your post url and clicking the submit button too. I would say that Markerly goes above and beyond with the payout turn around times in my opinion!
What type of Brands can I work with?
Markerly has relationships with many brands. You will see opportunities to work with Levi's, Super Bowl, TruMoo, and eMeals just to name a few.
Not only can you apply for sponsored content but you can also apply for product reviews. Some of the past reviews have been wine from Last Bottle and Invino and even cool earbuds from Jaybird!
I love writing sponsored content for brands I support and trust. I just recently had the opportunity to write a TruMoo Marshmallow Chocolate Milk campaign post and I love supporting this brand! I will almost support any brand that supports no high fructose corn syrup! You get to pick and choose which campaigns you want to work for when you apply. Influencer marketing is a great way for brands to connect with bloggers and their audiences to sell more products and/or gain more product awareness! It's a win/win for everyone involved!
Join Markerly Influencer Network here at the Blogger Sign up page.
Giveaway Opportunity!
You also have the chance to win a $250 American Express Gift Card! We will be choosing a winner Feb 27, 2014. Details are included in the giveaway form.
On a side note, I really enjoy being able to write and help other bloggers. Whether you need help with monetizing your blogs or help with other blogging specifics, I am here to help. Feel free to leave a message below with a problem that you need help with. This will inspire me to write other articles to help you!
In case you missed some of my other blogging related articles:
Blogger Help: Pinterest Tips for Business
Blogger Help: How to Get Photos in your Twitter Feed with Rich Tweets