Lutron: Adjust Your Lights with a Remote Control
Lutron:  Adjust Your Lights with a Remote Control
I just figured out that there's a way to adjust your lights with a remote control!  How cool is that?!!  When Lutron reached out and asked me to write an article about this new product I was excited to do so!  There is a product called Caseta Wireless from Lutron and it's extremely easy to set up.  Basically it's a box that you plug into the wall and you plug your lamp into that box so that it can read the remote signal.  It's a dimmer too!  This works on table lamps and floor lamps.  Talk about simple light control!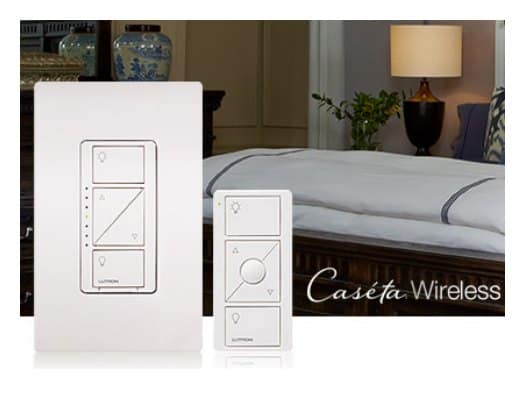 There are a few ways you can use this:
You can turn your lights off from your bedside.   Maybe you are laying in bed reading and you don't want to get up to turn off the lights.  Call me lazy but I can relate.
Turn lights on as you arrive home.  You can keep a remote in your car and have it turn on the living room lights as you arrive home.  That's brilliant!  There are so many times I've gotten home late that I wished I had left a light on.  Not only does this option save electricity but it's super convenient too!
Maybe you are sitting in the living room and you want to dim the lights slightly for movie night.  It's super easy with the push of a remote control button on the Caseta Wireless remote!
You could even place this remote on the wall as a permanent switch for a light too.  No wiring needed.
I also learned that there is an app where you can control lights from your smartphone.  You can adjust the lights, schedule lights to adjust automatically or add your own custom lighting scenes.
One unit plugs into a standard outlet.  It can control one or two lamps.   When using the lamps they will be controlled together.  I have two lamps on my entry table so this is perfect!
Get the Caseta Wireless app here.
Guess what?!! There's a BestLight sweepstakes!
This article was sponsored by Lutron but all the love for the brand and product is 100% my own.