Minion Bubble Party Favors (DIY)
Minion Bubble Party Favors
My sweet baby girl turned 4 years old yesterday and insisted on having a Minion party this year. We made these adorable Minion Bubble Party Favors and the kids just LOVED them! This is not initially what I thought we would be giving out, but the party supply store did not have any of the items I had chosen online. And of course, this was only a few days before her party so I had to come up with something else. I wanted something that the kids would really enjoy. I hate it when you get a party bag filled with junk that you try to get rid of before your kids even know it's there. Being as most of the kids were only 3 or 4, bubbles were a perfect choice.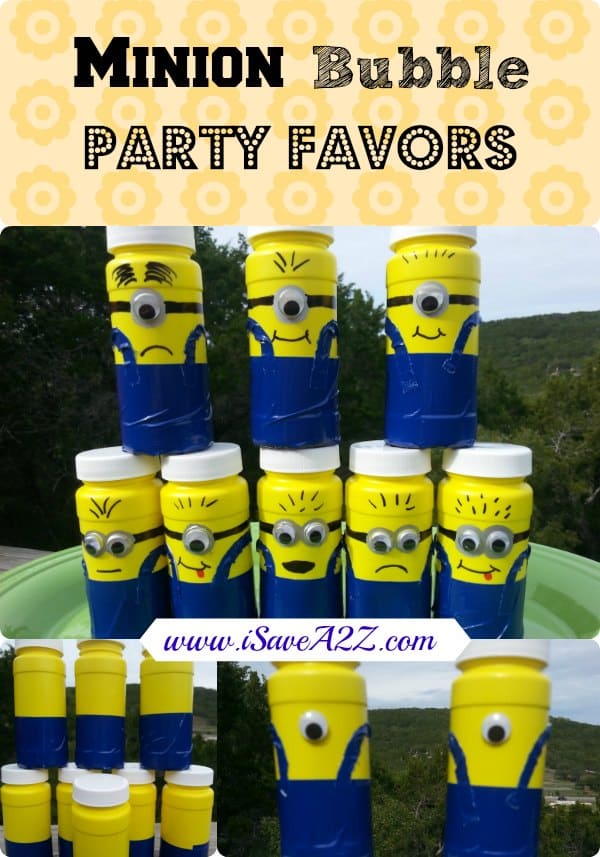 Here is what you need for the Minion Bubble Party Favors:
Yellow, medium sized bottles of bubbles. The party supply stores always have LOTS of bubbles. So if there aren't enough on the shelf, ask if they have overstock you can look through.
Hot glue gun and glue sticks
Black, Silver and Red Sharpie
The first step to make your Minion Bubble Party Favors is to remove the wrapper from the bottles. Most of our wrappers came off pretty easy, but a few had some stubborn glue. Then wrap the bottom part of the bottle in blue duct tape. Depending on what size your bottle is, will determine how tall you want the "pants" to be. Since duct tape is SO STICKY, I literally wrapped the tape around and then cut it so the tape barely overlapped. This is what it will look like: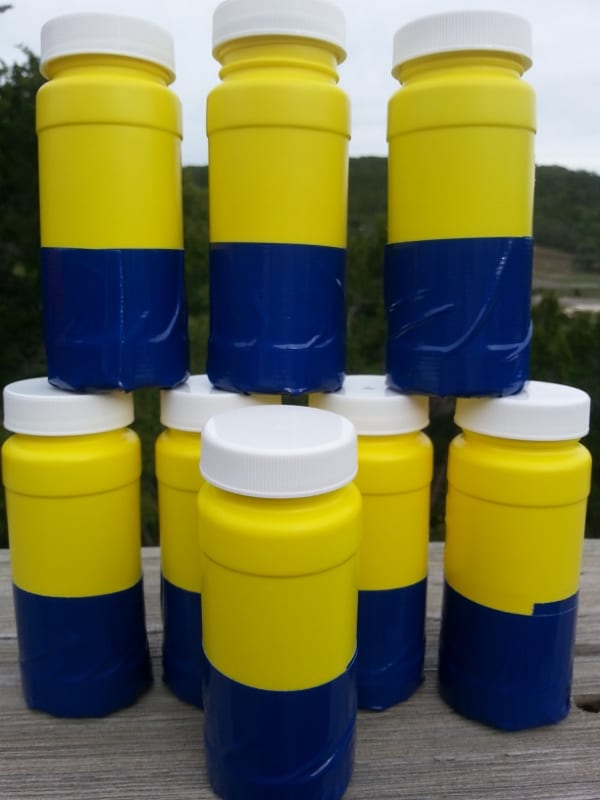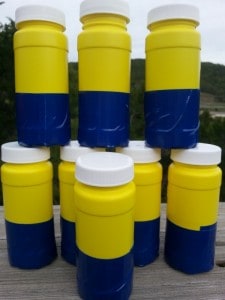 Next, cut or tear small strips of the blue duct tape to make the straps of the overalls. I found it worked much easier to cut a piece of tape to the length I needed for the strap, stuck one end to the table and then made small cuts along the non-stuck end that were the width of my "straps". Then just pull upwards and tear off a piece. Take the small strip of duct tape and press it down to form the armhole on the overalls. I may describe it to sound harder than it is. It's actually very easy.
Then just use your hot glue gun to attach googly eyes. We bought larger eyes for our minions that only had one eye, and smaller eyes for the minions that had two eyes. Be sure to leave a little space between the eyes on your minions that have two (you need room for your goggles).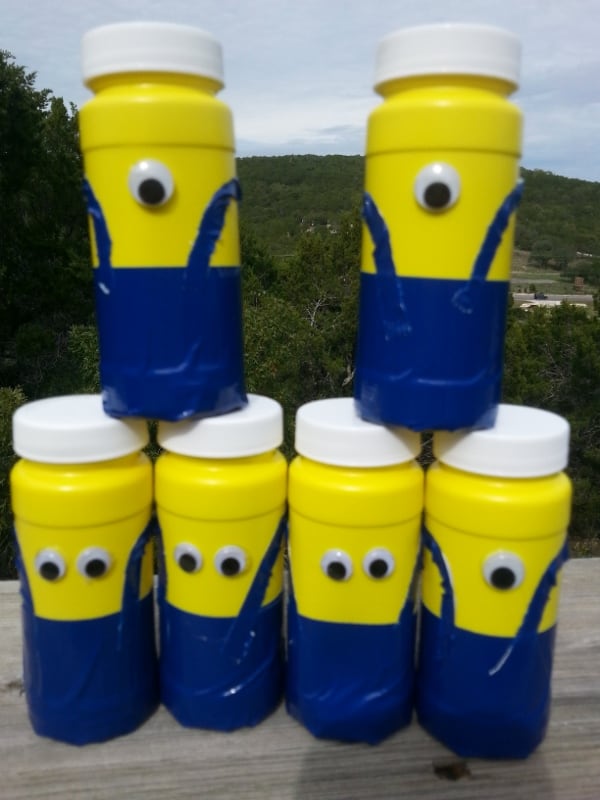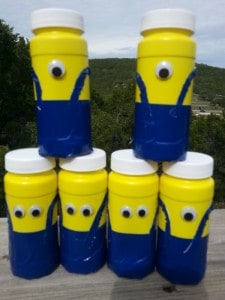 Now, use your silver Sharpie to draw circles around the eyes to form goggles. Use the black Sharpie to draw the goggle strap all the way around the bottle and to draw a mouth and hair! We added a tongue on some of them with a red Sharpie. The hair was really the finishing touch for me.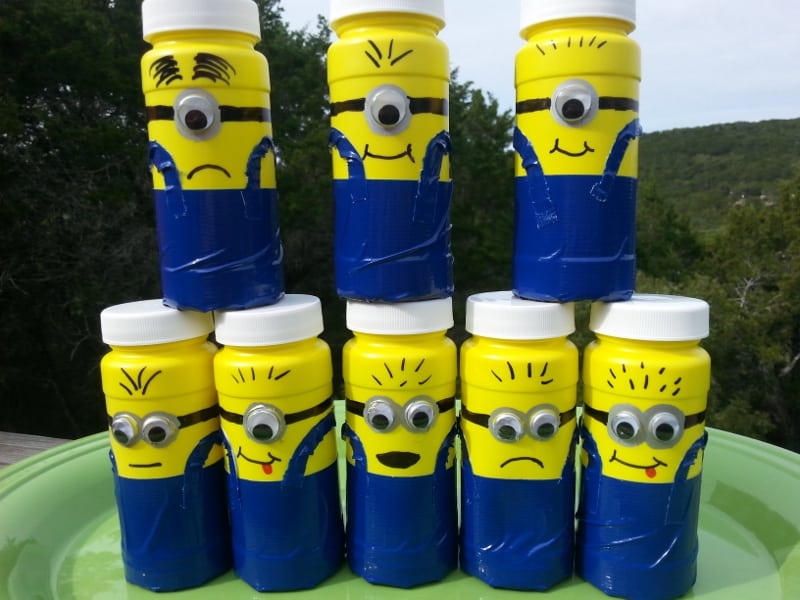 We had all 20 of our Minion Bubble Party Favors done in no time. The hardest part was keeping my kids from playing with them before the party. These were a total hit at her birthday party and the kids got something they will actually get to play with! We added it up, and this project only cost us about $16 to make 20 minions. There were a few left over, but we'll definitely put them to use next summer.