Austin Steam Train Experience!
Austin Steam Train Experience
If you live in or plan to visit Austin, Texas I highly suggest you experience the Austin Steam Train Experience.  The Austin Steam Train will take you on an amazing journey through the Texas Hill Country with trip destinations to Burnet or Bertram.  There also host "special" dates for a themed adventure from Thomas The Tank Engine for the young ones and a Murder Mystery night train rides for the adults.
First, I want to give a huge shout out to all the staff!  Boy, everyone there is super nice.  These people really enjoy their jobs and who wouldn't when you get to ride that train!
The Hill Country Flyer trip is the most popular train ride that is 66 miles round trip from Cedar Park, Texas to Burnet and back.  But they don't take the same way back so the scenery is different the whole trip!  Our trip was about a 2 hour train ride with a stop over in Burnet for lunch and shopping.
At our stop over in Burnet, there were a few places within walking distance to eat or they have shuttles to take you further.  We ended up walking just a couple blocks over to downtown Burnet where they have the cutest little shops ever!  You could easily eat lunch right there.  They had tons of antique shops (my fav!) and even an old time barber shop!  We ate lunch at The Highlander Restaurant which offer a buffet of all home town cookin' that included desserts!  Wow!  That was good food!  Warning!  You will over eat!
After we ate and shopped, we were entertained by the Burnet Gun Fighters with a live gun show!  It was live shots but luckily they were all blanks.  I don't want to give off too much about this show and spoil it but it involved a cowboy, pretty women, lots of whiskey and a brawl!  We all enjoyed that show!  Be sure to tip those people because they are all volunteers too!
The train stop will give off four loud whistles when the train is about ready to leave to head back to Cedar Park.
Our family made some wonderful memories as we spoke about Texas history all along the way.  The teenagers really enjoyed the little spot in between each train ride where they were able to hang their heads out the window and wave at people as we passed each intersection!  You know it's a great trip when the teens brought their electronic devices but didn't pull them out once because they were enjoying the ride!  That speaks volumes!
My younger daughter was a bit nervous at first about the ride but quickly forgot about how nervous she was when she say a cute tray of desserts!  Funny how a little bit of sugar can change your mood tremendously!
We all enjoyed all the lovely bluebonnets that have sprouted up along the way.   We learned how the red granite was transferred from Granite Mountain (near the site of present day Marble Falls in Burnet County) on this exact rail line to downtown Austin to build the capitol!  Lots of boulders fell off along the way.  There is a beautiful large granite bench sitting just as you are about to enter the train area when you board that were brought over from the fallen boulders.   I was amazed to see many huge boulders of granite still laying on the ground along our trip!
My youngest thought the best part of the trip was seeing all the birds, flowers and she even saw a peacock!  I had my camera ready just at the right time and snapped a few photos of it too!  I took so many photos that I decided to create a YouTube video to show them all to you.  The pictures only portray the scenery yet there's nothing quite like riding the actual train!
Be sure to sign up for the Austin Steam Train Newsletter and "like" them on Facebook too.  They always seem to be having a giveaway to win free passes!!!
Friend Austin Steam Train on Facebook here
Follow Austin Steam Train @AustinSteam on Twitter here
Sign up for the Austin Steam Train Newsletter here
The historic railroad operates vintage passenger cars pulled by our 1960 diesel Alco Engine while the 1916 steam engine is restored.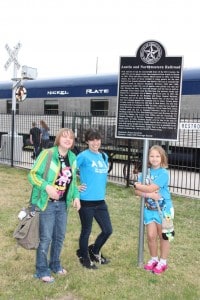 Head over to Austin Steam Train to order tickets here or call our ticket agent at 512-477-8468 ext. 2. Ticket agent is available Monday through Friday from 9:00 a.m. to 4:00 p.m.
Walk up tickets go on sale 1 ½ hours before each train's departure and are available in the ticket office, located at 401 E. Whitestone Blvd, Suite A-103. Walk up ticket sales end 10 minutes prior to the train's departure. Walk up tickets are sold for that day's train only. You may call the ticket agent at 512-925-7570 to check on the availability of walk-up tickets for that day's train.
Austin Steam Train graciously gave my family a pack of tickets to experience the Hill Country Flyer trip so that I could tell all of you about it but the opinions in this post are all my own.  (Thanks Austin Steam Train!  We will definitely be riding again!)