Shop Your Way® Pharmacy Rewards Program
This is a sponsored post written by me on behalf of Kmart® Pharmacy. All the thoughts and happiness from saving money is 100% my own.

Shop Your Way® Pharmacy Rewards Program
I feel as though you all know me very well by now. You know that I love to save some money. Especially on items we need or use everyday. Today, I'm excited to talk about the Shop Your Way® Pharmacy rewards program from Kmart®. Have you noticed the rising cost of prescriptions lately? Holy smokes it's crazy. I am always looking for ways to save a buck. With this new program, you can earn $10.00 back in points for every five qualifying prescriptions you fill in a 12 month rolling period. How's that for some extra savings? It's like getting some money back when you fill your prescriptions.
Shop Your Way® Pharmacy rewards program
How It Works:
First, and most importantly, register for the Shop Your Way® rewards program.
For every five prescriptions filled, members get $10 back in points* (10,000 points). Members can use their points to shop for qualifying purchases at any Kmart or Sears store or online. Even your pet's prescriptions count toward your reward!
Sign up today and start earning! Already a Shop Your Way® member? Please create a SYW® pharmacy rewards account to participate in this program.
That's not all either. Kmart® Pharmacy also has a way to track all of your rewards. Progress toward your next Reward can be tracked three ways: 1) members can login at
KmartPharmacy.com/rewards
, 2) a receipt will be printed tracking each prescription purchase at checkout and 3) members can opt in for email updates.
There is no limit to the number of pharmacy rewards a member can earn in a rolling year. The more prescriptions filled, the more rewards earned!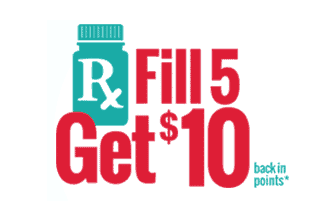 My personal favorite is the smart phone app!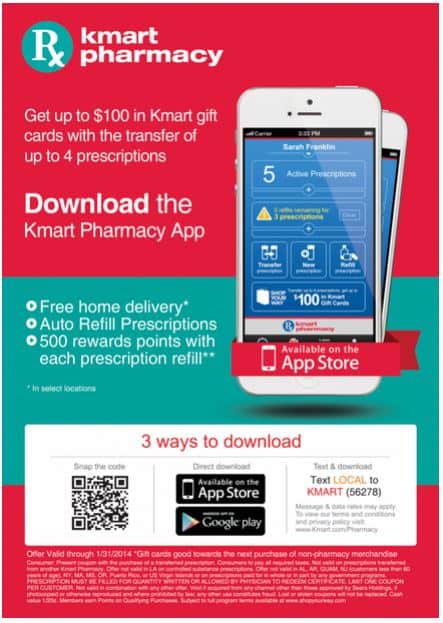 It's easy to rack up points, easy to redeem then and easy to track them! Pharmacy Reward points are usually available for members to redeem during the next transaction following their prescription purchase. Once awarded, pharmacy reward points are valid for 14 days.
Reward points can be redeemed for qualifying non-pharmacy merchandise at any Kmart or Sears, both in-store and online. Now for the fun question, how do you plan to spend your rewards? I'm in need of a new pair of sandals!
This sponsored article is written by me on behalf of Kmart® Pharmacy.