Twinkie Mummies
Check out this neat and amazing recipe for these adorable Twinkie Mummies! If you're looking for some nice Halloween sweets and snacks, then look no further! The recipe below will bring you step by step into making this great Halloween Snack! For more Halloween snacks, be sure to check out out Pretzel Pumpkins recipe, our Frankenstein Twinkies, and even our Clementine Pumpkins and Banana Ghosts! With these recipes, you should have all the Halloween snacks you could ask for! Be it for just the kids, or your own party!
Are you ready for this fall? Not without some great pumpkin recipes, you're not! Check out this neat cookbook with more pumpkin recipes that will sure to widen the variety of pumpkin foods for you and your family this fall! With all of these recipes, you will be sure to be even more than ready for this fall season! Show your Halloween and Thanksgiving spirit with any of our fantastic pumpkin recipes that we have supplied you with! Any of those recipes will be absolutely perfect for bringing your friends and family together for the holidays!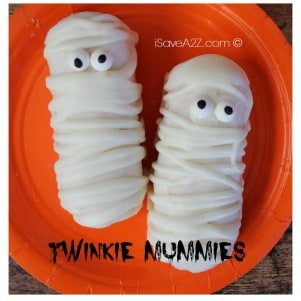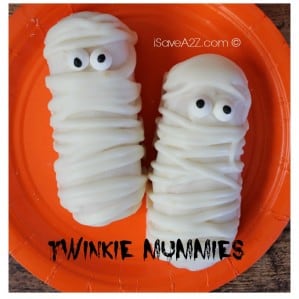 Twinkie Mummies
Instructions
Place Twinkies in freezer for at least 30 minutes.

Prepare a baking sheet or cutting board by covering with parchment or wax paper.

Melt candy chips by microwaving 30 seconds then stirring and repeating until melted.

Dip each Twinkie in chocolate and roll to completely coat.

Transfer to prepared paper.

Place 2 eyes in each Twinkie.

Allow to set for 3-4 minutes.

Lift each Twinkie to separate from paper.

Using a knife carefully trim excess chocolate that ran off of mummies.

Transfer remaining melted chocolate to zippered bag and clip corner to pipe/drizzle.

Drizzle chocolate back and forth across Twinkie (avoiding eyes) to get bandaged look.

Allow to set.
Nutrition facts are provided as a courtesy.