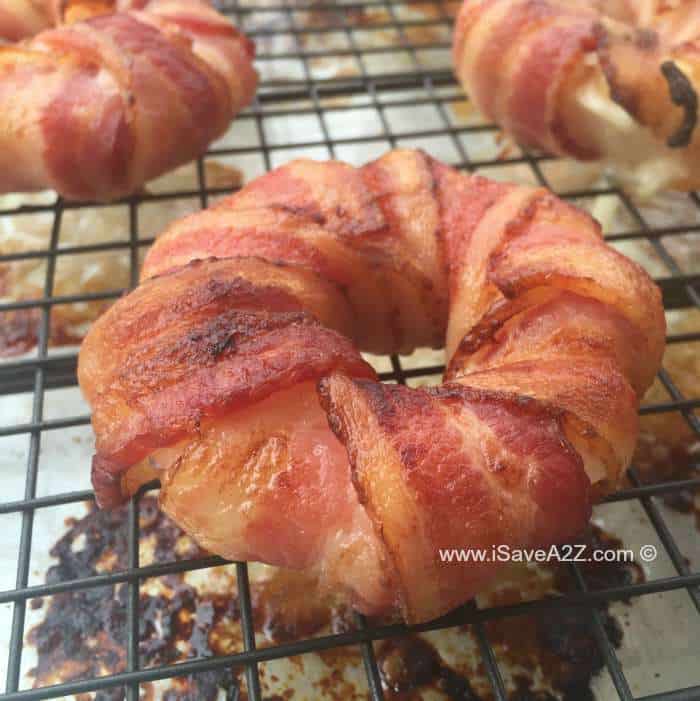 Bacon Pineapple Cheese Onion Rings Recipe
You've gotta try this Bacon Pineapple Cheese Onion Rings Recipe.  Whoa! That was a mouth full to say.  The minute my friend told me about this recipe I just knew I had to try it.  I'm not big on pineapple but it really does add a unique flavor when you add something salty to it like bacon.  Making this recipe was easy but it does require some patience.  You need to make sure you purchase the onions that are about the same size as a pineapple ring.  It can be a bit difficult to hold all the pieces together if the sizes don't match up the way they need too.  It doesn't have to match up but it does make it easier to wrap.
Here's how we made these Bacon Pineapple Cheese Onion Rings:
First we cut our onions in thick rings.
Then we opened a few packages of mozzarella cheese sticks and pulled one stick into two pieces long ways to make it a bit smaller.
I opened, and drained, the can of pineapple slices.  Unless you use fresh pineapple.  See below for an awesome hack on how to cut a fresh pineapple!
To wrap the ring I started with a thick cut onion and turned it upwards as though it was a bowl.  Inside the bowl part of the onion I added the half mozzarella stick side this bowl.
Then I added the pineapple on top of the onion and mozzarella stick.
I started to wrap a thick cut piece of bacon around the ring.  I found that it took at least two slice of bacon and sometimes I took three if the onion was extra big.
The bacon usually has a big end and a smaller end.  I found it easier to lay the big piece on the pineapple ring and use the smaller piece to thread through the pineapple whole.
I would overlap the bacon once I added a new slice.  There's not need to use toothpicks to hold the bacon in place either.  It will stay that way when you begin to bake it.
Optional:  You can bake them just like this or you can sprinkle them with your favorite bbq rub.
I baked them about 15 minutes at 350 degrees just until the bacon was nice and crispy.  I baked them on a rack so they wouldn't be greasy or soggy when they are done.
These are a huge hit during gatherings!  You can make them ahead of time because they taste awesome cold too.  They hold up nicely if you bake the bacon long enough to be browned and a bit crispy.
We hope you enjoy this recipe as much as we do.
HACK!  How to Cut a Fresh Pineapple:
I used to hate to buy fresh pineapple because it was hard to cut.  After I spent all the time cutting it, I felt as though I wasted a good portion of the fruit that was left behind from my sloppy cut techniques.  I learned a new and easy way to cut pineapples!
First, cut off the end and the top.
Next, use a thin and long knife to cut the inside edge as seen in the photos.
It's that easy!!!  No wasted pineapple!
Now, if you want the core cut out, you can use a small circle metal cookie cutter to get the center.  If I am not making this recipe, I tend to cut large spears off the sides all the way to the center core.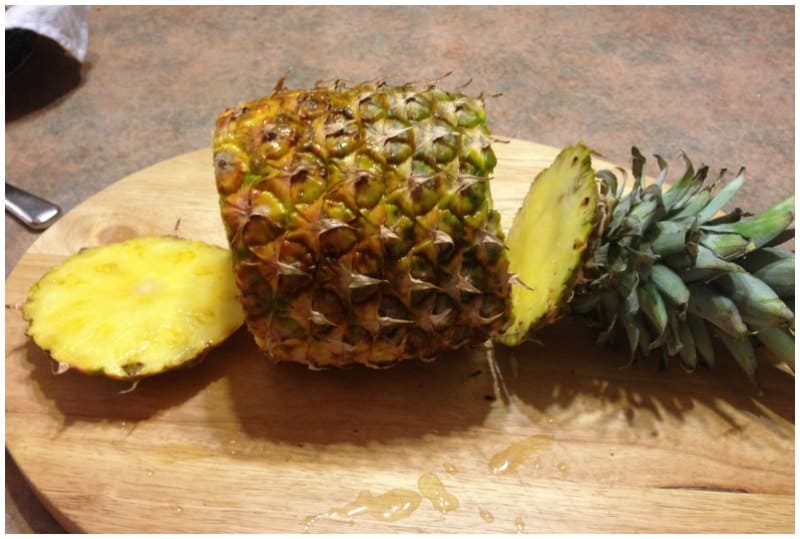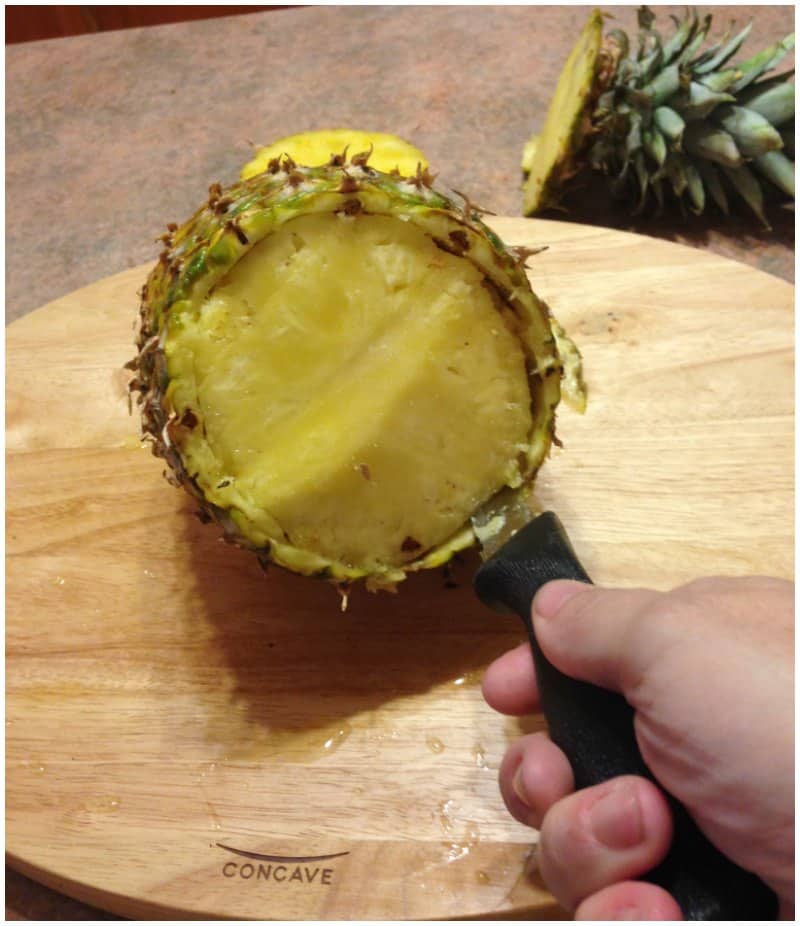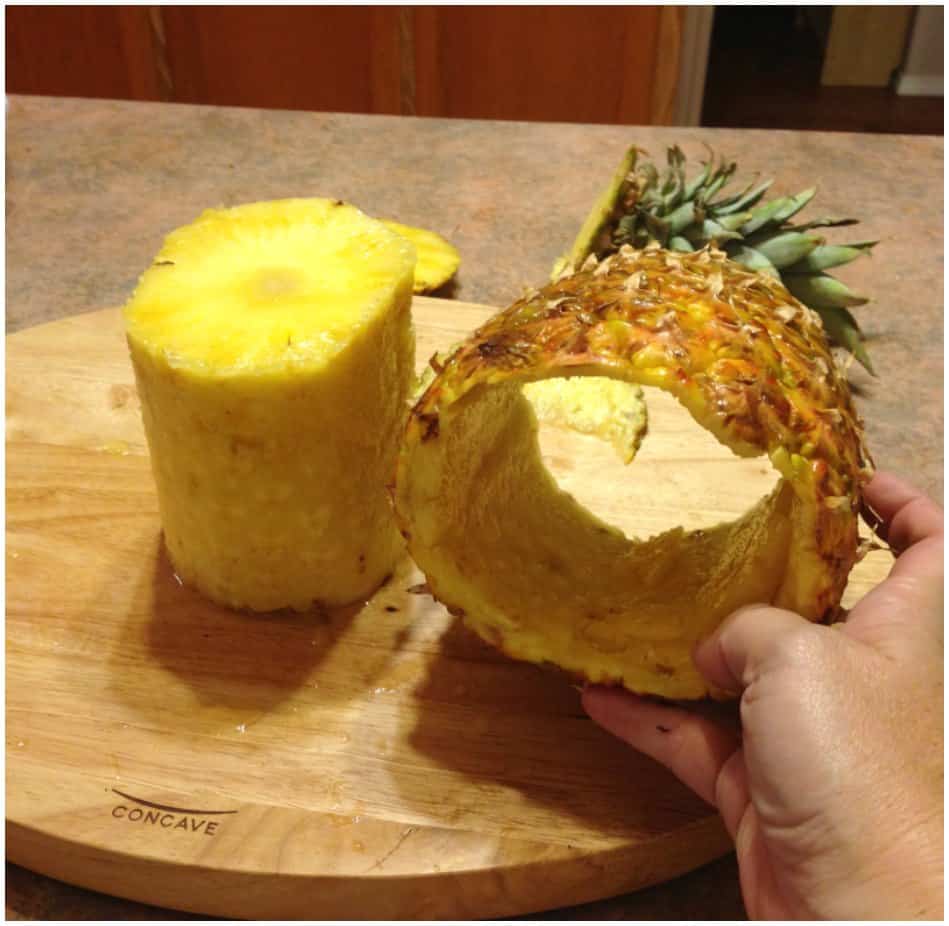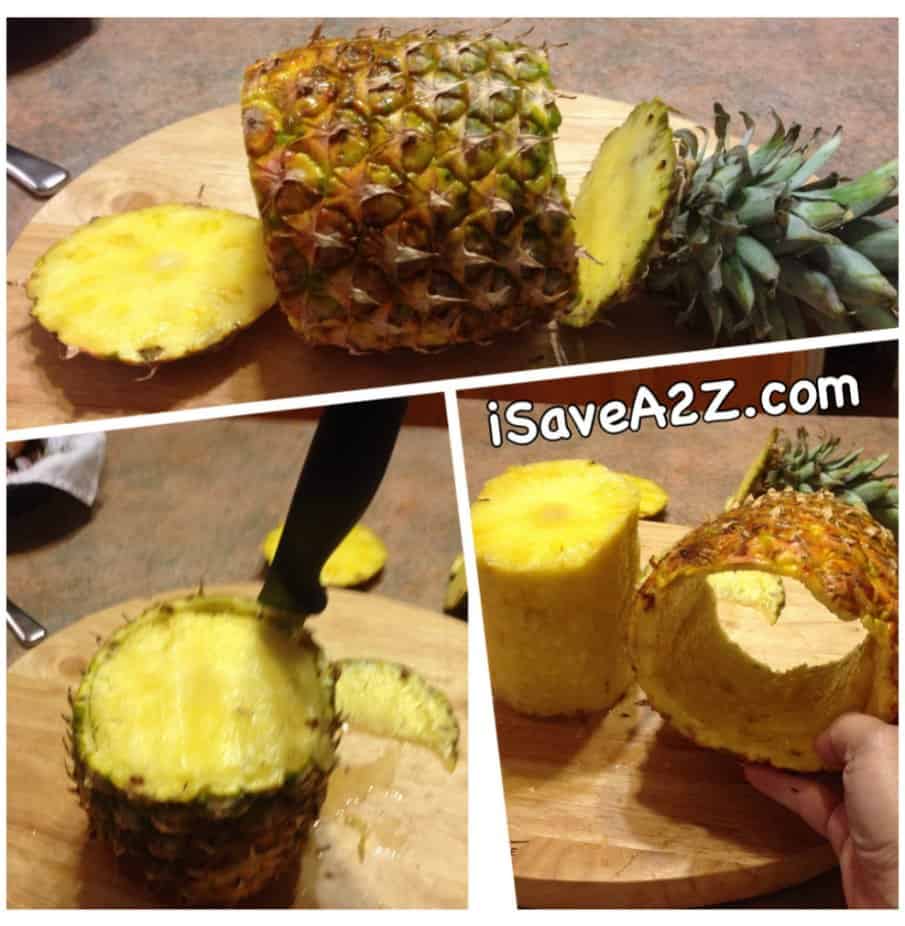 Feel free to Pin It here for later: