Pretzel Lady Bugs
Check out this great recipe for some simple Pretzel Lady Bugs! If you're looking for a sweet snack that is both delicious and as cute as can be, then these Pretzel Lady Bugs will be perfect for you! The recipe below comes with very clear instructions on how to construct your very own cute Pretzel Lady Bugs, that will surely win the hearts of you family, friends, and any guests you may have! Even those who state that they are not creative, or are not artistic, will be able to make these Pretzel Lady Bugs with ease! Try them for yourself! You may be more skilled than you think!
If you liked this recipe, then you may want to check out this cookbook for some of the best and easiest desserts that are out there! If you liked this recipe, and easy foods are more up your alley, then that cookbook should be more than perfect for you!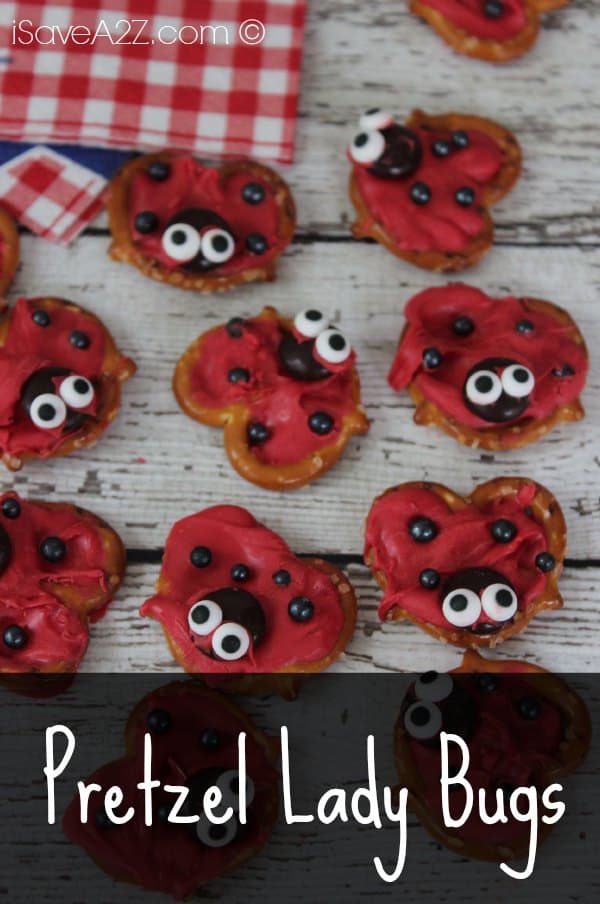 Pretzel Lady Bugs
Instructions
Lay pretzels out on wax paper lined cookie sheet.

Heat Red Candy Chips by microwaving for 30 seconds stirring and repeating until melted. Allow to cool for 2-3 minutes.

Transfer chocolate to corner of zippered bag and clip tiny piece off of corner to pipe.

Pipe candy over inside of pretzel to fill completely. Smooth with finger if necessary.

Place M&M for head on rounded end of pretzel.

Place 4 pearls for spots.

Use a small dot of melted chocolate as "glue" to attach eyes to head.

Place cookie sheet in refrigerator for 20 minutes to allow candy to set.
Nutrition facts are provided as a courtesy.
Hope you enjoy! If you like this recipe be sure to PIN IT here!  Follow us on Pinterest too so you don't miss anything!