How to Screen Print Tshirts without a Machine
How to Screen Print Tshirts without a Machine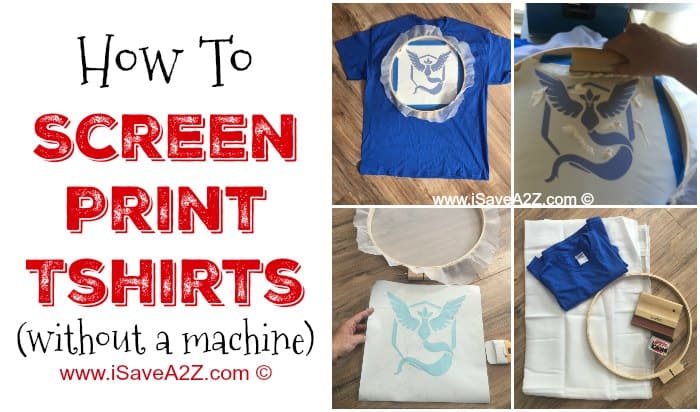 I have just figured out how to screen print tshirts without a machine! If you own a vinyl cutting machine such as a Circuit or a Silhouette vinyl cutting machine you can easily do this yourself!  This comes in handy when you want to make a personalize gift.  Or maybe you need a bunch of tshirts made for a family reunion or maybe an event for a team!  It's fairly simple to do.  Let me show you how!
Besides needing your vinyl cutting machine, you will also need a few more supplies.
Or if you prefer you can purchase this simple screen printing kit on Amazon that includes everything you need to get started.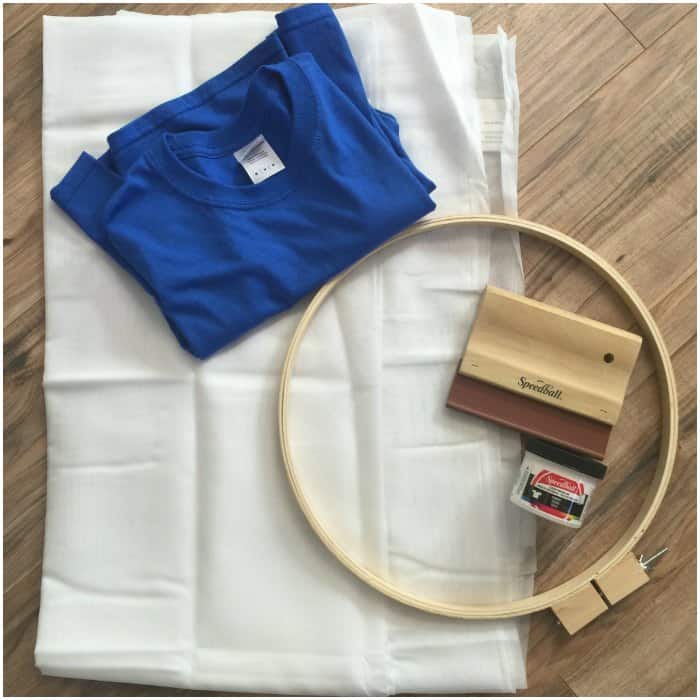 You will start by creating your design on your vinyl cutting machine software.  I prefer to use my Silhouette Cameo vinyl cutting machine so I use Silhouette Studio to create my design.  I them print the design on vinyl and weed it as usual.
While my design is printing I use this time to set up the embroidery hoop with the sheer curtain I no longer use.  I unscrew the embroidery hoop and  place the inside of the embroidery hoop near the corner of the curtain.  I place the other hoop on top of the bottom and screw it back on.  Then I cut about 2 inches around the hoop to release the hoop from the rest of the curtain.  You want to be sure to cut at least a two inch border around the hoop so you can pull it nice a tight.  Once the curtain is secure in the hoop, you can now apply your vinyl design.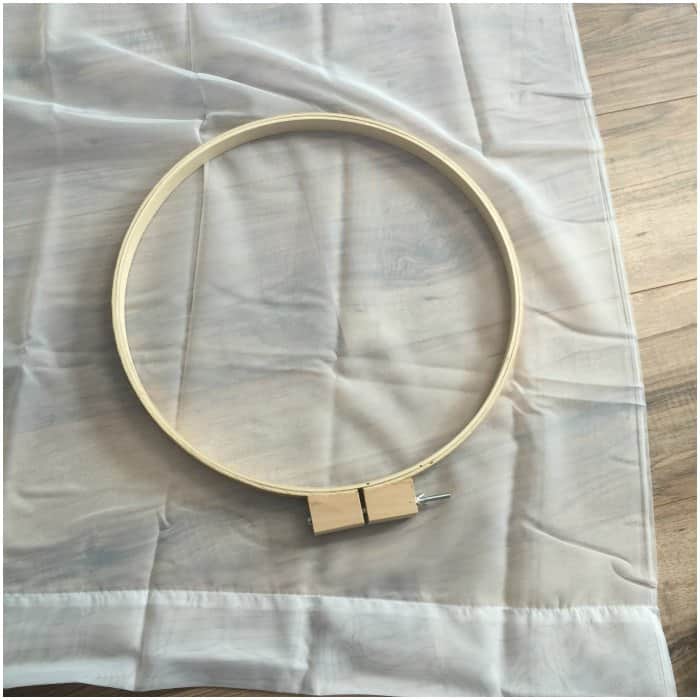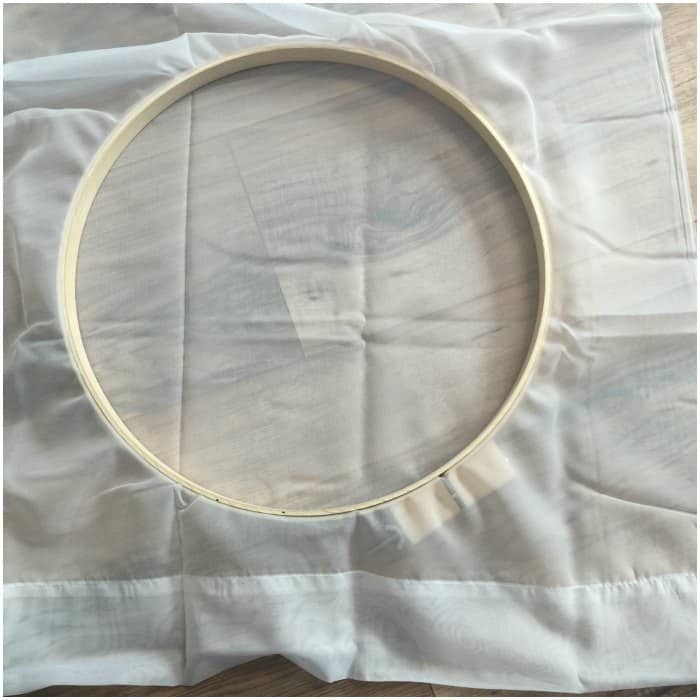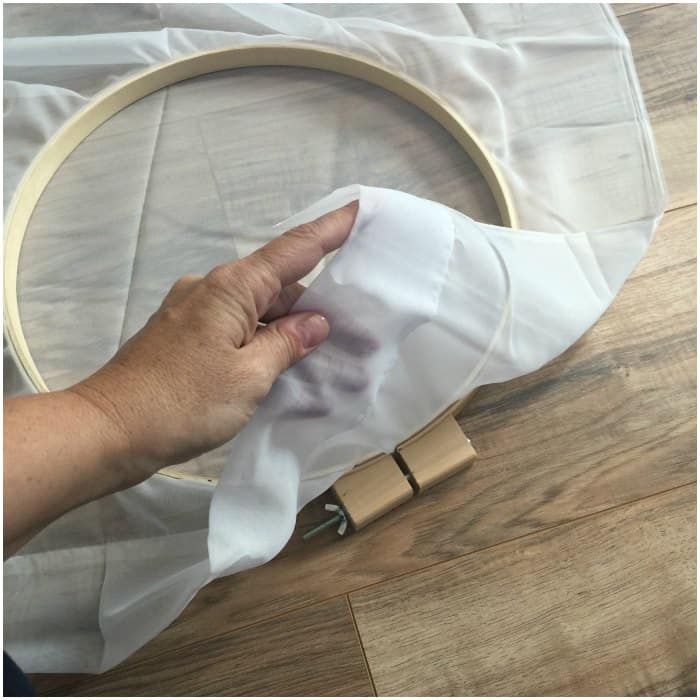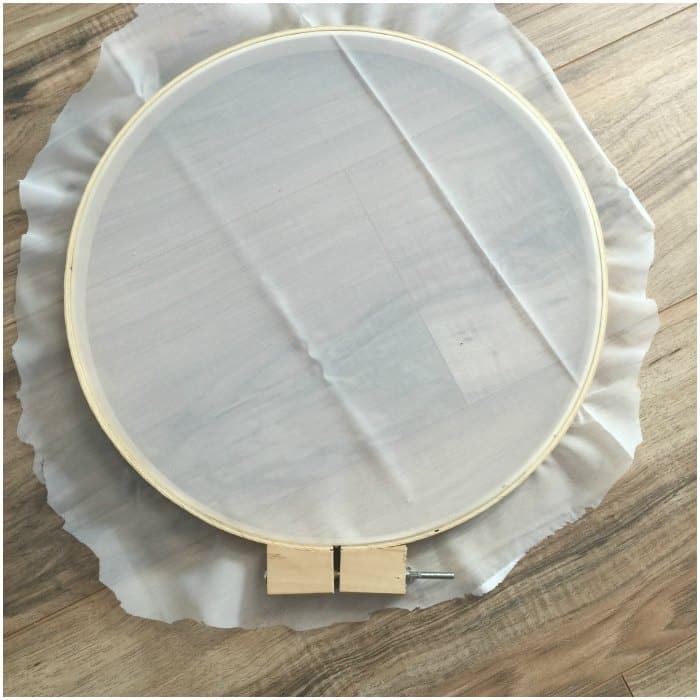 I use transfer tape to pull the design off of the paper and onto the embroidery hoop.  After I applied my design to the embroidery hoop I covered the rest of the exposed curtain fabric with blue painters tape.  This way I wouldn't get paint on any of the fabric by mistake.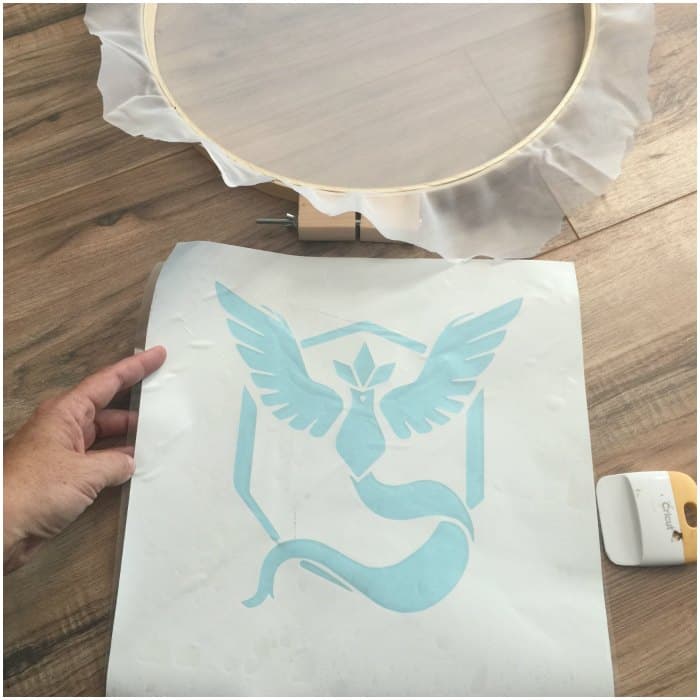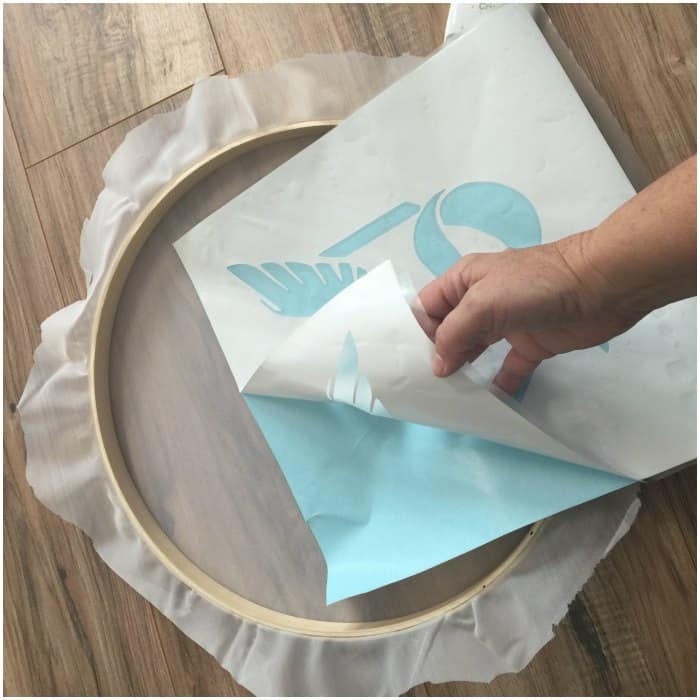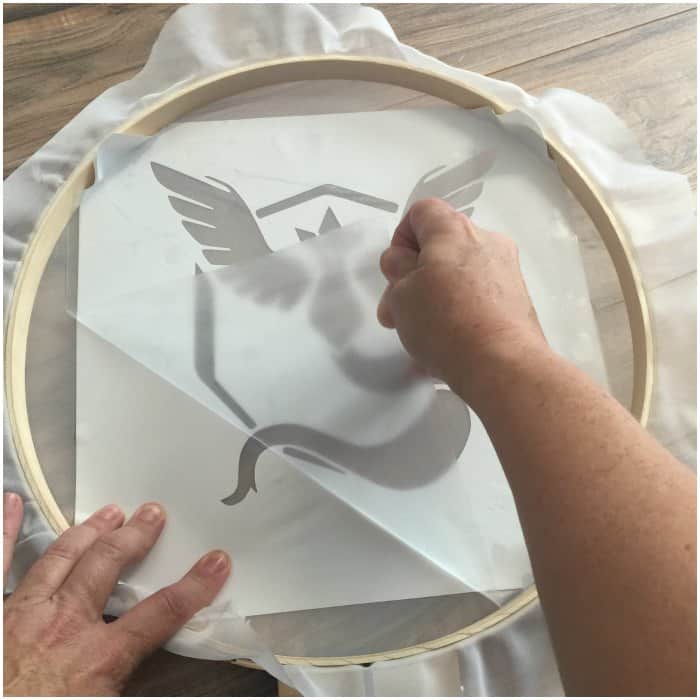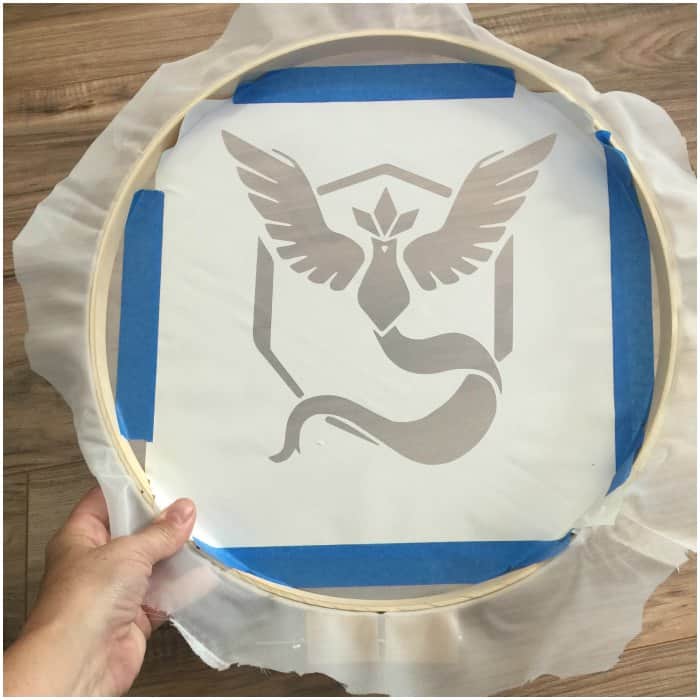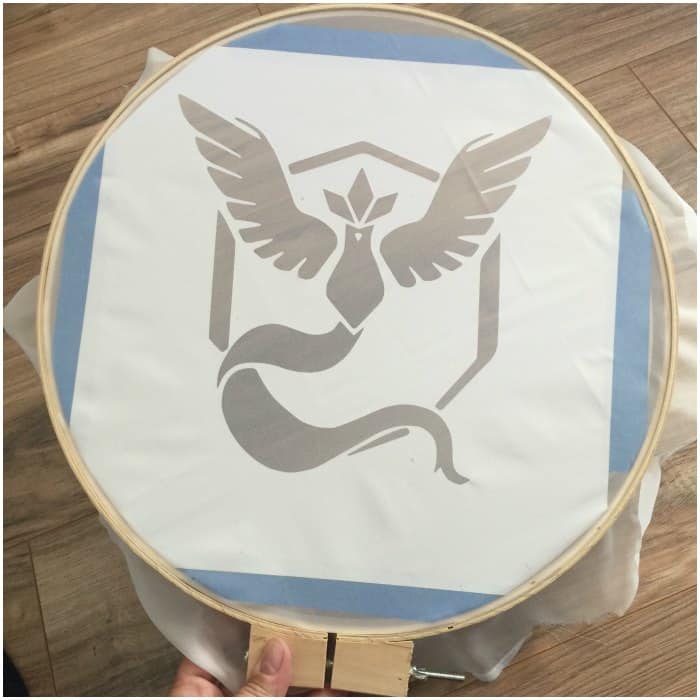 Next I placed the flat side of the embroidery hoop down in the center of my tshirt exactly where I wanted my shirt design to be and started applying a small amount of screen printing fabric ink.  You will be surprised that a small amount of ink will go a long way!  In this Pokemon Mystic tshirt project I did for my daughter I used a blue tshirt and white screen printing ink.  I used a spoon to apply a small amount of ink near each fill space on the design.  I then used a squeegee to apply the ink.  I pressed down lightly so an even amount of ink would be applied to the tshirt.  I've heard that a credit card works just as well.  I plan to do many shirts so I purchased the squeegee.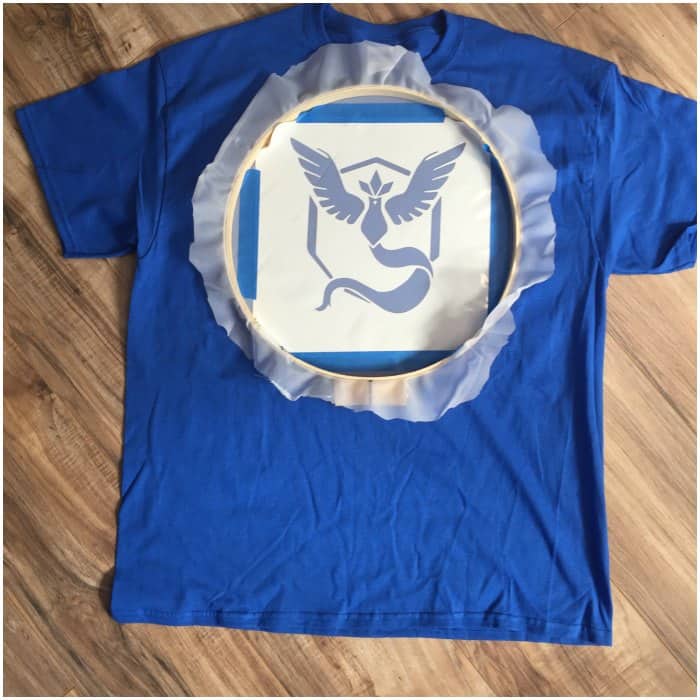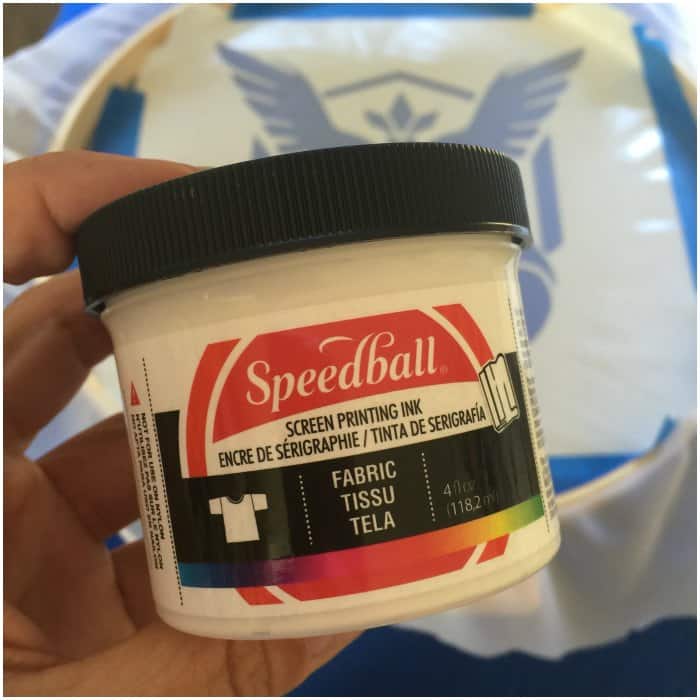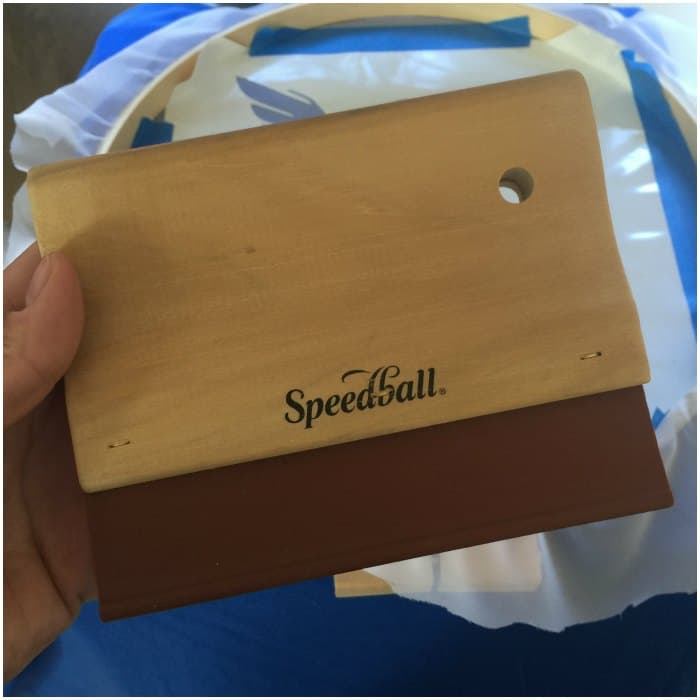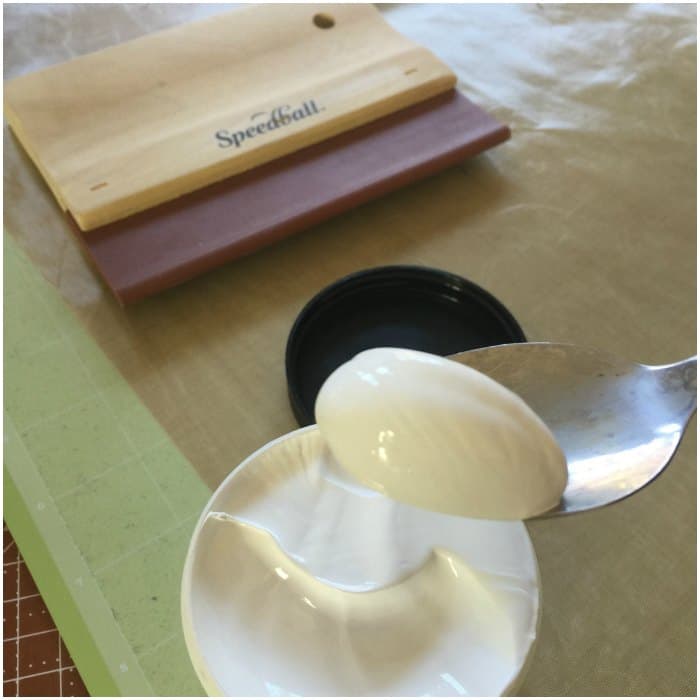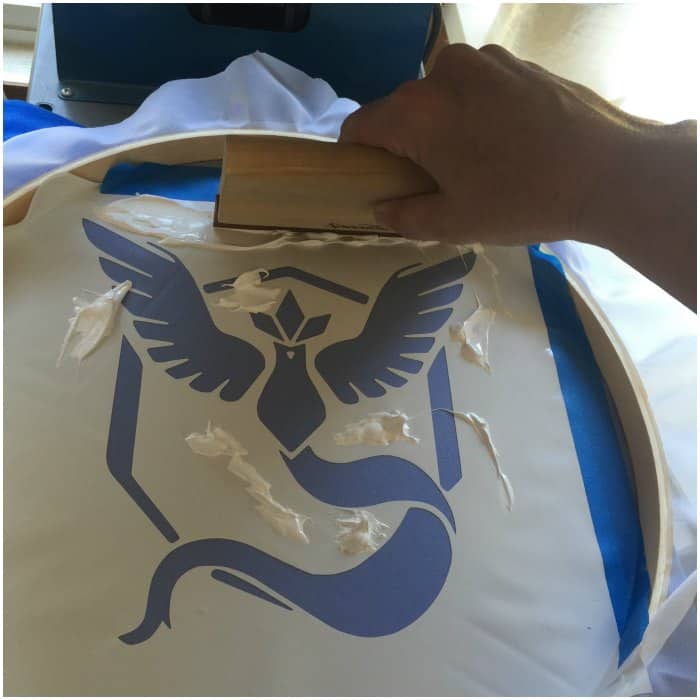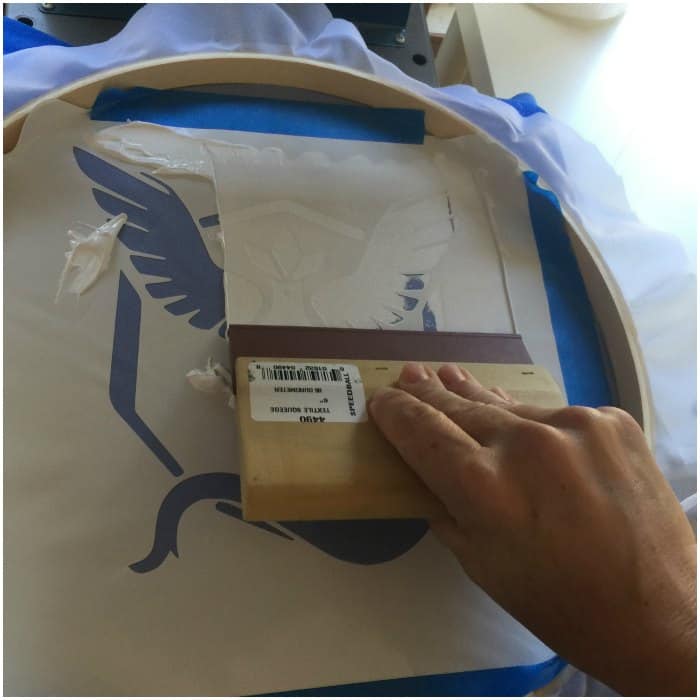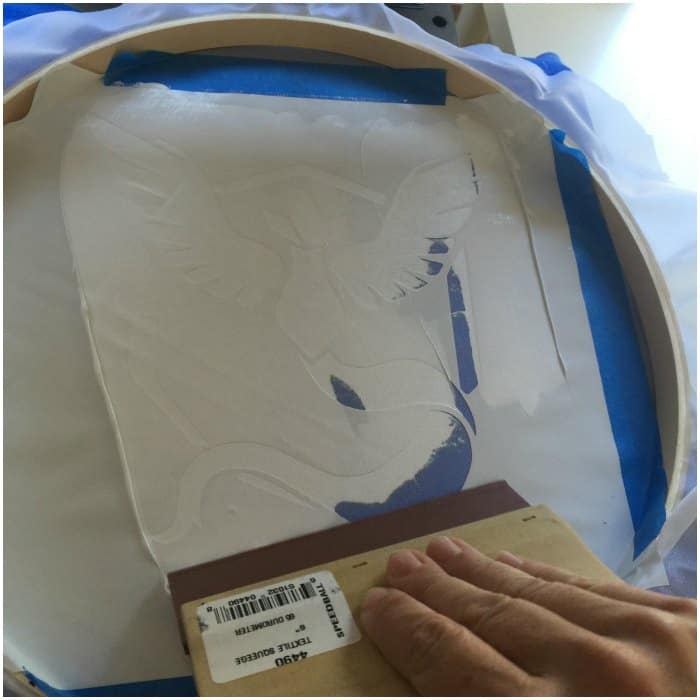 Do not lift the design until all the design spaces are filled in with in just like this photo: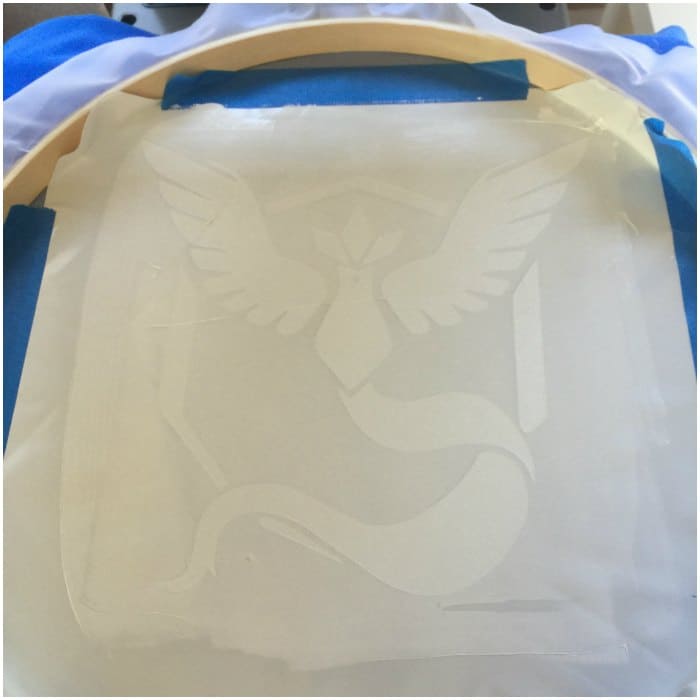 After all the spaces have color added, you can lift the embroidery hoop off the tshirt.  This is super sticky ink so it will appear as if you are almost peeling it off which is nice because the ink doesn't not bleed through the design you've created.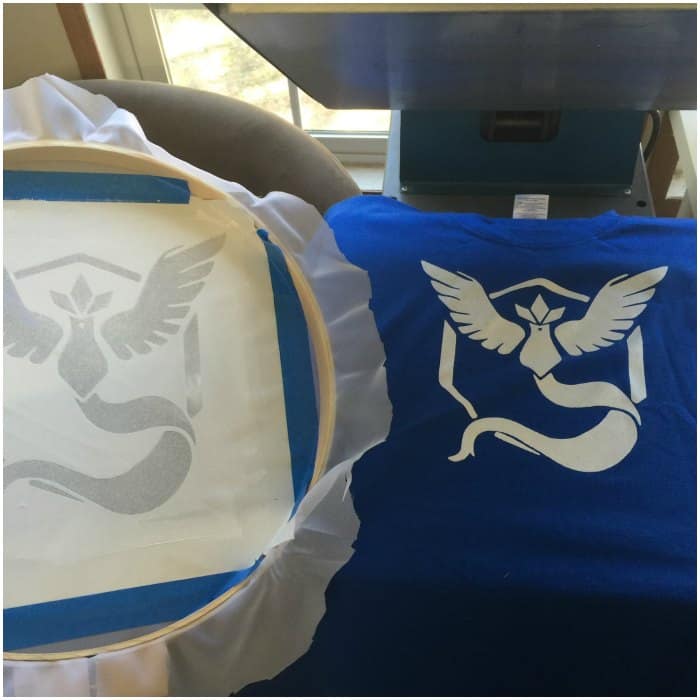 Voila!   Now all you need to do is let it dry!  Place it on a flat surface and don't let anyone touch it!
The last step is to iron it after the paint has completely dried.  This will set the ink forever.  I have a heat press so I just pressed in for about 10 seconds.  I would take an iron over it on high setting for a few seconds.  Then it's done!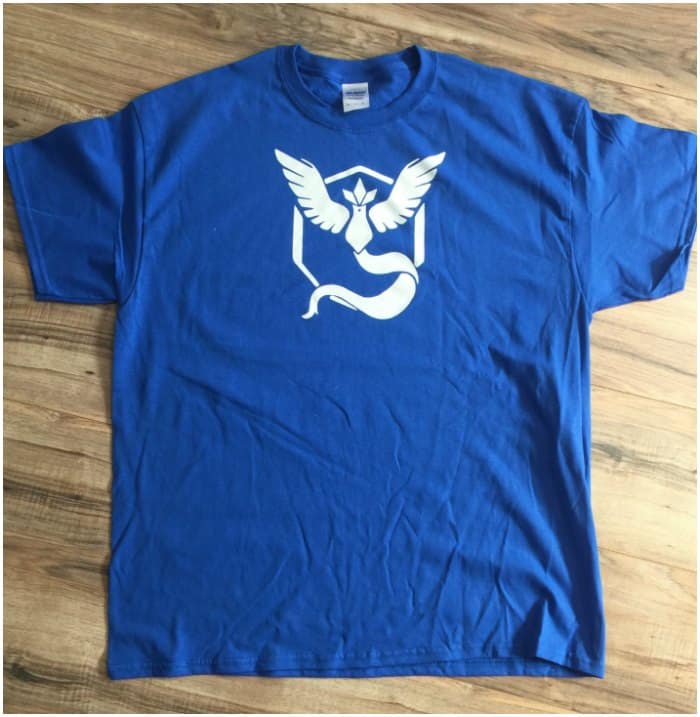 You can use this same design over and over again.  You can use it to print many shirts one right after the other or you can rinse it with water to get all the ink off and use it at a later date.  Rinsing it with water will not ruin the vinyl.  I've done this many times!  You can also release it from the embroidery hoop and use the hoop for other designs.  When reattaching an old design, just make sure it's nice and tight in the hoop when you start to use it again.
And that's how you screen print tshirts without the need for a full screen printing machine!  My daughter ended up loving her Pokemon Team Mystic tshirts!  She already has many more designs she wants me to make for her.
If you are in need for a lot of personalized tshirts I can see where this technique would be a bit cheaper than using the vinyl itself.  Not only that but this ink will stay on it forever where as the vinyl may eventually crack or peel off as it wears over time!
What do you think?  Is this something you may attempt?
Feel free to pin it on Pinterest for later using this photo below: