Homemade Soap Recipe (Only 4 Ingredients)!!
Homemade Soap Recipe (Only 4 Ingredients)!!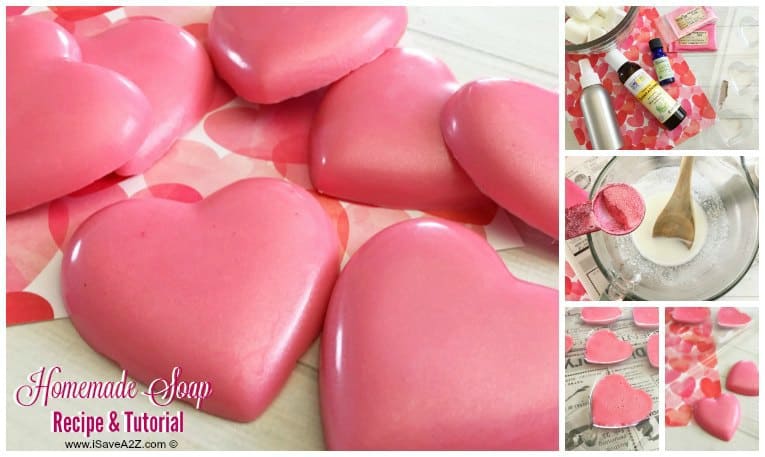 If you are a beginner and have always wanted to make a homemade soap recipe, I highly recommend you start with this recipe! It's easy and it has only 4 ingredients!  Besides, you guys loved our Homemade Fizzy Bath Bomb recipe we posted last week so I know you will love this one too!
There are so many different variations you can make with this recipe just by switching out a few ingredients with your favorite scents or colors! The possibilities are endless!
I should also mention this is one of those recipes that is perfect for a homemade gift. I promise you they will actually use it! It smells heavenly and goes on smooth. I LOVE homemade soaps!
Homemade Soap Recipe Ingredients
You will also need a heart shape mold like this one.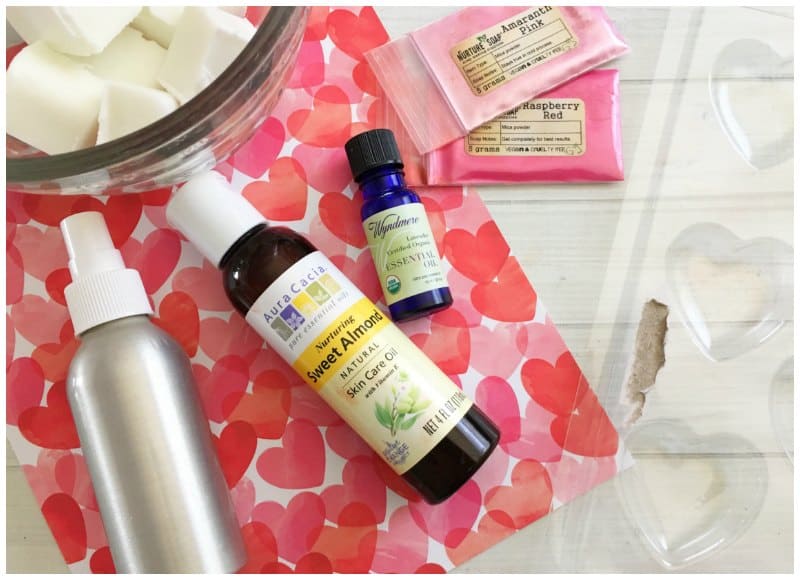 Homemade Soap Recipe Directions
Melt about 8 ice cube sized blocks of soap base in a  glass measuring cup in the microwave (more or less until you have 2/3 cup)
Once melted, mix in your sweet almond oil and essential oils
Then mix in your mica powder with a wooden spoon or stir stick until it is completely dissolved. 

 Pour the solution into your heart molds and lightly mist with rubbing alcohol to help prevent air bubbles from forming of the surface (this is optional)

Freeze for 15 minutes and carefully remove each heart from the molds (they should pop right out) 
Easy right?!!
Tip:  Mica Powders will stain so make sure you lay newspaper down before using them.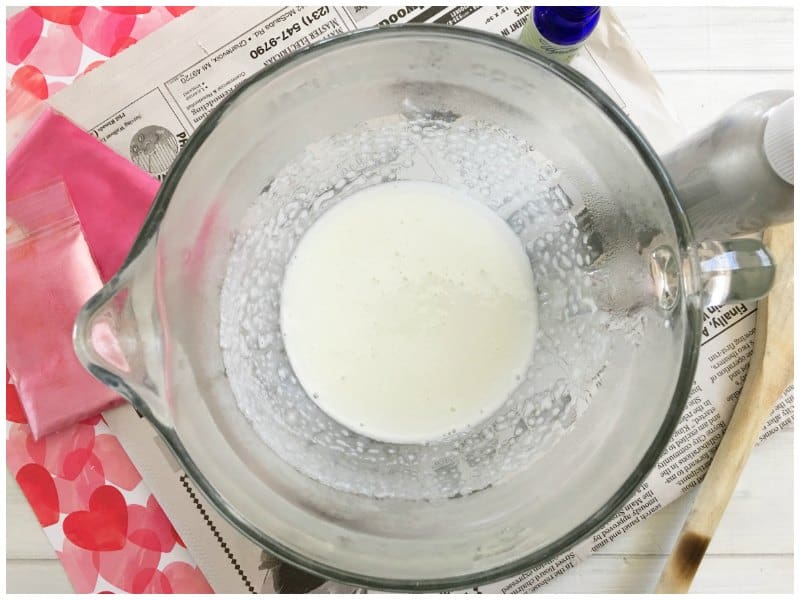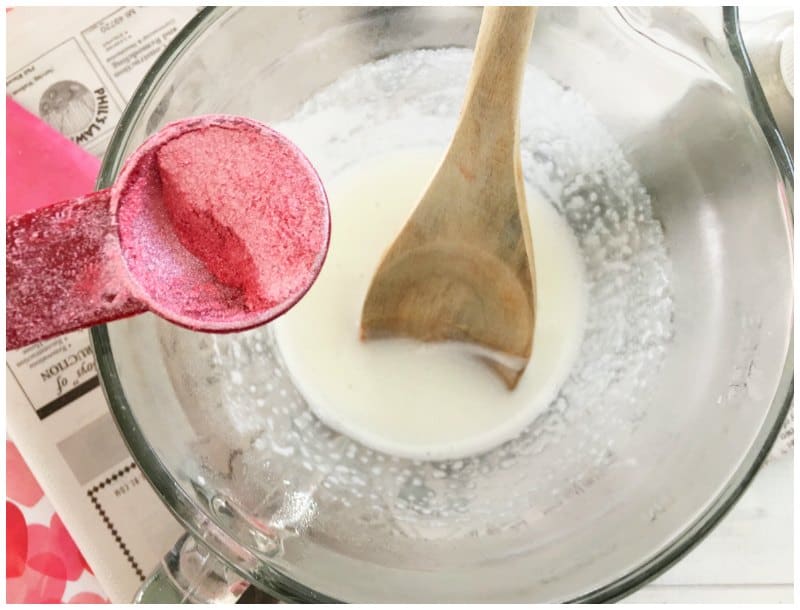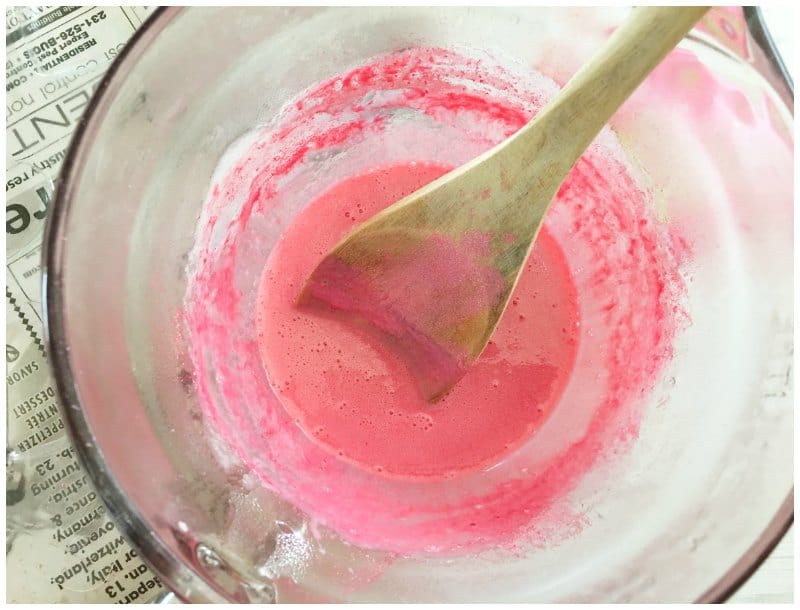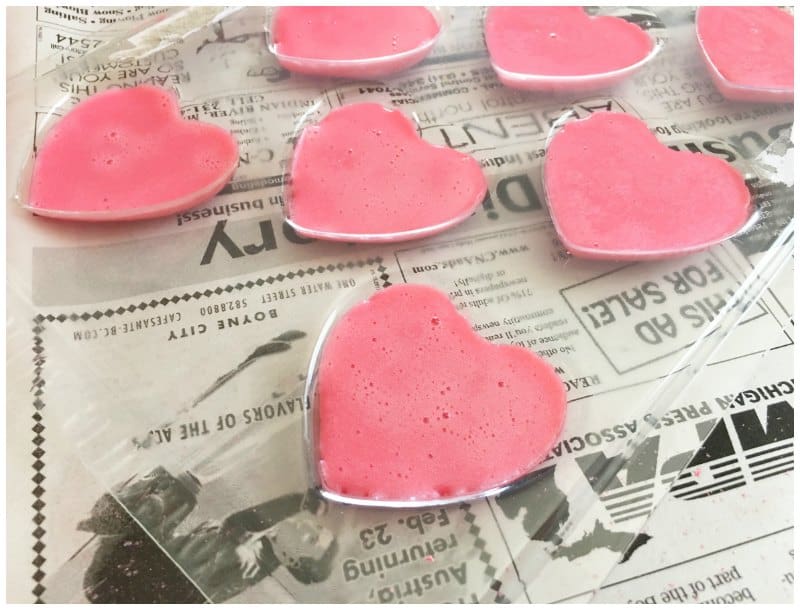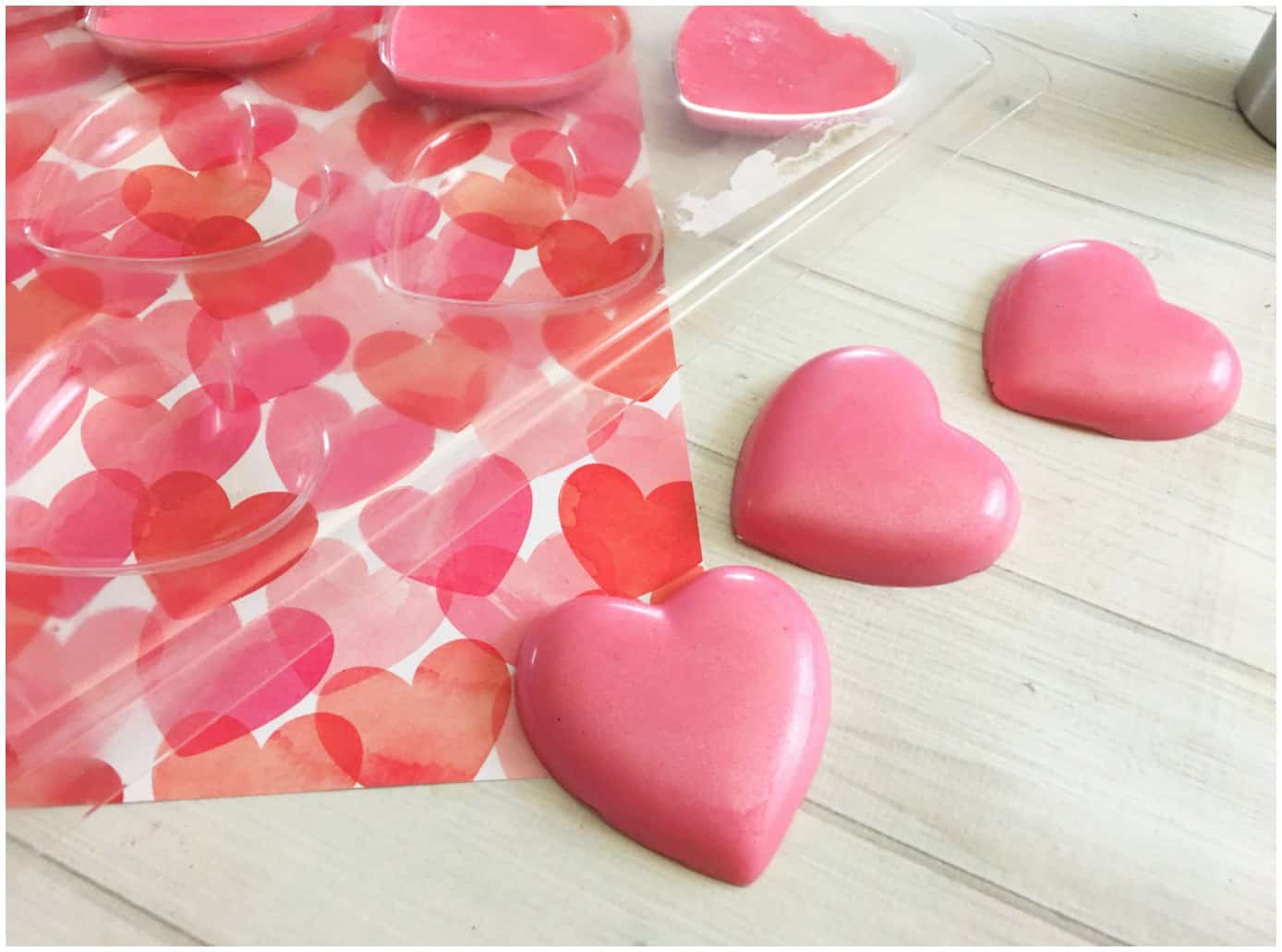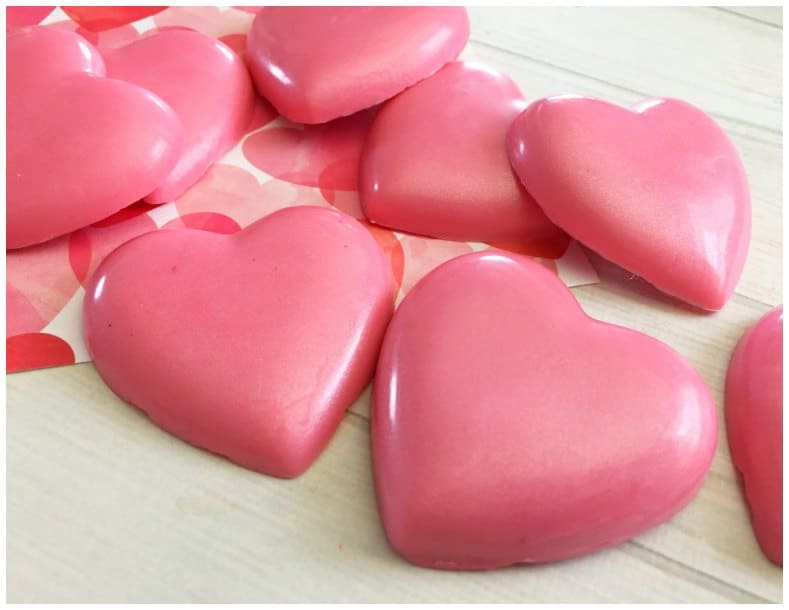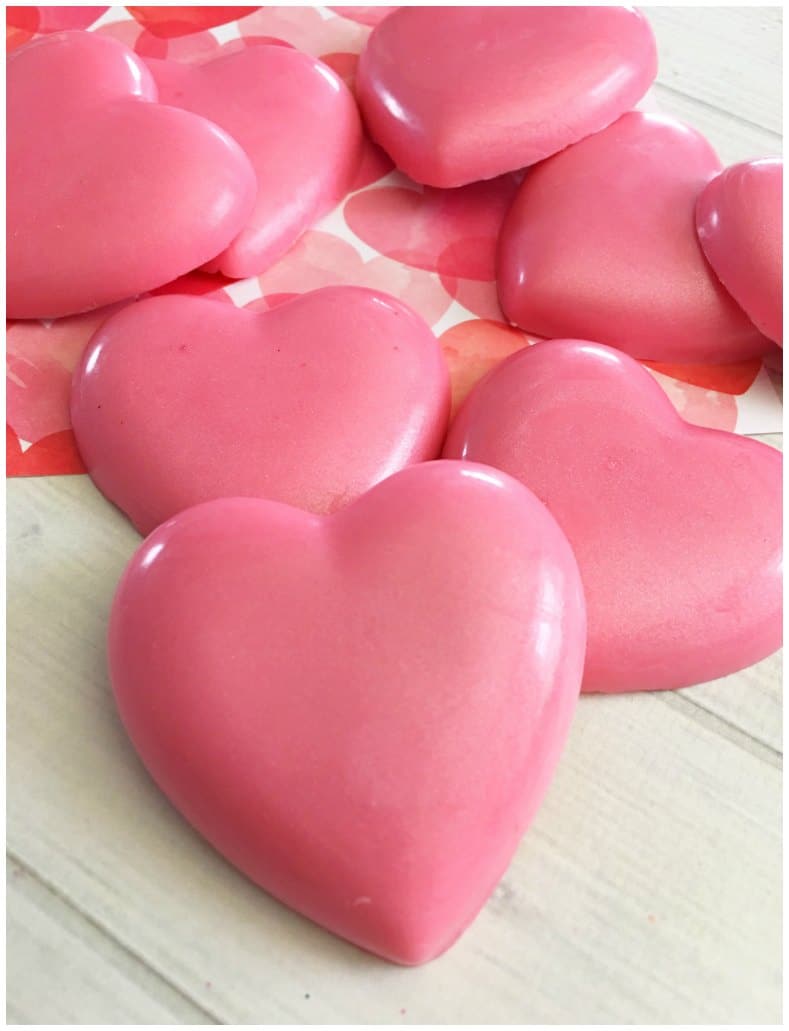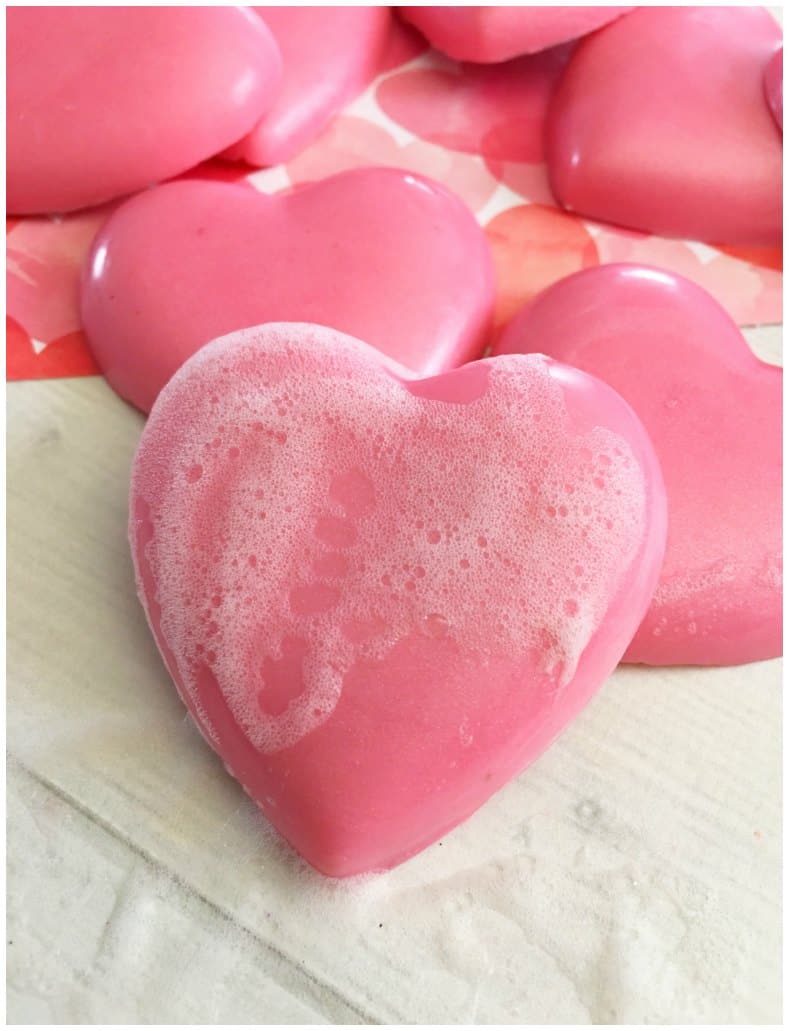 Here are a few different varieties you should attempt:
Lavender and citrus (this is probably my most requested scent)
Lavender Rosemary Orange Peel
Lavender Mint
Ginger Grapefruit
Grapefruit Mint
Rosemary Mint
Citrus Patchouli
Lemon
Lemongrass
Lemon Lime
Lemon Citrus
Orange
Yuzu (Japanese citrus fruit)
Eucalyptus Mint
Pomegranate Peach
Bergomot Grapefruit
Spearmint Eucalyptus
I better stop there.  Seriously, I think I could go on and on with scent combinations.  Those listed above are quite popular.  I'm certain you will enjoy them just as much as I do.  I suggest starting with a scent you are familiar with.  Then when you want to experiment, invest in an essential oils kit that has a good selection of oils like this Essential Oils Kit on Amazon.  It has most of the scent combos I listed above and it will last you a very long time!
The one essential oil that I have to purchase on it's own because it's not in a kit is Yuzu essential oil.  I love the citrus scent though so it's worth it for me to grab it!
The other ingredient I use in this homemade soap recipe is Mica powder.  Be sure to get the cosmetic grade Mica Powders just like this set I also purchased from Amazon. The colors are amazingly vibrant and come out oh so beautiful in my soaps!
Feel free to pin this project on Pinterest for later: