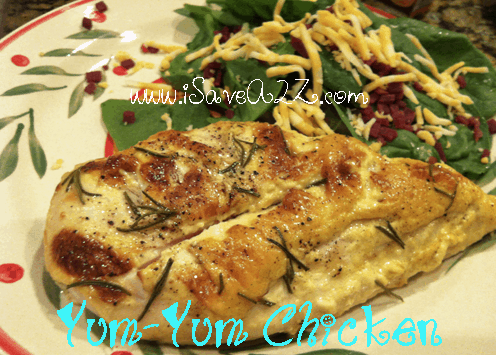 Yum Yum Chicken Recipe
I did a little experimenting with dinner tonight and it came out perfect!
I've been addicted to the cookbooks I find on Amazon!  One of my favorites:  I Love Trader Joes Cookbook found here!  It has amazing recipes! It's on sale right now but worth every penny of it's normal price!
I adjusted this recipe a bit because I am trying extremely hard to stay away from sugars in all forms!
My daughter and husband both decided to call this one our Yum-Yum chicken and they requested that I make this at least once a week! This is one request I CAN handle because this chicken is unbelievably easy to make!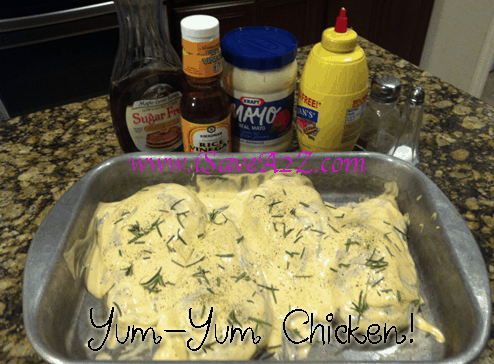 Ingredients
1 package chicken (I used skinless, boneless chicken breasts but you can use the dark meat too)
1 tablespoon Rice Vinegar
3 tablespoons mustard
1/2 cup mayo (the real kind)
1/2 cup Syrup (1/2 cup of Maple syrup is in the recipe but I used the Sugar free butter flavored because I am trying to cut back on all sugars)
Salt and pepper to taste
Fresh Rosemary
Directions
Place your chicken in a deep dish pan. Mix the Rice Vinegar, mayo, mustard and syrup together in a box. This will create a watery thick paste. Next, spread it on the chicken. Sprinkle salt and pepper over the chicken. Cut up fresh Rosemary and sprinkle it over the top before you cook it! NOTE: Rosemary is very strong so remember a little goes a long way!
Bake uncovered at 400 degrees for about 45 minutes or until your chicken is white on the inside.
Serve warm! Voila! That was easy!
Be sure to check out all the iSaver Recipes found here!  You will find everything from a No Bake Ice Cream Cake to the "healthy muffin in a cup" recipe to the "copy cat recipe" of the Chick-fila original chicken sandwich!
Enjoy!