2 Ingredient Dole Whip Popsicles

2 Ingredient Dole Whip Popsicles
Summer is in full swing and what better way to cool off than with a 2 ingredient dole whip popsicles!  We've been pretty lucky this year here in Texas.  We normally have triple degree weather at record days in a row but not this year.  I'm not complaining either.  We still look for ways to cool off.  Whether it be the pool or a cold beverage, we will find a way to cool down.
This past weekend I decided to challenge myself and use only ingredients in my pantry to make lunch, dinner and treats.  I bought a can of pineapple chunks a long time ago.  It was a mistake.  I meant to purchase the pineapple rings for a pineapple upside down cake.  This can has been sitting here for a while so now is the time to use it.  In the freezer I had a tub of whipped cream so I had an idea.  I was craving those fun beverages from Disney called Dole Whips!  I decided to put together one of my own but I wanted popsicles so the kids could have them when they were outside.
Let me tell ya…  these two ingredients frozen make the most amazing treat!  Tasty and light!  The kids dig em too!
All you need is a popsicle mold with 2 ingredients and you are good to go.
Dairy Free Option:  If you are looking for a dairy free option, try coconut milk instead of the whipped cream.  My favorite type of coconut milk is made my So Delicious.  It's light and creamy.  Makes wonderful popsicles and you can not even tell they are dairy free.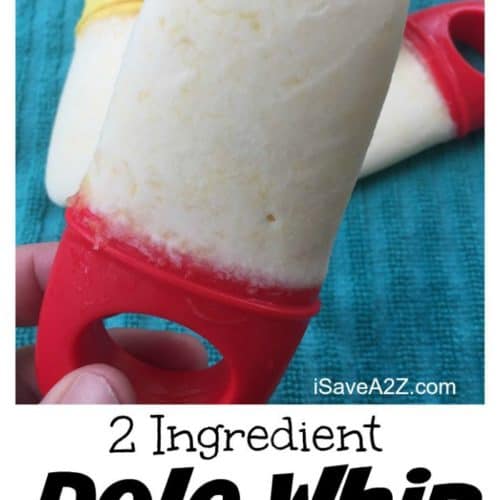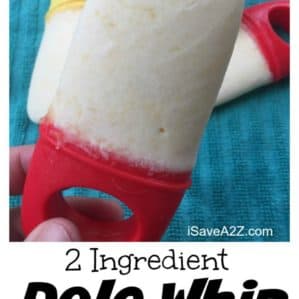 2 Ingredient Dole Whip Popsicles
Ingredients
1

can crushed pineapple in it's natural juices

1

small tub of whipped cream
Instructions
In a blender, add the crushed pineapple with all of it's juices.

The add the full tub of whipped cream.

Blend until smooth and creamy.

Add to the popsicle mold and freeze for a few hours.
Nutrition facts are provided as a courtesy.
What do you do to keep your pantry in check?  Do you have challenges to make things from your pantry also?
Feel free to Pin It for later using this photo: