3 Day Sun Pickles Recipe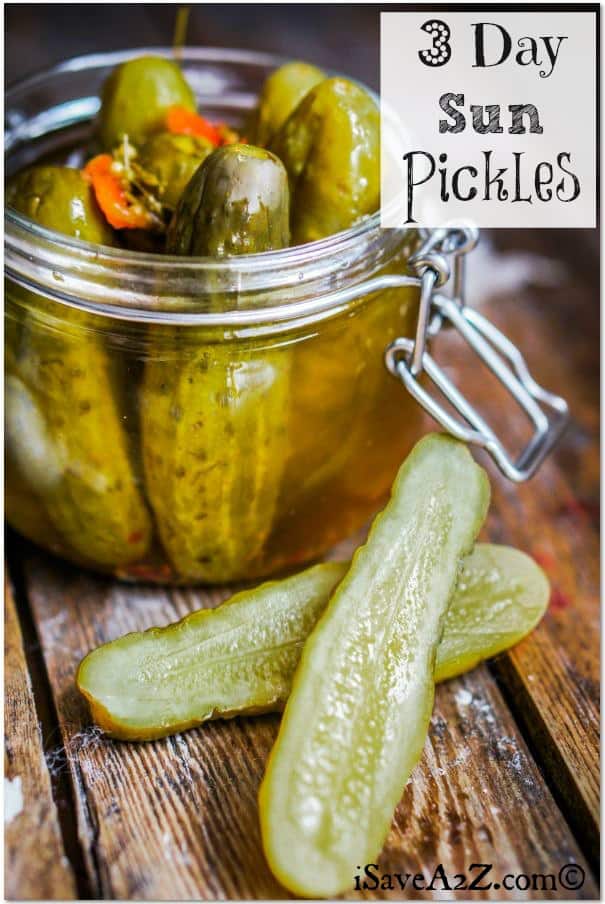 Are you a pickle lover? I am…I love dill pickles and could eat them with almost anything. I went through jar after jar when I was pregnant with my kiddos and oddly enough, neither of my kids like them now! Luckily, I come from a family who makes their own. This 3 Day Sun Pickles Recipe is one that my family has used for YEARS! I've already seen pickling cucumbers in the store, so it's the perfect time to share this recipe with you.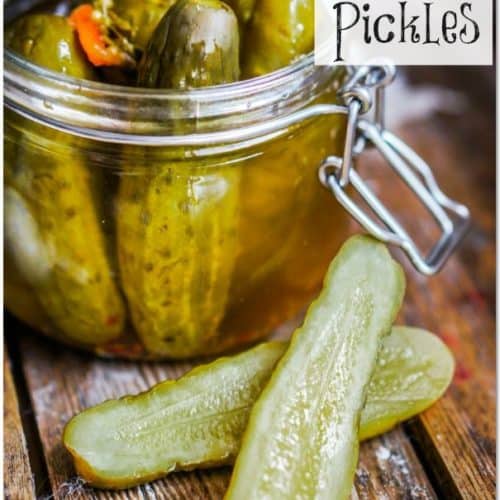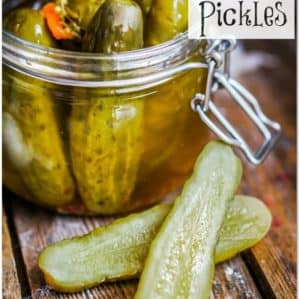 3 Day Sun Pickles Recipe
Ingredients
1

large onion

cut up

1-3

garlic cloves

peeled

3

quarts

of water

3/4

cup

of pickling salt

3/4

cup

of vinegar

about 20 pickle cucumbers

this depends on how large the cucumbers are that you get. You'll need enough to fill your jar.
Instructions
Mix water, pickling salt and vinegar in a sauce pan. Bring to a boil and boil for five minutes.

Set to the side and cool for about 5 minutes, or until luke warm.

In a large gallon sized jar, place dill, cut onion, peeled garlic and cucumbers. Place cucumber last, and fill the jar.

Pour warm mixture into the jar and put the lid on.

Set jar outside in the sun for 3 days.

After three days, open the jar and test a pickle. If it is to your liking, place the jar in the fridge. This will keep the pickles crunchy.
Notes
This can also be broken up into quart size jars for easier use. I suggest using 1 garlic clove and 1-2 sprigs of dill for each smaller jar. We also buy the larger pickling cucumbers so they can be cut into spears and or sliced (for hamburgers).
Nutrition facts are provided as a courtesy.
The prep and cook time to make this 3 Day Sun Pickles Recipe is not long at all, but they will still need to sit in the sun for three days. And they will taste delicious…you'll never need to buy pickles again.
Our gallon size jar that we used last time was an old pickle jar that we saved once it was empty. You can also buy 1/2 gallon sized jars, LIKE THESE, that work fine too. I highly recommend the wide mouth jars, just to make it a little easier.
A reader asked if you have to refrigerate these after their done in the sun and how long they last for.  I do keep them in my refrigerator.  You can store them for at least a year.  My dad seems to think you can store them forever but I don't know about that.  We eat these up pretty quickly so we've never kept them for a long period of time.  Now I should mention that if they go soft, then they are no good anymore.  This is how we determine if we will eat them or not.
We hope you enjoy this recipe as much as my family does!
Enjoy!