DIY Grocery Bag Holder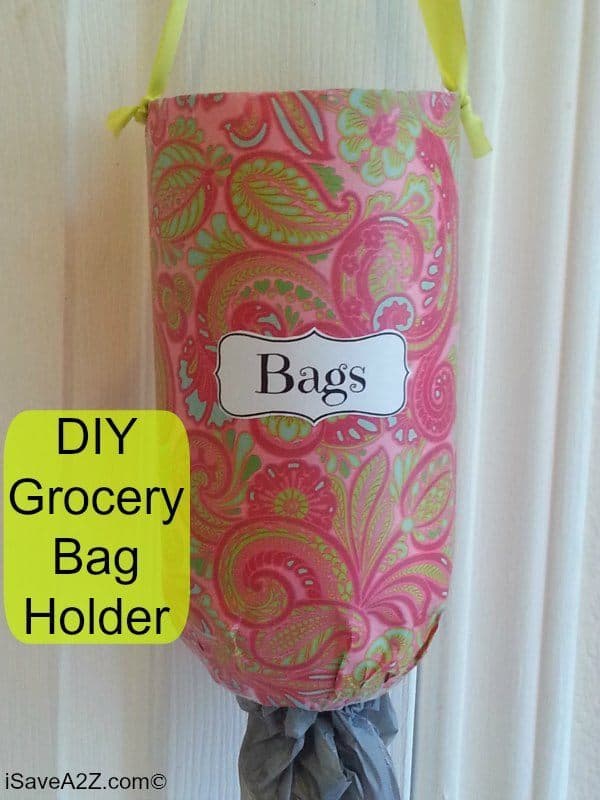 We did this really easy and really cute DIY Grocery Bag Holder yesterday and just had to share it! It only takes 4 simple supplies to do this craft and you probably already have them in your home right now. Now here's the thing…..we live just north of Austin, Tx. And plastic grocery bags have been BANNED in Austin! BUT….since most of my shopping is done just outside of Austin, we still occasionally get these handy little bags. Yes, I do have a mountain of reusable shopping bags, but I like to have a few of these around the house for various things.
They are great for:
guests to pack their dirty clothes for the trip home
a small trashcan liner
picking up after the animals
separating snacks and other food for the lake!
We usually keep a small stash of these in a drawer in our kitchen. But to me, it was just wasted space. I could use that drawer for so many other things….and now have this cute holder for all of the plastic bags!
Supplies: All you need is an empty, clean 2 liter bottle (I actually would prefer one a little bit bigger, so a 3 liter would be great), some pretty paper, tape and ribbon. These were thing I already had so this craft cost me $0.00 to make!!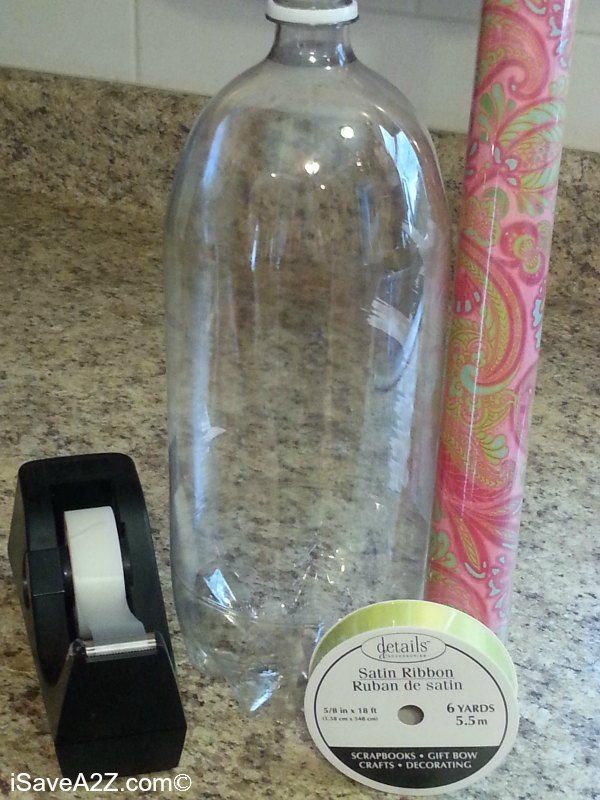 Start by cutting both ends of the bottle off. **NOTE** When you cut off the top part of the bottle, you want an opening large enough to be able to pull the bags out, but not so big that they fall out. I cut it on the curved part, and if you cut it too small, don't worry…I have a trick for that at the end! When cutting the ends off, it may help to put a rubber band around it, trace a line and then cut on the line. This is my handsome assistant!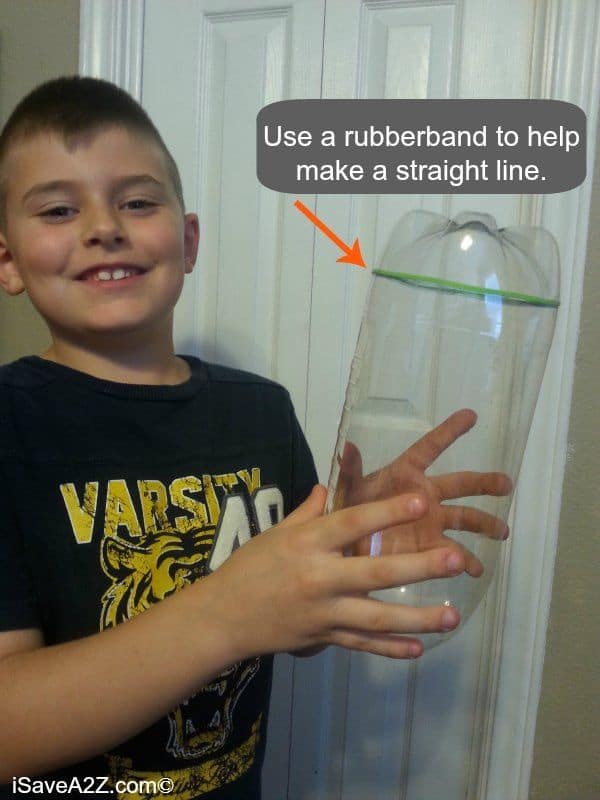 Next, just cover your bottle in pretty paper. I used wrapping paper, but any kind of paper is fine. Leave enough paper on the ends to fold it inside the openings and tape it down. This is what you will have.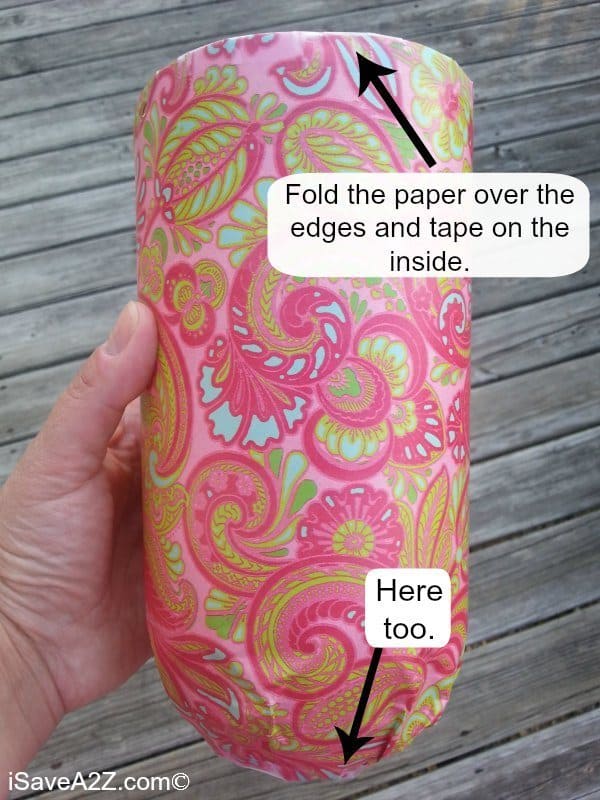 The last thing to do is make a hole punch on opposite sides at the larger end and tie a ribbon on to hang it up. Basically, you will hang the bottle upside down to dispense the bags. So the "bottom" of the bottle is actually the top of your holder. I also made a little label for mine, but that is optional.
**TIP** Do a test pulling the bags through the bottom, if it seems to hard to pull them out, just make four vertical slits on the bottom opening (1 in front, 1 in back and 1 on each side). This will allow for a little more give.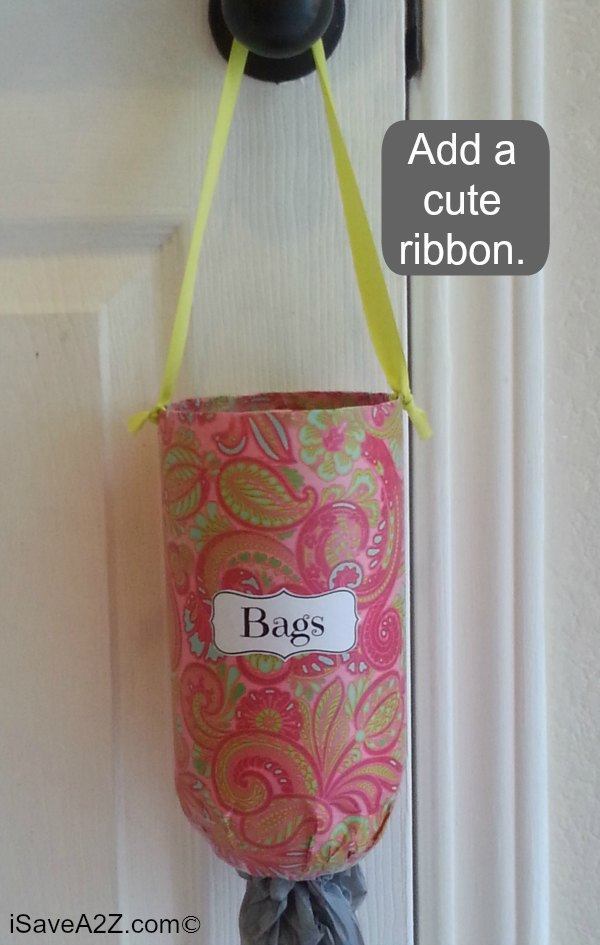 Now stuff your plastic bags in the top and enjoy! This DIY Grocery Bag Holder is made from a 2 liter bottle and it holds about 7 plastic bags. Since I normally use reusable grocery bags, this works well for us. You can hang it from a door knob or attach a hook, like one of THESE, and hang it anywhere you like! Please pay no attention to the dirty little fingerprints on my door 🙂
Be sure to check out all of our other crafts HERE!
Enjoy!
Also check out some of our other crafts! Such as our: