Halloween Tic Tac Toe Set Craft Idea
Halloween Tic Tac Toe Set Craft Idea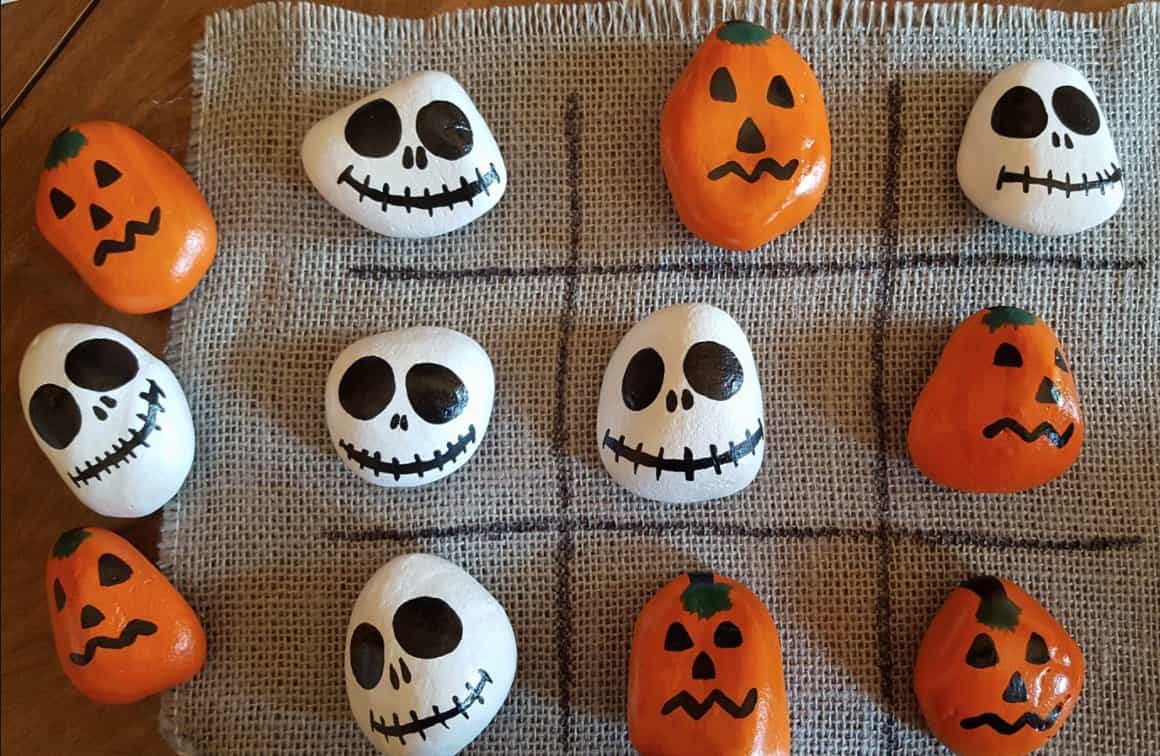 Why not make a cute Halloween Tic Tac Toe Set Craft Idea with your kids soon?!! Not only will it be a fun project to make with the kids but collecting rocks while out on a walk is great exercise too. At least, this is how I think of it when I find fun stuff to do with the kids.
This craft idea was shared with me by Florence Thomas. She hand painted each rock to create this lovely game for a fall hunt she was attending. Isn't it adorable? Way to go Florence! I love it!
Halloween Tic Tac Toe Set Craft Idea Instructions
First, collect 12 or more similar sized rocks. Try to make collect the pumpkin shaped rocks if you can (oval shape)
Paint half of them orange and the other half of them white. You might have to coat them with a 2nd coat of paint to make them a vibrant color. I love to use the outdoor acrylic paint set for these types of projects because they last the longest and have the most vibrant colors!
Next, you will want to paint the faces on each of the rocks. You can get as creative as you want with the faces. If you need a bit of inspiration for different pumpkin faces, we have 25 Free Halloween Pumpkin templates you can download here. There are lots of different type pumpkin faces you can make with those ideas!
Be sure to use a small and thin paint brush when drawing the faces. Don't worry if you make a mistake. You can always paint the background color over your mistake and start over. You will just need to wait for the paint to dry completely before you start to draw the face again.
If you are nervous (as my youngest was) to draw the face out with paint, you can always trace it with a pencil before you paint it. This allows you to make changes before applying the paint if you don't like the way it looks.
Finally, you want these rocks to stay the nice and shiny vibrant colors they are so you will want to do a final coat of Modge Podge to seal your design. This will allow these rocks to be beautiful for a very long time even if they are played with often! It's totally worth the extra step to seal them.
Special thanks to Florence Thomas for allowing us to share this beautiful project she did with all of you!