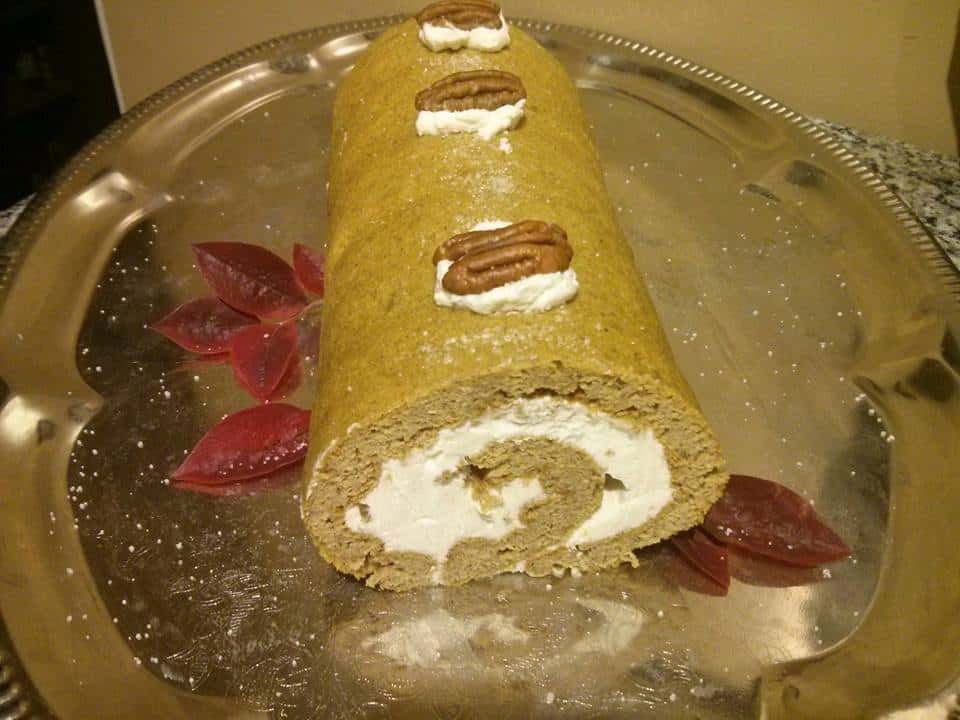 The following recipe comes from, recipe from SatisfyingEats.com … made by Sherie as part of our Ketogenic Diet Pumpkin Recipe challenge.
ingredients
1-1/2 cups almond flour (I use Honeyville)
1 tsp. baking powder
1 tsp. baking soda
1/8 tsp. sea or pink salt
1/2 tbsp. pumpkin pie spice
1/2 tbsp. cinnamon
1/2 tsp. ground ginger
1/4 plus 1/8 tsp. Stevia Select Stevia Powder or sweetener of choice (to taste)
4 large eggs, separated
1/4 cup plus 2 tbsp. cooked, mashed pumpkin (fresh or canned)
1/4 cup unsalted butter, melted
1/4 cup sour cream
1/4 cup milk (cow's, unsweetened almond or coconut)
1 tsp. vanilla extract
Cream Cheese Filling
8 oz. cream cheese, room temperature
3/4 cup heavy whipping cream
1/2 tsp. vanilla extract
1/8 tsp. Stevia Select or sweetener of choice (to taste)
1 tsp. honey (optional)
*****************************
I did not use the cream cheese Icing .I used whip cream instead !! cause whip cream and pumpkin is MY O MY <3
tip : add pinch more of each spice !!!
Cake
Preheat oven to 325 degrees F. Butter the sides and line the bottom of a jelly roll pan with parchment paper. Set aside.
In a medium bowl, add dry ingredients and blend well with a whisk. Separate the egg yolks and add them to the dry ingredients and add the egg whites to another medium bowl. Blend egg whites with hand mixer until SOFT peaks form (not stiff).
Add the remaining ingredients to the dry mixture and blend well. Then fold the beaten egg whites into the batter. When the egg whites are partially folded in, taste for sweetness and add more if necessary. Continue to fold in egg whites but do not over mix the batter.
Using an angled spatula, spread the batter evenly onto the prepared pan. Bake for 15-17 minutes or until toothpick inserted in the center comes out clean.
Invert warm cake (right out of the oven) onto a slightly damp dish towel (one you have lightly spritzed with water) being sure that the cake is on the edge of the dish towel. Starting at one end, carefully roll the towel and cake up into a log. Place cake in the refrigerator for 30-40 minutes or until completely cooled.
While cake is cooling, prepare Cream Cheese Filling.
Filling
To a medium (high-sided) bowl add cream cheese and beat with hand mixer until smooth. Add remaining ingredients and blend until the frosting is thick and smooth. Taste for sweetness and adjust if needed.
After cake has cooled, carefully begin to unroll cake from the towel. Let the cake that was inside remain rolled (don't try to flatten it out) as you spread the filling on the remaining cake. There may be cracks in the cake. This is ok just continue to cover the cake with the filling being sure to go to the edges. Once you get closer to the inside of the roll you will have to carefully continue to fill with the filling so the cake doesn't break.
225 Calories, 21 grams Fat, 3.5 Total Carbs, 0.5 grams Fiber, 3 grams Net Carbs, 6 grams Protein per serving.
Be sure to save this on Pinterest!