Matcha Tea Gummies Recipe
Matcha Tea Gummies Recipe
Look what just went down in my kitchen last night!  It's Matcha Tea Gummies!  Last week I was experimenting while creating a sugar-free gummy bear recipe but this week I wanted to make healthy gummy bears for myself with one of my favorite drinks, Matcha Tea!  It might be my newest love of a warm beverage.
I've never really been a tea drinker before.  I am more of a coffee addict actually.  In efforts to drink a bit less coffee, I am experimenting with teas.  I am finding that I am extremely picky.  I tried this tea called Matcha Tea from Perfect Keto.  It's a bit pricey but it also includes the MCT oil powder so the price is worth it to me.  It's absolutely amazing!  
In efforts to find something similar but more cost effective, I tried buying some regular matcha tea at my local grocery store.  They seem to sell that stuff everywhere.  I have regular MCT oil powder and I figured I would just add some to any tea flavor I like.  Makes perfect sense, right?  Well, I was in for a surprise.  This matcha tea and the matcha tea I buy in the store are very much different.  This led me on a search to understand WHY!  Why do they have such a huge difference in taste?  The answer?  The Matcha Tea from Perfect Keto is made with MCT oil powder but it's also made from organic ceremonial grade matcha.  Apparently, it's a high-grade Matcha and the price reflects the level of quality.  Now I understand the price.  Now I just had to justify spending this much every month on a tea I have fallen in love with.  I guess the way I look at it is, I am trying to cut down on coffee and I really don't have very many guilty pleasures so I allow myself to have one.  It's nice when the guilty pleasure fits my Ketogenic diet lifestyle too!  It's a win-win for me and I'm willing to splurge a bit.
Here's a funny twist though…  I am frugal by nature so I reached out to this company to ask them if they have any active discount codes so I can place my order at a discounted price.  They offered up a code for all of us!!  I should mention that this post is NOT sponsored by Perfect Keto.  I seriously just have a love for this particular product.  A love so strong that I made Matcha Tea gummies from it!
If you want to try the Match Tea you can order it from Perfect Keto here and use promo code iSaveA2Z to get the same discount I got!  It's a nice price break!!  It's cheaper than the listing for this Perfect Keto Matcha Tea on Amazon even if you have prime shipping!  How cool is that?!
There are so many benefits to the gelatin I used in this recipe too.  This list might convince you to incorporate some into your daily intake too.
Improves digestion and gut health
Protects joints and helps with joint pain
Improves your quality of sleep
Improves hair, nails, and skin
Helps maintain heart health
Helps you feel full
Maintains strong bones,
Eases symptoms of arthritis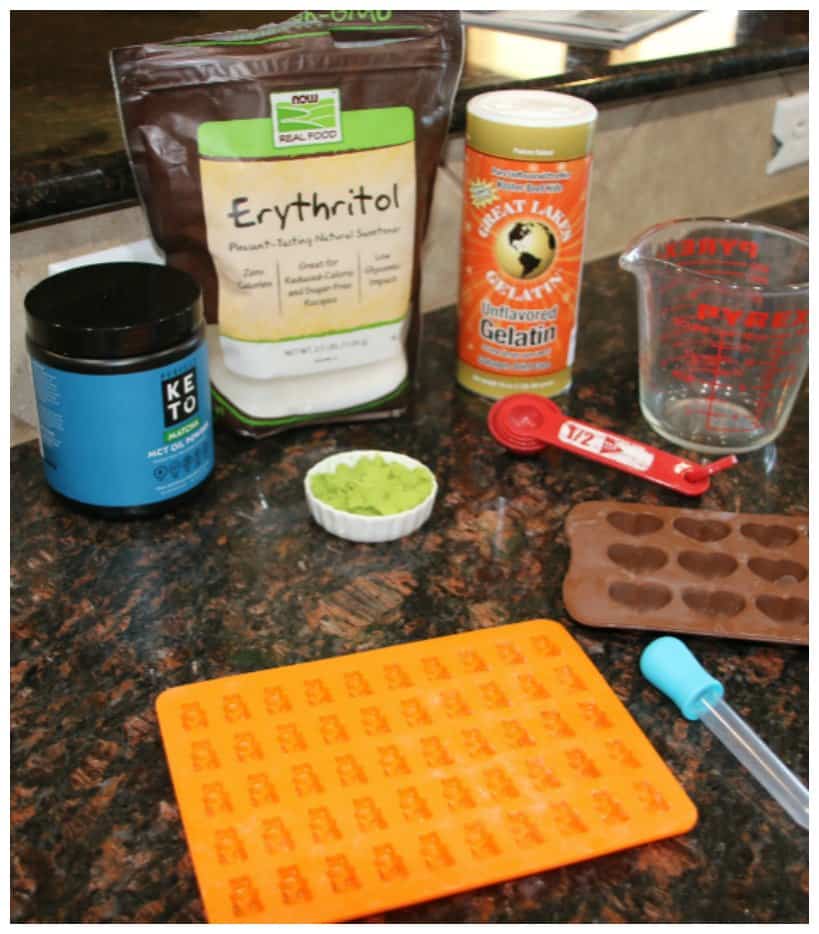 Matcha Tea Gummies Recipe Ingredients
Matcha Tea Gummies Recipe Instructions
In a small saucepan heat 1 1/2 cups of water with a 1/2 cup of sugar substitute.  You need to heat this just enough for the sugar substitute to dissolve in the water.  Be sure to taste it and add more sugar substitute if it's not sweet enough for your taste buds.
Put a 1/2 cup water in a microwave-safe container and bring it to a boil using the microwave. (or you can use the stove top for this part too)
Pour 1 tbs of thePerfect Keto Matcha Tea
Then and 4 tbs of Great Lakes Unflavored Gelatin into the hot water and mix it very quickly.  I found it easy to use my Nutri Ninja blender for this part because it starts to thicken pretty fast.
Then pour the 1/2 cup of gelatin mix into the sugar substitute water.
In the original Sugar-Free Gummy Bear recipe, I posted earlier this is the part where I would normally add Lorann oil extracts but you won't need this step because these are Matcha Tea flavored.  However, if you want to make this recipe with a different tea and add more flavorings.  You would add the oils at this step if you want to combine different flavors.  You could go crazy with different flavor combinations too.  Just think about a red tea with added cinnamon flavoring for a Red Hot or Cinnamon Gummy bear!
Once I've added all the ingredients and mixed in thoroughly, I transfer the warm liquid into a measuring cup with a pourable spout.
Have your silicone gummy bear mold sets out and ready for filling.  There are so many different gummy bear mold sets that you are bound to find one or two you really like!  You can get Lego sets, bear sets, worm sets, hearts and so many more!  They are fairly inexpensive too!
Here are a few photos we took while making these delightful Matcha Tea Gummies: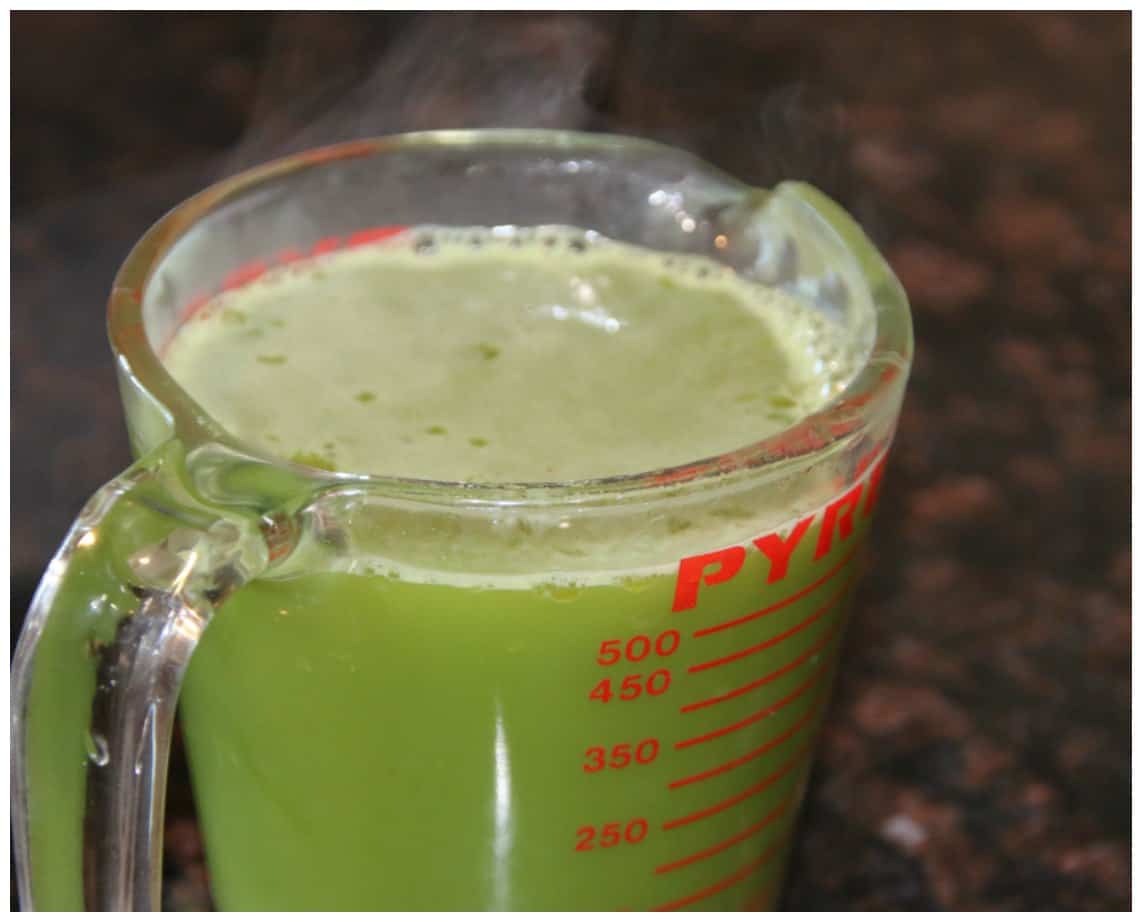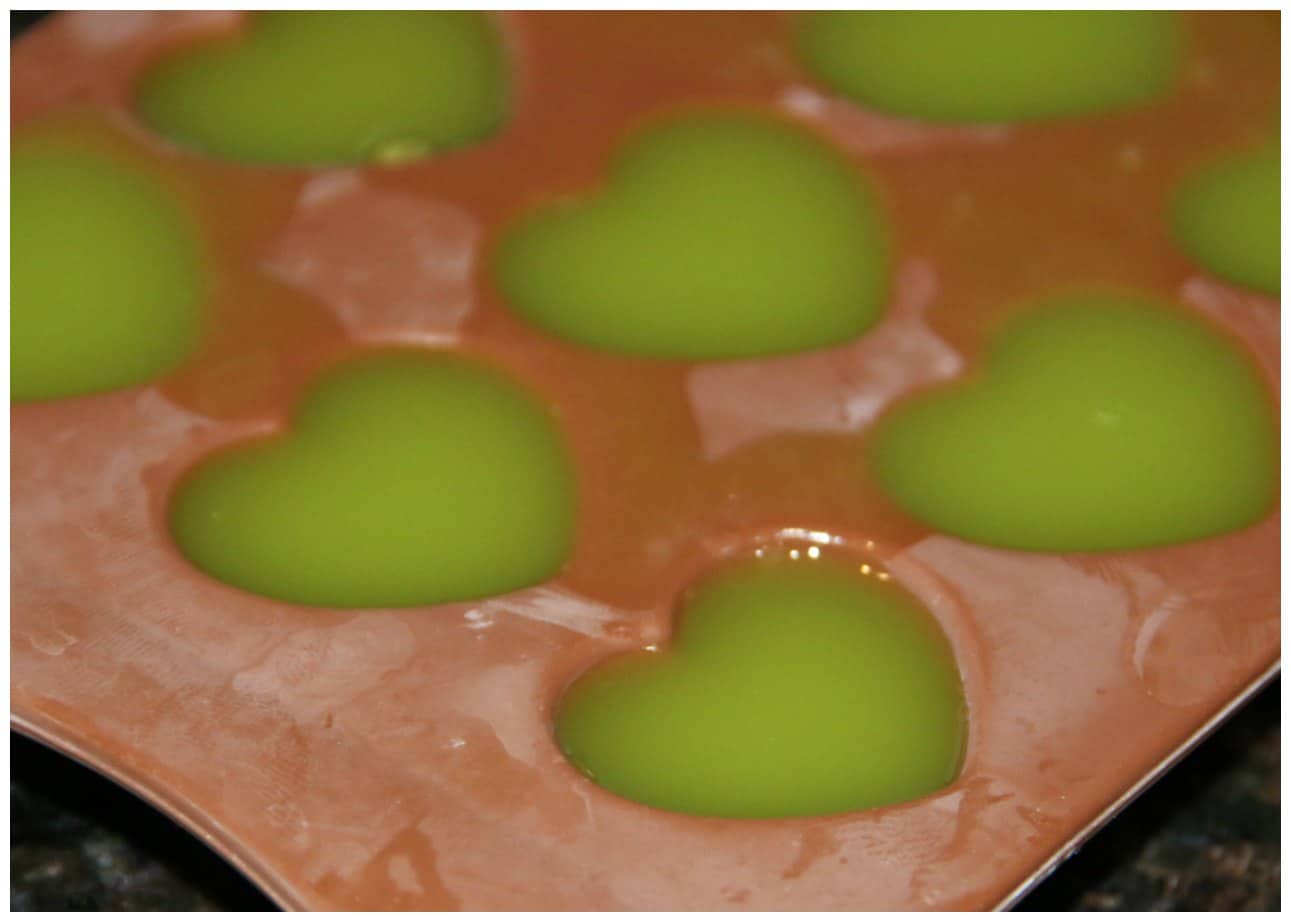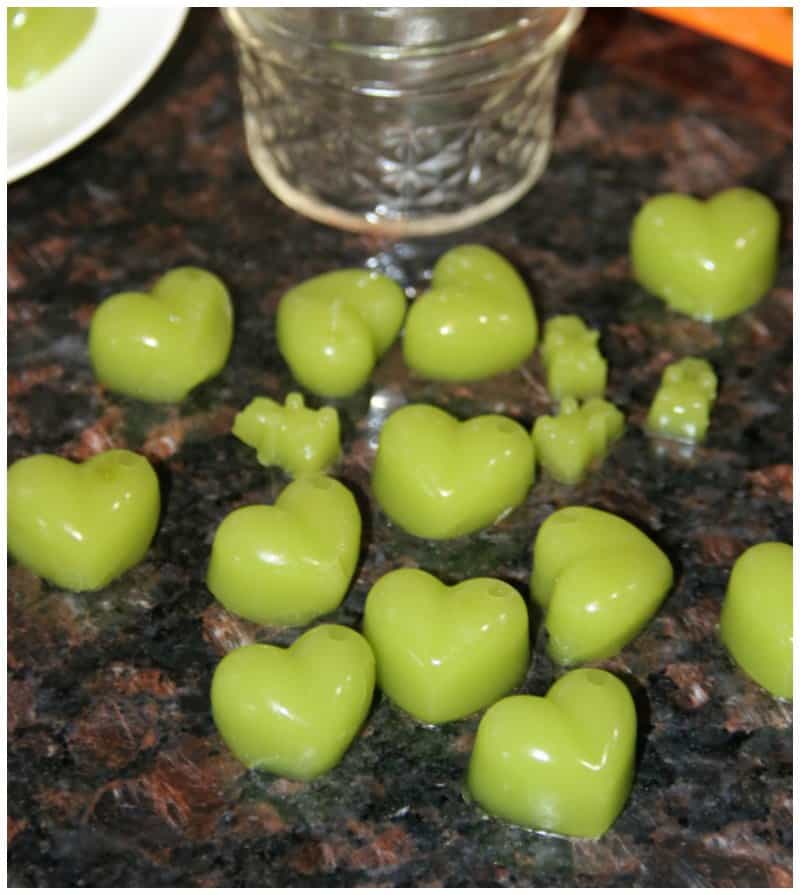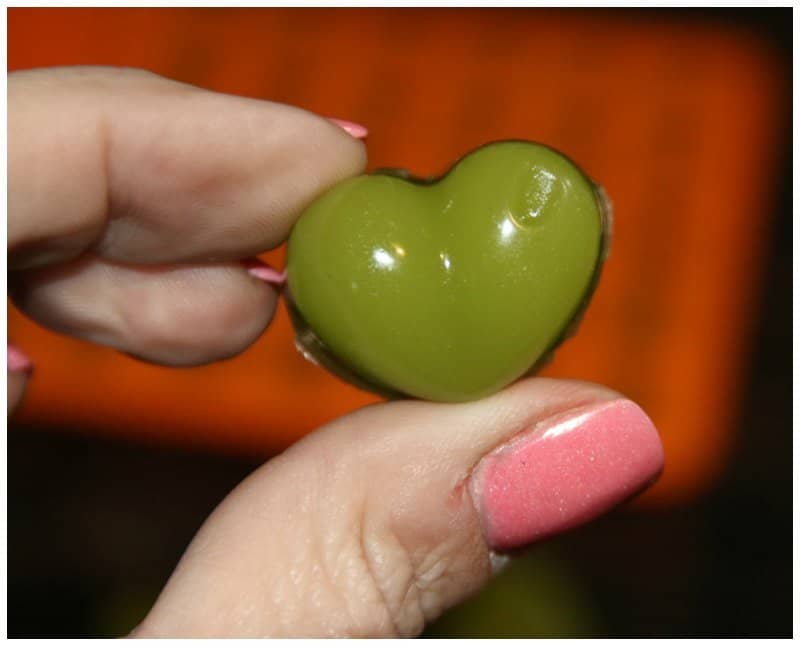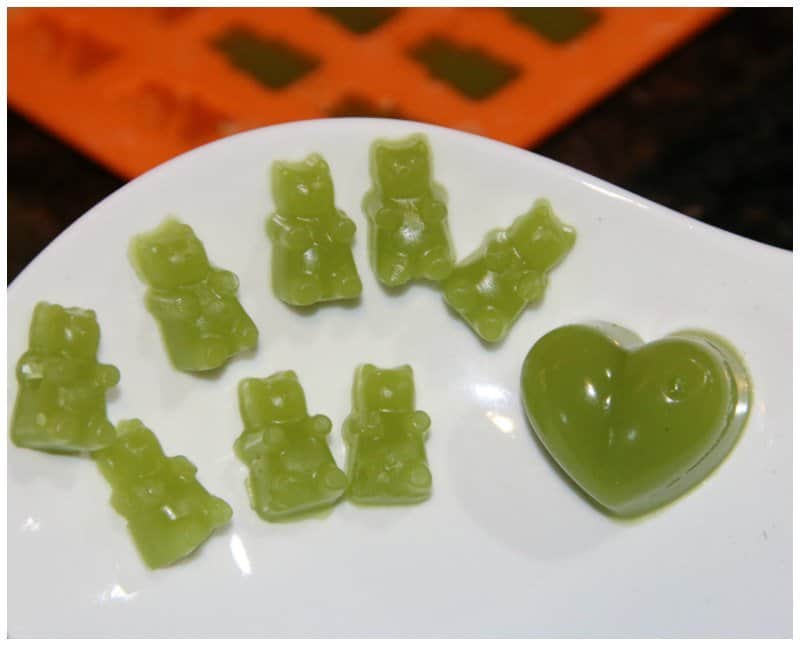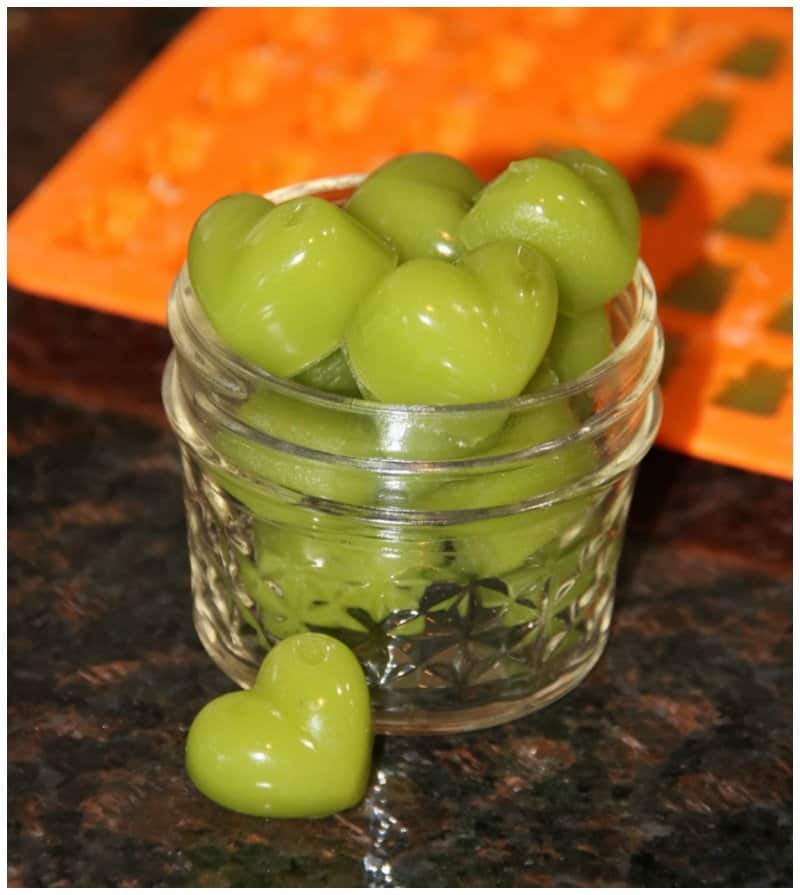 Don't forget to pin this Matcha Tea Gummies Recipe on Pinterest for later: