Repurposed Spice Rack to a Kids Art Center

Repurposed Spice Rack to a Kids Art Center
I have the cutest project that I just completed out of an old spice rack.  How many of us have one of these lying around?  Or better yet, how many of us have seen these at garage sales?  I just purchased a couple old spice racks for a $1 each at a garage sale last weekend.  They were sitting there looking ugly and dusty.  Yuck!   I had the perfect idea to organize our art room.  One of my biggest complaints is the kids never put back there art supplies where they go.  The kids complain because they are sitting in a bin and forget they have them.  The project was a win-win for both of us because they can be organized and easily displayed for easy access.  I love it.  They love it.
Tools I Used to Repurpose a Spice Rack into a Kids Art Center
Turning this into a useful organizing tool was easy.  I grabbed my favorite chalk paint (FolkArt Chalk Paint) and got to work.  I laid down a piece of contact paper to protect my craft table.  I love contact paper because it will stick to the table without moving unlike newspaper and it easily pulls up.  It's cheap so I just throw it away when I'm done with it.  The spice rack only needed one coat of chalk paint even as ugly as it was.  I really thought it would need two coats because of how light the color was but it didn't.  Once I finished the first coat it looked a bit dull.  I decided to add a dark antique wax to it.  It turned out perfect!
Now just look at all the different ways you can use the holes in the rack.  I've put markers, scissors, chalk paint markers and even whole punches inside those holes!  I'm surprised how much they really hold.  I have old bottles that I found with another spice rack that I decided to use for glitter.  My girls can go through some glitter when they make their projects.  Usually the glitter containers are super duper small or they are the shaker kind that don't allow you to put excess glitter back in the container.  I love these spice jars for glitter for this reason.  I also added buttons to some of the containers too.  They have a wide mouth so it will be easy to find uses for them.  I have another spice rack that didn't have any containers with it.  I am still able to use the holes for storage but I did find a few extra small bottles at IKEA too!  IKEA has all kinds of organizing stuff so I shouldn't have been so surprised when I find the same size bottles there.  I know where to go if I need more.
Now go figure, just when I find an amazing use for this type of product, I look all over at garage sales for them and I cannot find another!  Isn't that just how it always works out?  Or it seems to anyway.
Here are a few process photos on the project:
This is what I started with.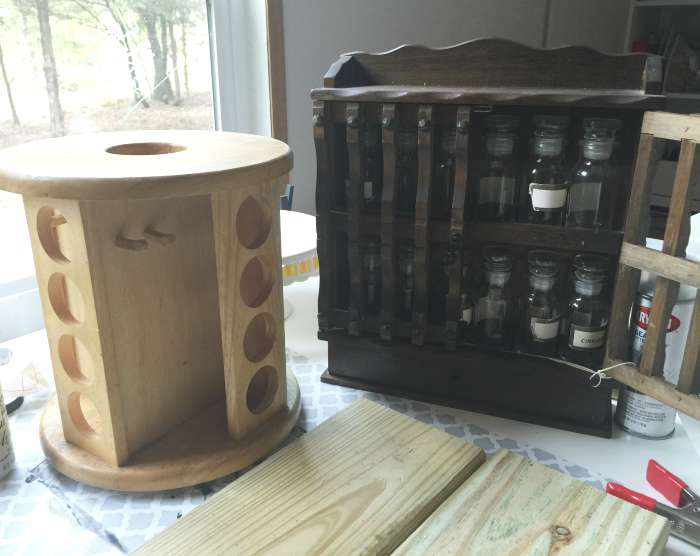 I tackled it with some chalk paint and what a difference!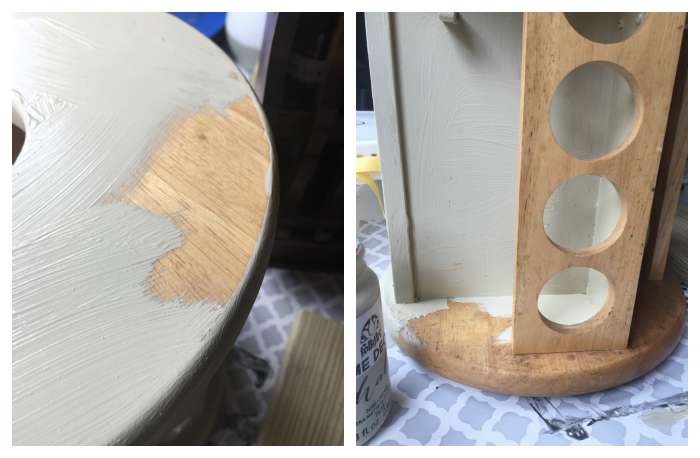 Before and After photos!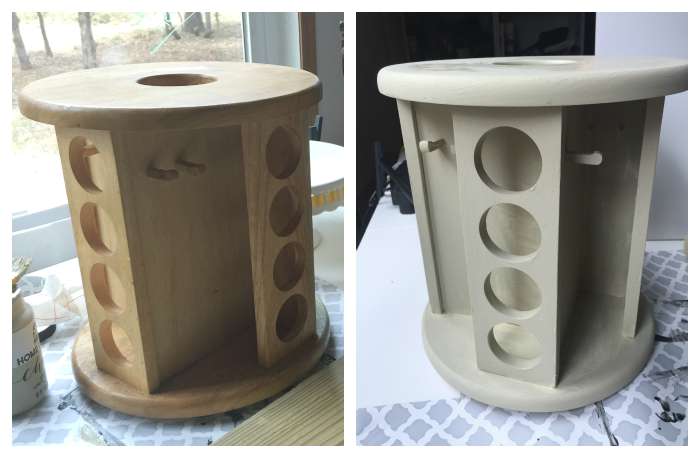 This is the FolkArt Chalk paint and dark wax I used.  Check out all the different FolkArt Chalk Paint colors they have here.  I really like that light blue or pink color.  I might have to change the color up after a while.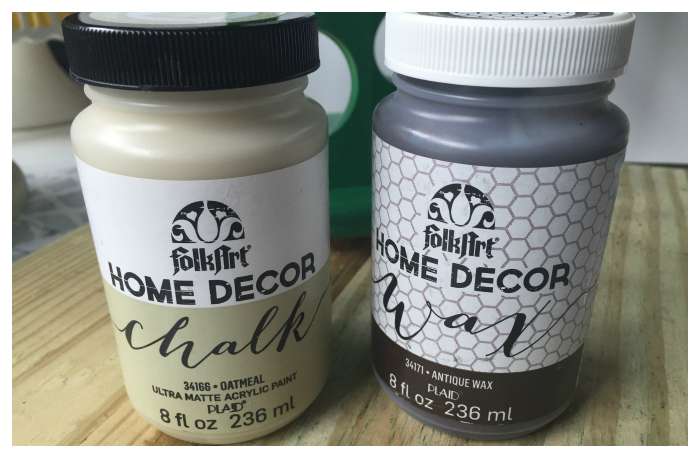 What a big difference just by adding a very small amount of the dark antique wax huh?!!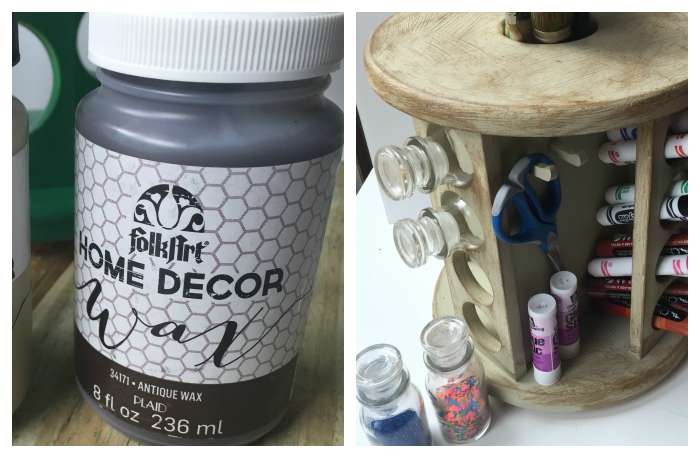 Once you apply the wax there is no way of getting it off.  If you don't like it you will need to paint over it.  I would test it on a scrap sheet of wood before applying it to your final project just to see if you like it.  I really like how it turned out.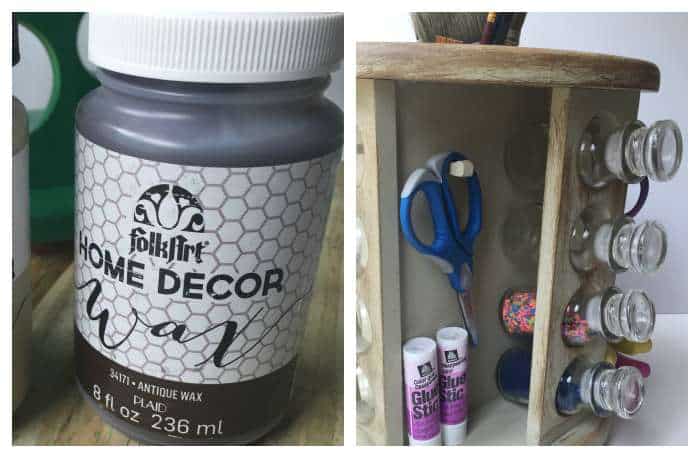 Clean up time!  I didn't take the whole backing off the paper either.  I just tore back the four corners to get it to stay in place.  I love easy clean up!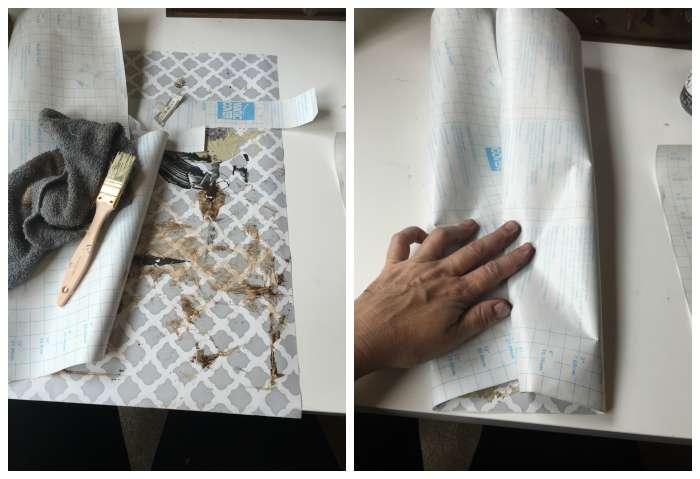 I really like how much stuff it holds.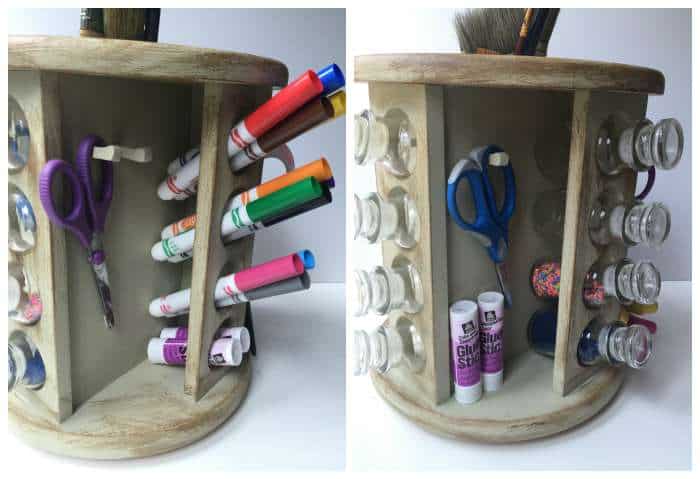 I was inspired to do another one.  This one I just spray painted though.  It took me about 3 minutes to spray paint it outside and the drying time was super fast.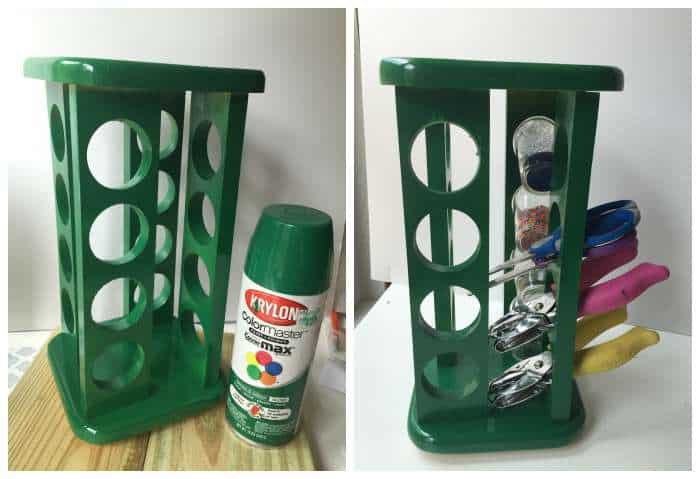 This one doesn't have as many spaces for stuff but it's still very useful!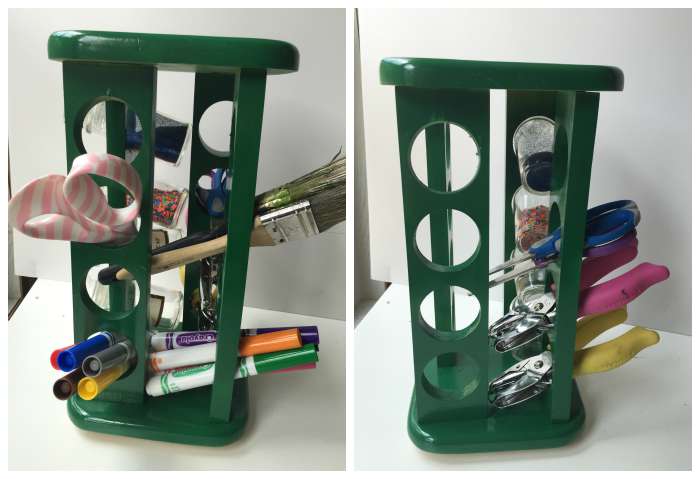 We hope you are inspired to find an old garage sale item and turn it into something useful!