Weight Watchers Rosemary Chicken & Potatoes
Weight Watchers Roasted Rosemary Chicken & Potatoes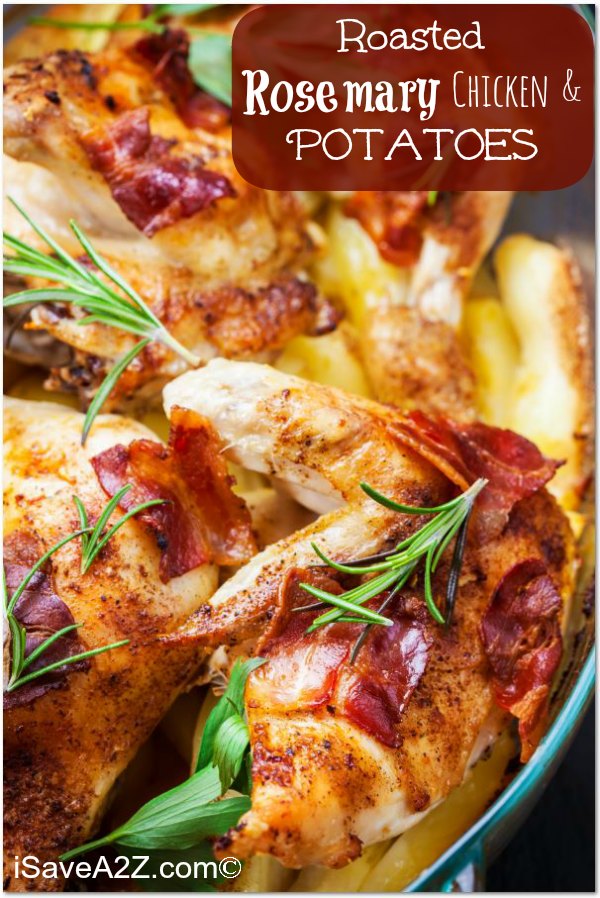 Like most households, we eat a lot of chicken meals in our house. So I'm constantly trying to change it up so we don't have the same meals over and over. This Roasted Rosemary Chicken & Potatoes Recipe, which is 8 points per serving, is one that we have made a few times. Now, that we are on Weight Watchers, we have modified it slightly to be more point friendly. Really the only change we made was not putting the little pieces of bacon on top, because that just used up extra points. Since this recipe does have potatoes in it, I was willing to give up the bacon for this meal.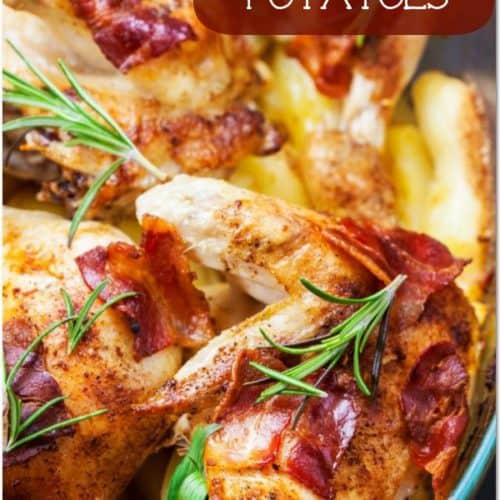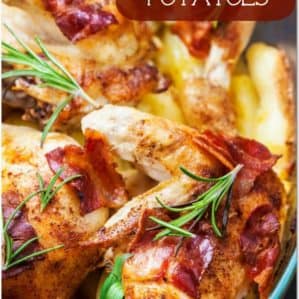 Weight Watchers Roasted Rosemary Chicken & Potatoes
Ingredients
3 1/2

pounds

of boneless

skinless chicken breasts. I like to substitute some of the breasts with a couple of wings.

4

teaspoons

of chopped rosemary

can be fresh or already done.

2

medium cloves of garlic

minced

1/2

teaspoon

salt

1/2

teaspoon

of black pepper

2

pounds

of Yukon gold potatoes

cut into 1 inch chunks.

1

cup

of white wine

Optional: top with crispy bacon chunks
Instructions
Preheat the oven to 425 and spray a roasting pan with nonstick cooking spray. I take the rack out of mine, but depending on what kind of pan you have, you may be able to leave it in.

In a small bowl, mix together the garlic, 1/4 teaspoon of the salt, 1/4 teaspoon of the pepper and rosemary.

Spread the mixture evenly onto the chicken and place it in the pan.

Scatter the potatoes around the chicken and sprinkle with the rest of the salt and pepper.

Roast for 20 minutes, add a 1/2 cup of the white wine to the pan and continue to roast for another 15 minutes.

Remove pan from oven and use a spoon to mix up the potatoes (this will help them cook more evenly).

Add the other 1/2 cup of wine, and roast until the potatoes are tender and chicken is cooked through. About another 20 minutes.
Notes
Divide chicken into 8 servings, and potatoes are 1/2 cup per serving. 8 Points per serving for Weight Watchers. Chicken should register 180F to ensure it is done.
Nutrition facts are provided as a courtesy.
This Roasted Rosemary Chicken and Potatoes is a meal you won't regret trying! It's a hearty and filling meal, and well worth the 8 points. You can see other amazing Weight Watcher Recipes HERE!
If you don't have a roasting pan, I highly suggest investing in one. There are some great deals on Amazon right now. You can get this classic roasting pan for only $10.59. Or…they also have this Non-stick Roast N' Broil Pan for only $15.82. I like this one because the rack is flat and goes all the way to the edges, which is helpful in a lot of recipes.
Enjoy!