Dishcloth Pajamas Housewarming Gift Idea
 
Dishcloth Pajamas Housewarming Gift Idea
I am in love with this dishcloth pajamas housewarming gift idea!!  Nothing makes giving a cleaning item more fun than this!
A friend of mine up north just taught me how to make this cute little dishcloth pj's set!  She likes to make hers with those dishcloths that are kind of stiff.  I ended up make some washcloth jammies too.  It seems as though these pajamas can be made out of all different kinds of cloths and still come out cute as a button!
There are only a few items you need to make these cute lil' jammies.  Today I learned that those round gold buttons thingies are called round head fasteners at the office supply store.  You should have heard me trying to explain what I was looking for when I went to the store.  The manager actually laughed at me.  I said do you have those brad type thingies that hold papers together in the middle of a folder but they have a gold button on them.  Yeah,  he laughed.  Then I called them brads because I'm pretty sure that's what they call them in the folders.  He laughed again.  He must have been bored because the store was empty.  Glad I was able to put a smile on his face.
Items need to make Dishcloth Pajamas:
3 dishcloths (just like these waffle weave dishcloths seen here on Amazon)
1 box of 1 inch Round Head Fasteners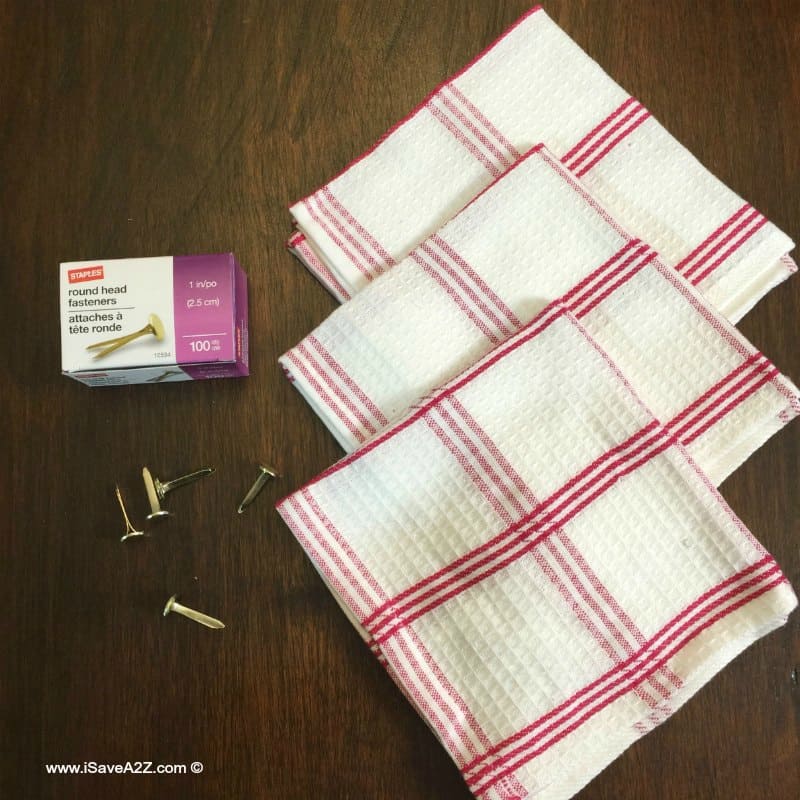 Instructions to make your Dishcloth Pajamas:
I started off by trimming all the tags off of the dishcloths.  This way they didn't get stuck in the design I was trying to fold.
You will use one dishcloth for the sleeves, one dishcloth for the shirt and one dishcloth for the pants.
You will use the 1 inch round head fasteners to attach these pieces together after you fold them the way you want them to look.  Here's a tip though…  Don't use force in using this fastener to attach each dishcloth together.  The waffle weave dishcloths are not weaved tightly together so you are able to wiggle this fastener in between each layer of cloth with very little effort.  Don't try and force it through many pieces of fabric because it will just bend immediately.  Use very little force but wiggle it back and forth until it works it's way through each layer.  The only time you might get stuck is if you didn't cut the labels off and you tried pressing that fastener through a label.
Fold each dishcloth just like this.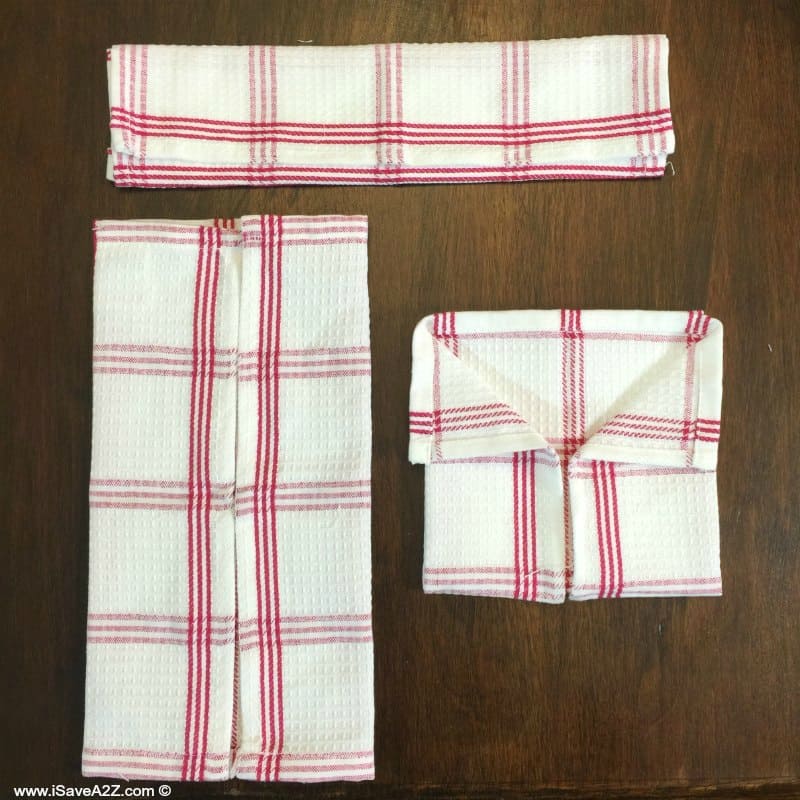 Now attach the fasteners exactly as you see in the photos.  You can use extra fasteners as buttons for decorations.  I've taken a few photos to show you a few different ways to decorate them with these fasteners.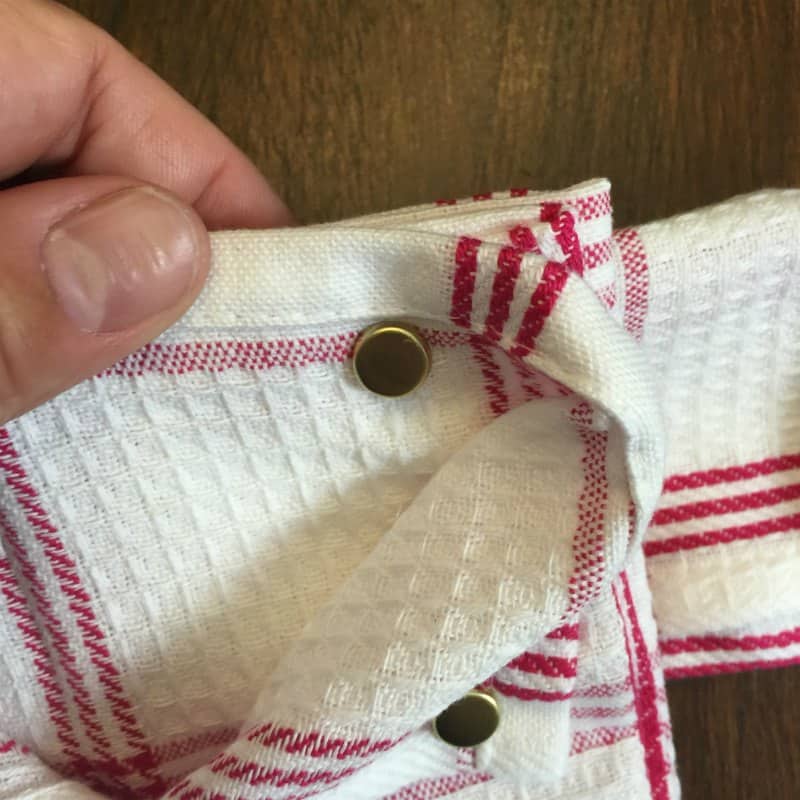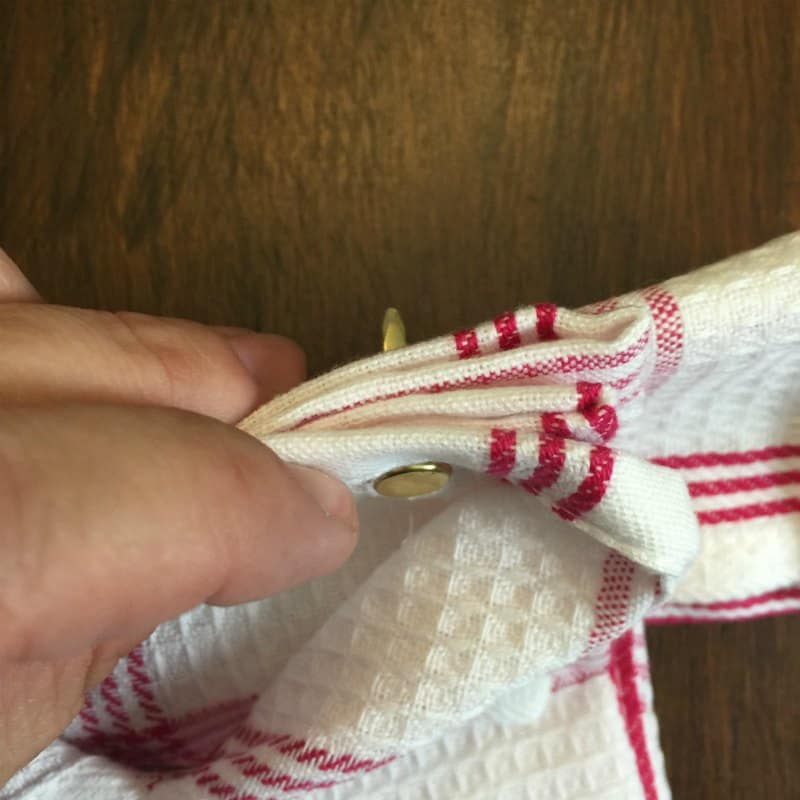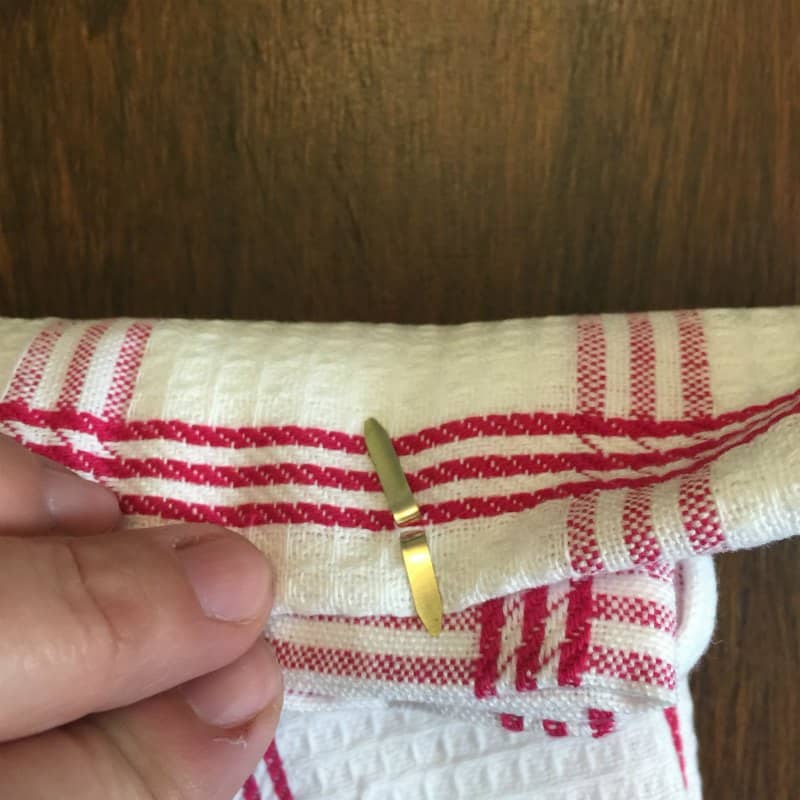 You can also decide if you like the pant leg and arm sleeves rolled up or not too.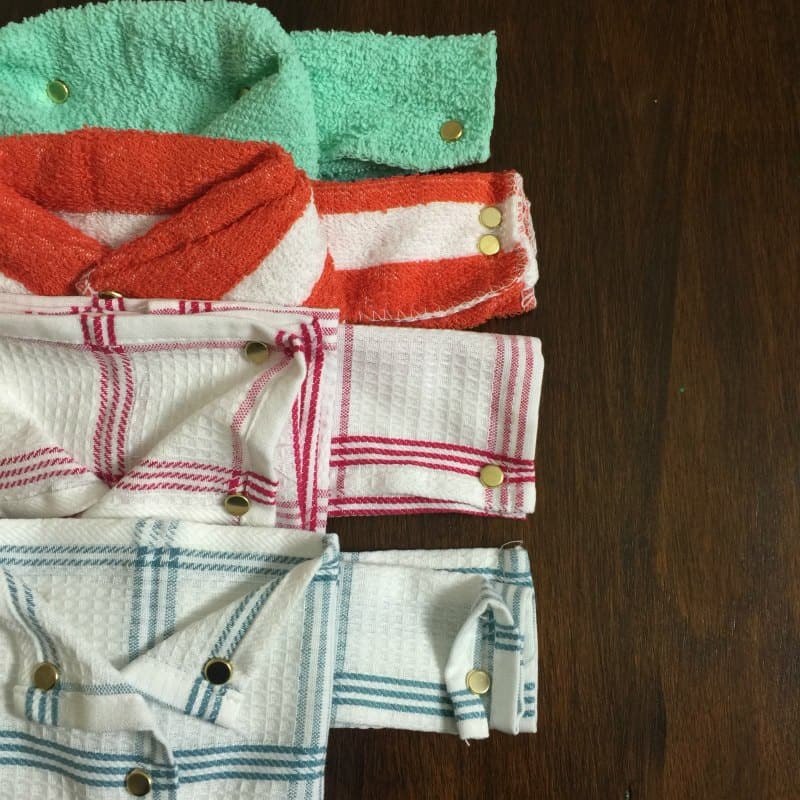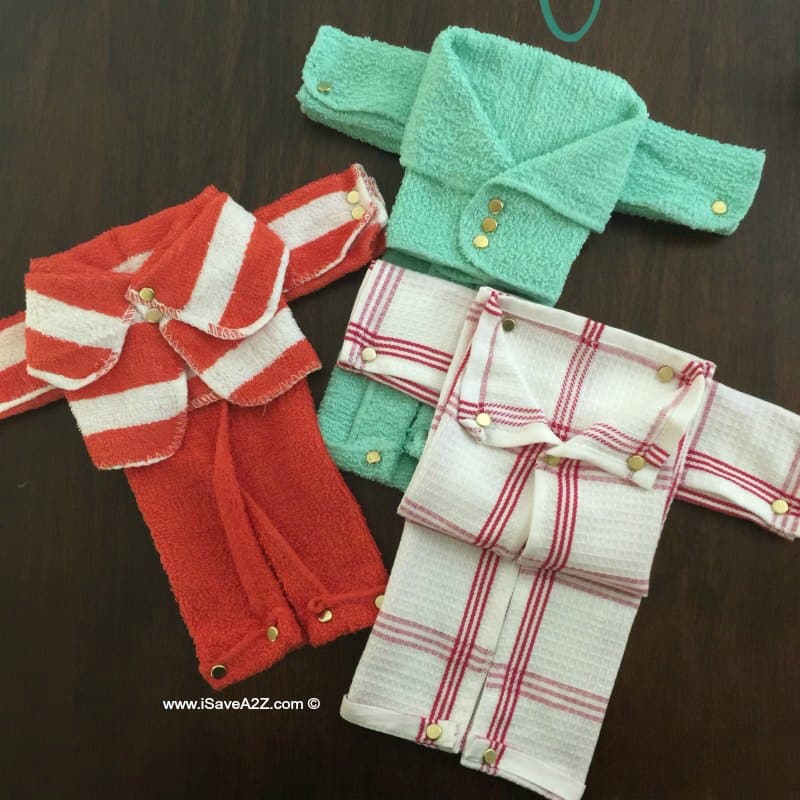 You can fold the shirt a few different ways at the collar to give it a different look.  We added a bigger collar on the orange one to give it a more feminine look.  I really like how the orange color came out and the wash cloths were easy to use.  I ended up making some with washcloths for the bathrooms and dishcloths for the kitchen.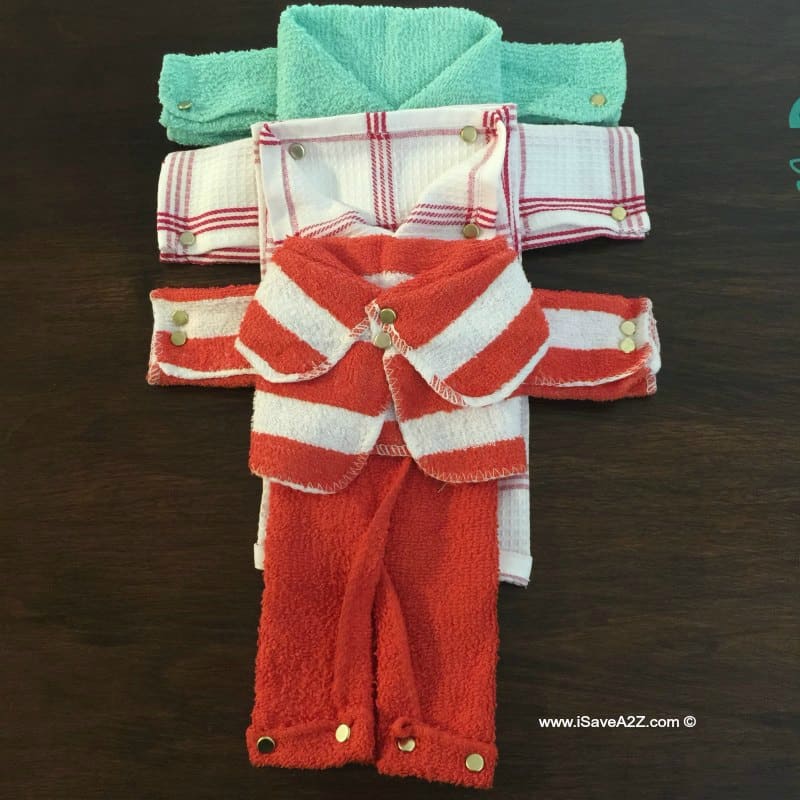 These were pretty easy to hang.  We just used the arm washcloth piece and placed it over the dish towel rack.  We did the same thing on the washcloth jammies in the bathroom on a circle towel rack.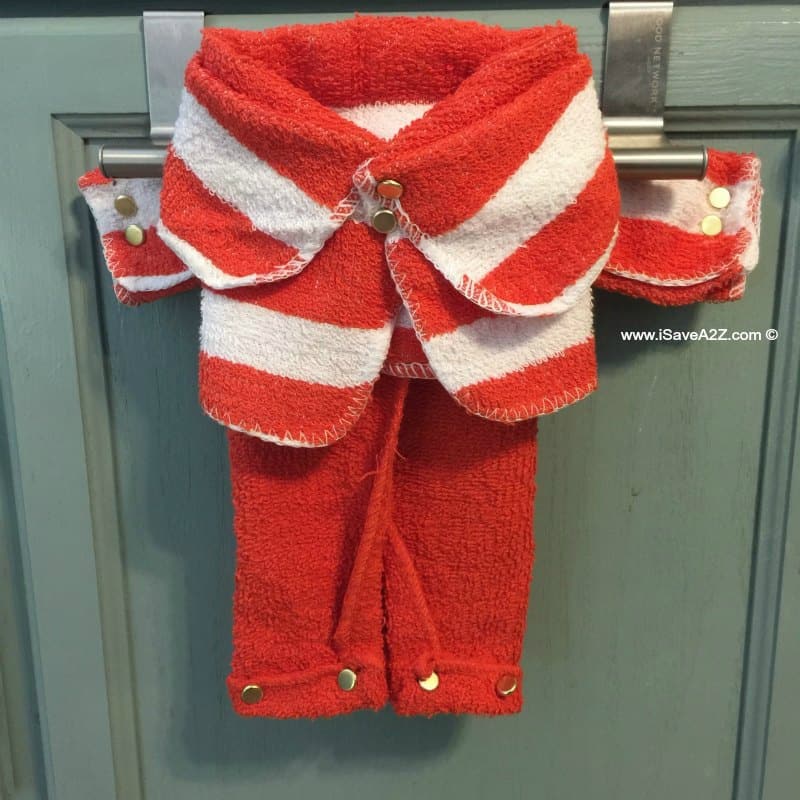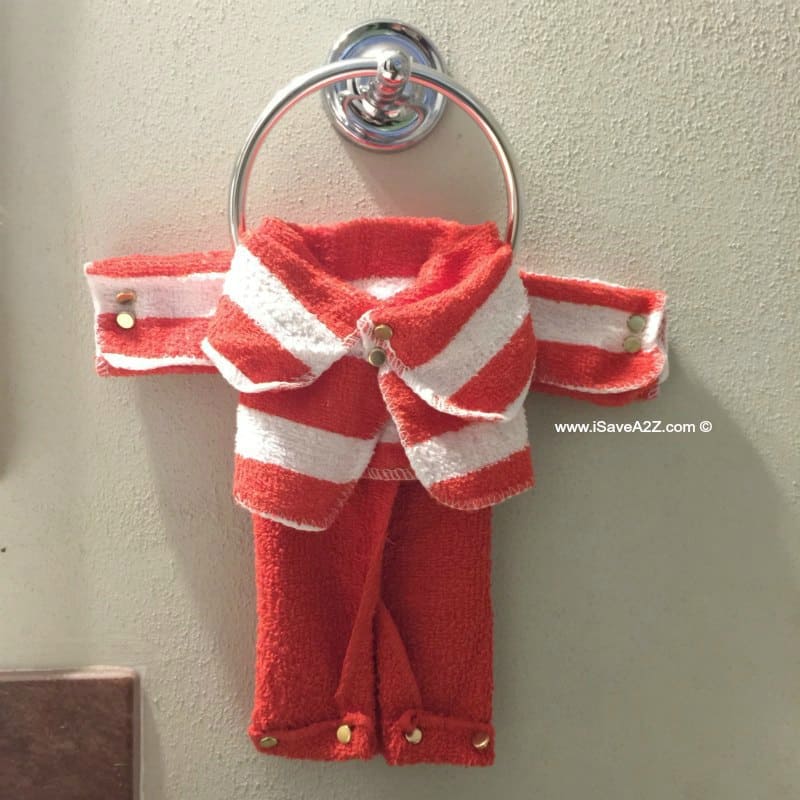 This is a poem that she attaches her dishcloth pajamas before she gives them as gifts:
Pajamas
We look like pajamas
But really we aren't
We are just 3 dishcloths
You will like us a lot
For washing the dishes
or chasing the dirt
just take us apart
it really won't hurt.
Feel free to pin it for later using this photo: