Easy Burrito Casserole Recipe

Easy Burrito Casserole Recipe
I cannot believe how crazy the kids went for my easy burrito casserole recipe.  I guess a really tasty recipe doesn't have to be difficult.  In fact, I just taught my daughter how to make it.  The hardest part to this recipe is frying the meat.  I've been making this recipe for years.  Sometimes I end up changing it up just a tad to use what is left in my pantry for the month.  I will explain this more in the instructions below.  I use a square casserole dish as seen here for this recipe.  Works perfectly!  You could double this recipe and use a large casserole dish like this if you are serving a large crowd.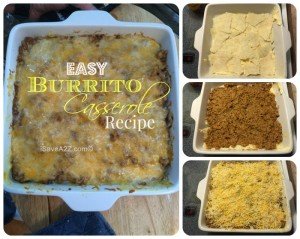 Easy Burrito Casserole Recipe
This will quite possibly be the easiest burrito casserole you will ever make!
Instructions
Brown the meat and onion, then drain. Add the meat and the beans together.

Add the seasoning packet.

In a separate bowl combine the sour cream and soup and mix it together.

Spray the bottom of your casserole dish with non stick cooking spray.

Spread a layer of the soup mixture in the bottom of the pan.

Tear up half the tortillas in big sections and layer them over the soup mixture.

Spread 1/2 the meat and beans mixture as the next layer.

Add a layer of shredded cheese.

Optional: Add hot sauce as the final layer

Repeat the layers one more time to complete the casserole.

Top with shredded cheese and bake it uncovered for about 20 to 25 minutes minutes at 350 degrees.

Note: This recipe was able to serve my family of four two times.
Nutrition facts are provided as a courtesy.
This recipe can be made with a couple different ingredients.  I ran out of cheese soup and used cream of mushroom soup in it's place and it still came out amazing.  I've also ran out of taco seasoning and used a chili seasoning packet in it's place.  It also came out amazing.  I may even like the chili seasoning more than the taco seasoning.  The flavor it a bit bolder.  I like that!
Serve this dish with shredded lettuce and tomatoes too!
Enjoy!
Here's a Pinterest friendly photo in case you want to pin it for later: