25 (Easy) Free Halloween Pumpkin Carving Templates

25 Free Halloween Pumpkin Carving Templates
Here are 25 Free Halloween Pumpkin Carving Templates. All of these templates are fairly easy. My older daughter and I can get crazy creative when it comes to carving pumpkins and sometimes this can leave my younger one feeling a bit left out. We decided to create some fun, yet easy templates that can be carved at a beginner level. Have fun with the kiddos by making scary or even silly Halloween pumpkins this year!
How to Download your Free Halloween Pumpkin Carving Template
Here's how to download your favorite free Halloween Pumpkin carving template. First, look over all the designs in the photo below and see which one you want.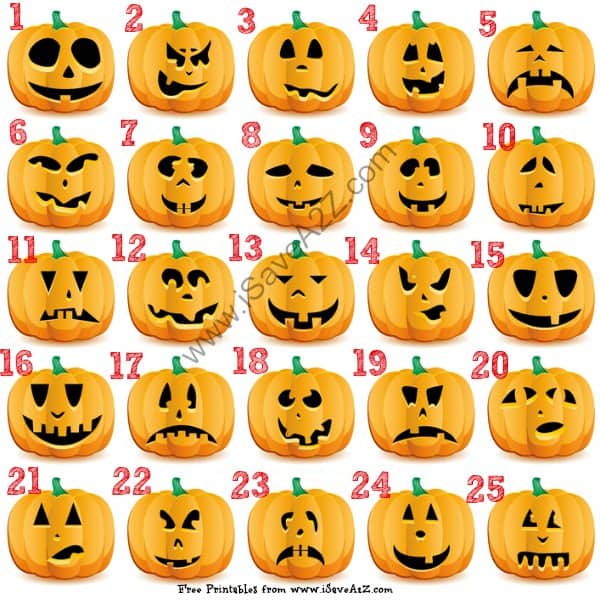 Next, click the corresponding number in the links below.
Print out your template. (Tip: If your template is too big you can always adjust the side in your printer settings zoom mode to have it print smaller to fit your pumpkin)
Tape your template to your pumpkin. At this point your pumpkin should already be hollowed and ready for carving.
Use a pumpkin carving tool
(the one with the pointed need tip edge) and start poking holes to outline your design.
After you have completed poking all the holes around your design, use the knife like pumpkin carving tool
to start making your cuts around the poked holes. (Tip: those holes help keep your cuts in line with your design)
How to Preserve your Halloween Carved Pumpkin
Once your pumpkin is complete you will want to preserve the cut pumpkin from bacteria and mold. To do this simply spray it with a bleach solution (1 tablespoon of bleach to 1 quart of water). Let that solution completely dry for about 30 minutes. Next, rub all of the carved and cut inside surfaces with petroleum jelly. This will reduce dehydration and keep it from rotting before Halloween. This process has helped preserve my pumpkin for just a little bit over a week.
Tip: Try not to put your pumpkin in direct sunlight. Cool shaded place is best.
Download your free Halloween Pumpkin Carving Templates here:
Face 1
Face 2
Face 3
Face 4
Face 5
Face 6
Face 7
Face 8
Face 9
Face 10
Face 11
Face 12
Face 13
Face 14
Face 15
Face 16
Face 17
Face 18
Face 19
Face 20
Face 21
Face 22
Face 23
Face 24
Face 25
Now be sure to head over and see all of our amazing Halloween crafts, costumes and more here!
Enjoy your Halloween and Fall Festival Celebrations!
Also check out some of our other crafts! Such as our:
Here's another idea on how to use these templates: