Easy Halloween Craft Ideas: Milk Jug Ghosts

Easy Halloween Craft Ideas
I have a few easy Halloween craft ideas that even the kids can do. I like simple. I like cheap. These crafts definitely fit the bill! In case you missed our other Halloween crafts you may want to see the Mason Jar Halloween Lanterns here and you can grab 25 Easy Halloween Pumpkin Carving templates here. All of these projects are easy and super fun for the kiddos!
If you drink milk I bet you can easily gather up a few empty milk jug plastic containers. If you don't drink milk I bet your neighbors do. I gathered four plastic milk jubs and had my kids draw some cute little Halloween faces on them to create a very frugal, yet super fun, craft project!
Items Needed for this project:
Empty milk jugs
Sharpie marker
Knife or X-acto knife
Rocks
Here's how we made our easy Halloween Craft Milk Jug Ghosts:
1. Clean out your empty milk jug.
2. Draw out your Halloween face using a pencil and then complete the face with a permanent sharpie marker. I found the big one called the Sharpie Pro as seen here on Amazon works very well for this. If you need ideas for Halloween faces be sure to look these 25 printable Halloween face templates here.
3. On the opposite side of the face, cut a 3 sided opening flap just about 2 inches wide and 2 inches tall. (I would highly suggest the adults handle this step)
4. Place a few rocks in the bottom of your milk jugs to weigh them down. They are so light that if someone bumps them they will fall. Or if you place them outdoors you don't want them to blow away.
5. In the same opening, add part of the string of lights in it. Then lead the lights to the next opening. I added about 5 to 7 lights in each jug.
Voila! That's it! You have super cute Milk Jug Halloween Decorations for your home!
You won't want to miss all of our amazing Halloween Crafts, Costume ideas and more here! Check it out!
Enjoy!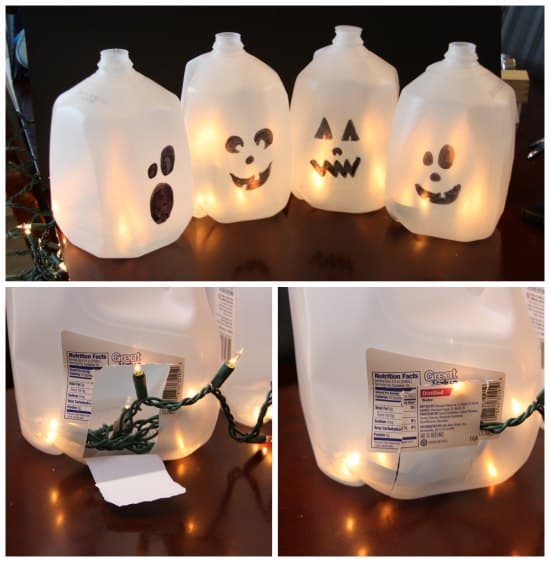 Feel free to PIN IT Here: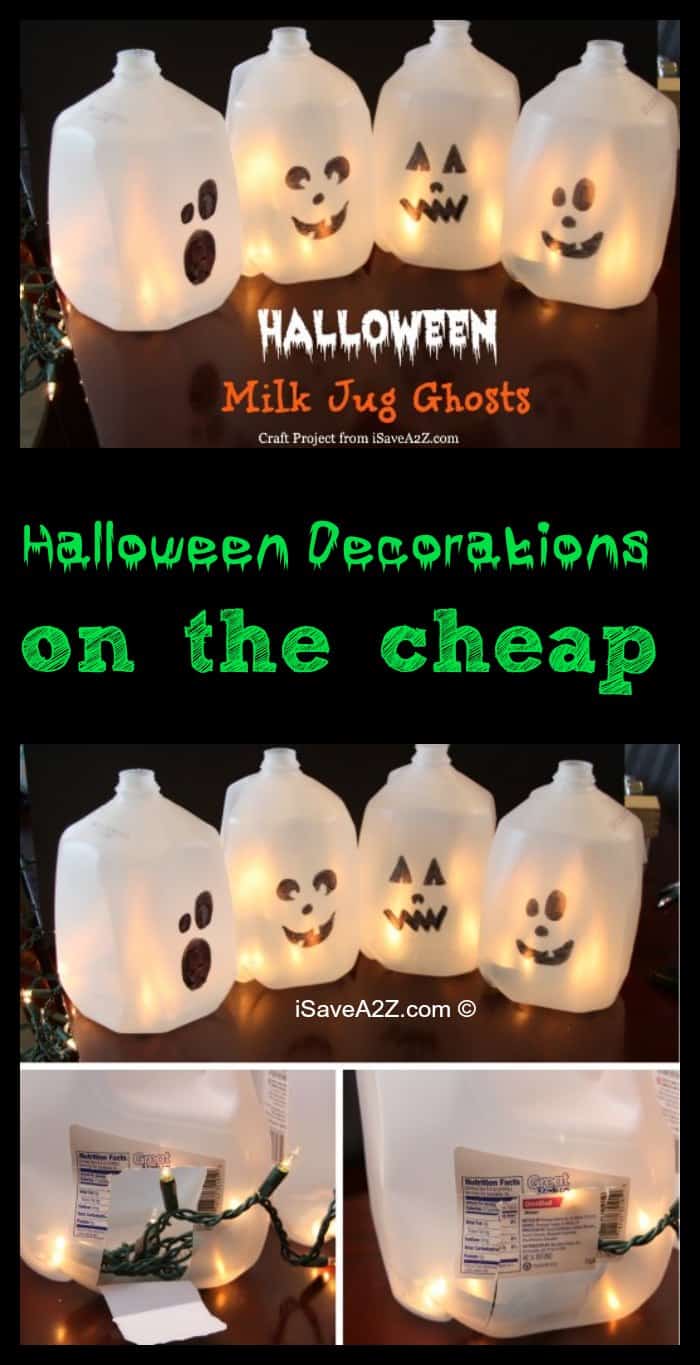 Also check out some of our other crafts! Such as our: