Campfire Potatoes
Check out this neat recipe for some amazing Campfire Potatoes! If you ever happen to find yourself out camping, and maybe you're getting sick of your everyday campfire foods, such as hot dogs and marshmallows on sticks, then these campfire potatoes will definitely bring some pizazz to your camping meals! The recipe below is rather straight forward, so you should have no problem cooking these potatoes over your campfire on such a great camping vacation! Nothing is better than an easy recipe on such days where you have limited sources! If you're looking for some other great and easy recipes, you may want to check out some of the others that we have here on this site! Like our Homemade Dinner Rolls recipe, our Best Sweet Tea Recipe, and even our easy Homemade Chili Cheese Dog recipe!
If these Campfire Potatoes weren't enough to bring you away from the ordinary campfire foods, there is no need to worry! There is this fantastic cookbook that has plenty of recipes, specifically for cooking over your campfire, which are similar to this campfire potatoes recipe! With this Campfire Cookbook, you can be sure to have a different unique meal each day that you are out in the wilderness! Two hundred family fun recipes can go quite a long way! There's no way you can get tired of the same old camping food now!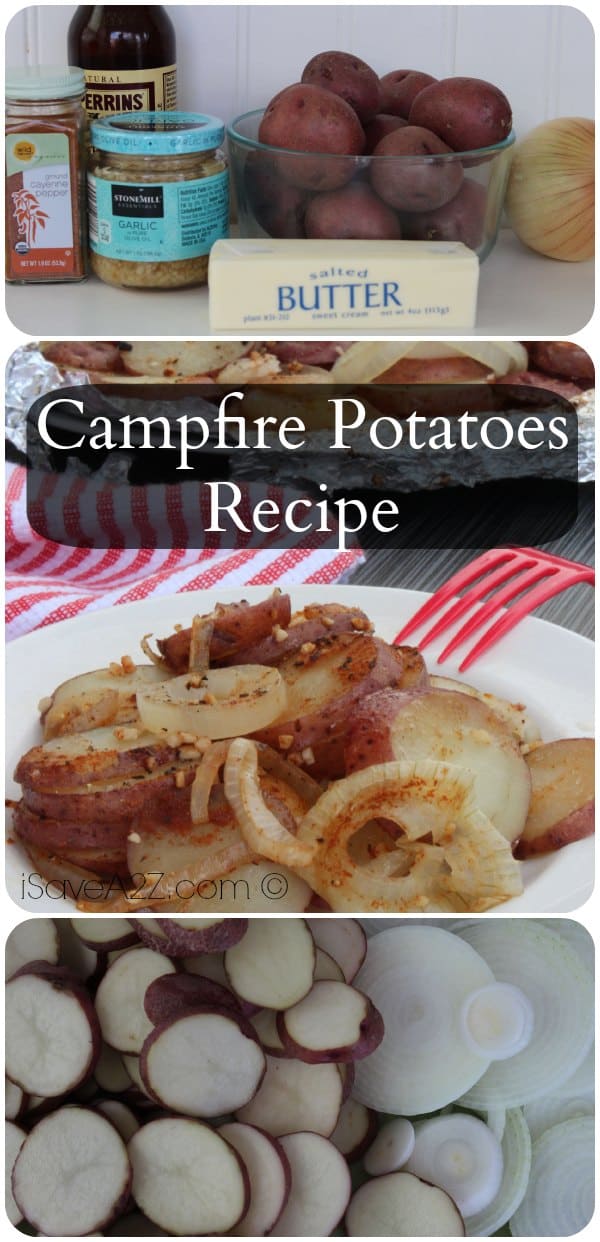 Campfire Potatoes
Instructions
Slice potatoes and onion into 1/8 - 1/4" slices.

Place on piece of aluminum foil large enough to fold over and to be able to roll up edges.

Top with garlic, butter, Worchestershire and cayenne.

Fold packet over and roll edges to close.

Leave on medium grill for 30 minutes or in 350 oven (in a pan to avoid messes) for 35-40 minutes.
Nutrition facts are provided as a courtesy.
Hope you enjoy! If you like this recipe be sure to PIN IT here!  Follow us on Pinterest too so you don't miss anything!