White Chocolate Brownie Parfaits

White Chocolate Brownie Parfaits
Boy, oh boy do we have a treat for you! Check out our delicious White Chocolate Brownie Parfaits Recipe we've created! If you have been looking for an easy, yet delicious dessert, then you are in luck! The recipe below will bring you through all of the steps that are needed to make this fantastic White Chocolate Brownie Parfaits! You can make this with a box brownie mix or you can use our Homemade Chocolate Caramel brownie recipe (which is super easy by the way) here. Either will taste amazing. I promise. Once you make this recipe, you will no longer take those late night trips to Sonic up the street to curb your sweet tooth. You will crave this one instead. Seriously. It's really good.
If you happen to like this recipe, then be sure to check out our other great dessert recipes! Such as our Peanut Butter Cup Blondies Recipe, our Strawberry Cobbler Recipe, or even our Ice Cream Sandwich Cake recipe! That ice cream cake is always a hit especially at birthday parties. They think it's a gourmet cake made from a specialty shop when I add all kinds of Oreo and chocolate toppings. It slices beautifully. If that isn't enough sweets for you, then you should check out one of our favorite dessert cookbooks called: Sticky, Chewy, Messy, Gooey: Desserts for the Serious Sweet Tooth. It's dedicated to the best desserts for a serious sweet tooth! If any of these recipes given to you today, be it from this cookbook or from here on our site, do not cure your sweet tooth, then nothing will! It may be time for you to head to the dentist and get that sweet tooth pulled. haha!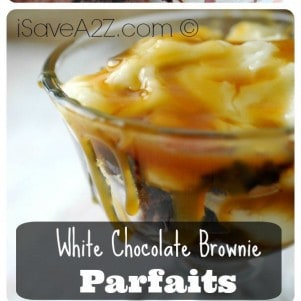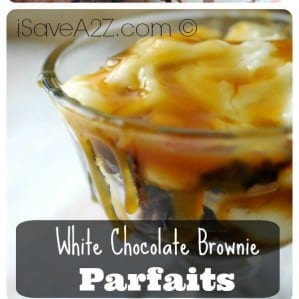 White Chocolate Brownie Parfaits
Ingredients
• 1 pkg. White Chocolate Pudding Mix

• 2 cups cold Milk

• Pre-Made brownies from your favorite recipe

• Caramel

chocolate syrup, pie filling, etc for layers
Instructions
Make the pudding by mixing the pudding mix with the cold milk. Whisk for several minutes until the pudding thickens. Make sure you use instant pudding and not the baked pudding.

Find the glasses you would like to make your parfaits in. Start by breaking the brownies into bite size pieces and placing at the bottom of the glasses or jars.

Top the brownies with a layer of caramel, chocolate, or your favorite flavor of pie filling (like blueberry).

Top the flavor layer with a layer of pudding. To make it easier to place the pudding in the jars, put it in a zippered bag and cut off one of the corners. Use the bag like a frosting bag and add the pudding to the jar in another layer.

Repeat all layers until you fill up your jar or glass.

Top with an additional layer of caramel or some chocolate sauce for extra flavor!
Nutrition facts are provided as a courtesy.