Healthy Apple Sandwiches
Check out our new and amazing recipe for these Healthy Apple Sandwiches! If you're looking for a nice snack before dinner time that isn't that bad for you, then you can look no further! The recipe below will bring you step by step to help you make your very own Healthy Apple Sandwiches right from your very own kitchen! This recipe is great, because not only is it healthier than many other snacks and lunchtime meals, but it also tastes good, and it can fill you up too! If you're looking for some other great recipes that just so happen to be healthy for you, then you might want to check these out! Like our Butternut Squash Lasagna, our Spinach and Cheese Casserole, our Easy Parmesan Zucchini Crisps, our Quinoa Stuffed Peppers Recipe, our Mushroom Tacos Recipe, our Turkey Meatballs Recipe, and plenty more over here!
Do you find apple cores hard to remove using just a knife? Removing the core for the apples can be quite the job, especially when you want to keep the rest of the apple in tact! As you can see in the pictures, we used a special tool to help cut out those pesky apple cores! This is called a Cuisipro Apple Corer! This neat tool here will make the removal of the apple cores so much easier! Now instead of having to waste your time trying to cut out the hard to get core with a knife, this apple corer will make it that much easier!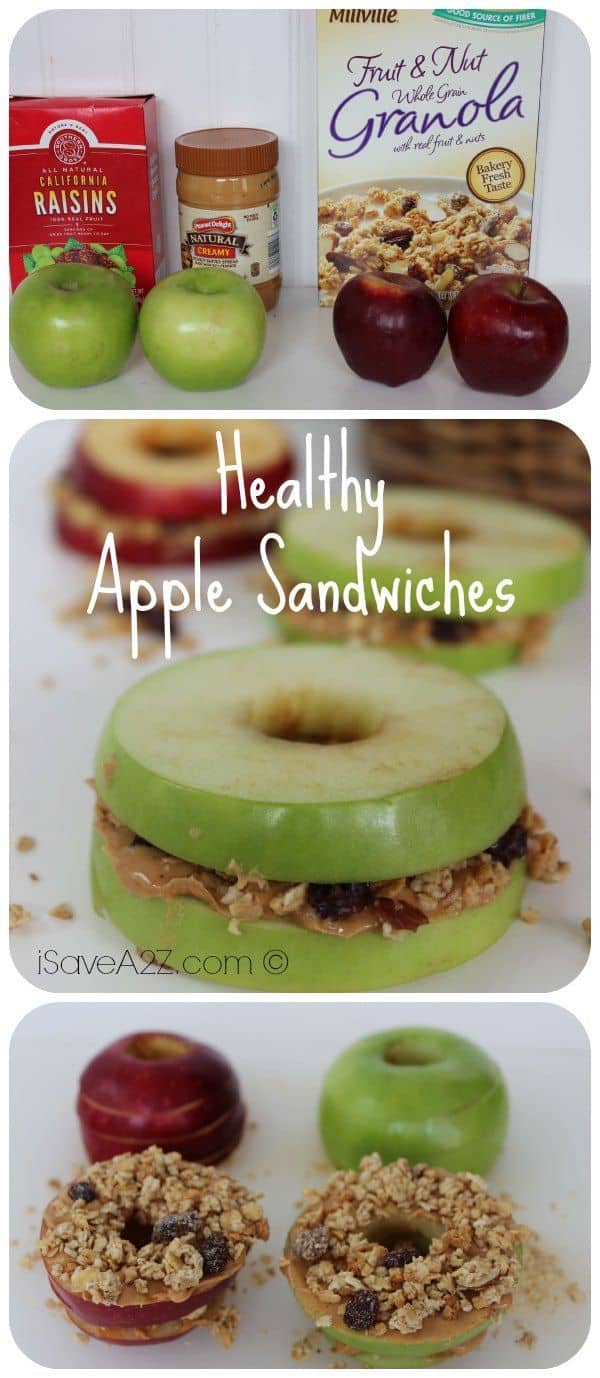 Healthy Apple Sandwiches
Ingredients
2

Apples

2-3

tbsp

of Peanut Butter

3

tbsp

of Granola
Instructions
Remove cores from apples and cut into 1/4-1/2" thick slices

Spread apple slice with peanut butter.

Top with granola and raisins.

Place another apple slice on top and gently press together.

Repeat with remaining apple slices.
Nutrition facts are provided as a courtesy.
Hope you enjoy! If you like this recipe be sure to PIN IT here!  Follow us on Pinterest too so you don't miss anything!